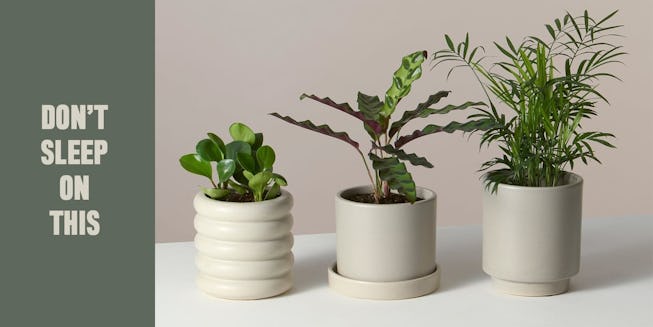 Photo courtesy of The Sill
I've Discovered The Secret To Not Killing My Plant Babies
This subscription service has changed my life
Friends don't let friends miss out on all the cool, under-the-radar things they know about, like which little-known beauty brand is low-key making the best highlighter around. And because we consider our readers to be like friends, we gather together all our best finds in our Don't Sleep On Thisseries. Check in every week to see what things we can't wait to share with you.
Atop the list of things I wish I was better at, you'll find "be a better plant parent." I absolutely love the idea of being a mom to a variety of different plants scattered about my home, making me feel like I live amongst the trees rather than in a tiny apartment in the middle of a very concrete city. But, unfortunately for me, my green thumb is pretty much nonexistent, and cute little plants have a way of dying on me.
But since all my friends are aware that I'm very much a wannabe Millennial House Plant Girl™, one of them gave me a membership to The Sill's plant subscription service. Each month, a tiny, very cute, and incrediblyInstagrammable plant baby makes its way to my doorstep, already potted and ready to be placed on my windowsill/bedside table/bookshelf. And, thankfully, the subscription I was given is for "beginners," meaning each plant I've been sent is low-maintenance enough that I've been able to keep them all alive and thriving.
If you're already a skilled plant parent, The Sill has options for you too, and also offers things like a curated monthly selection of plants that can thrive in low light, as well as pet-friendly plants. Once I feel I've truly mastered the craft of taking care of my plants, I'll probably level up to the pet-friendly variety since I'm about to move into an apartment with a bunch of cats—and my girlfriend, though I won't have to worry about her chewing on my philodendrons.
What's particularly great about this service is that it delivers my plants straight to my home, just like I like everything—groceries, books, prescription medicine—to be. The ease of getting a healthy plant without the hassle of seeking them out at a farmer's market has made it that much easier to achieve peak Millennial House Plant Girl™ status. The hardest thing I have to do, really, is figure out where I want to put each new plant that comes in the mail.
The Sill, Plants For Beginners Monthly Subscription, $35/month, available at The Sill.