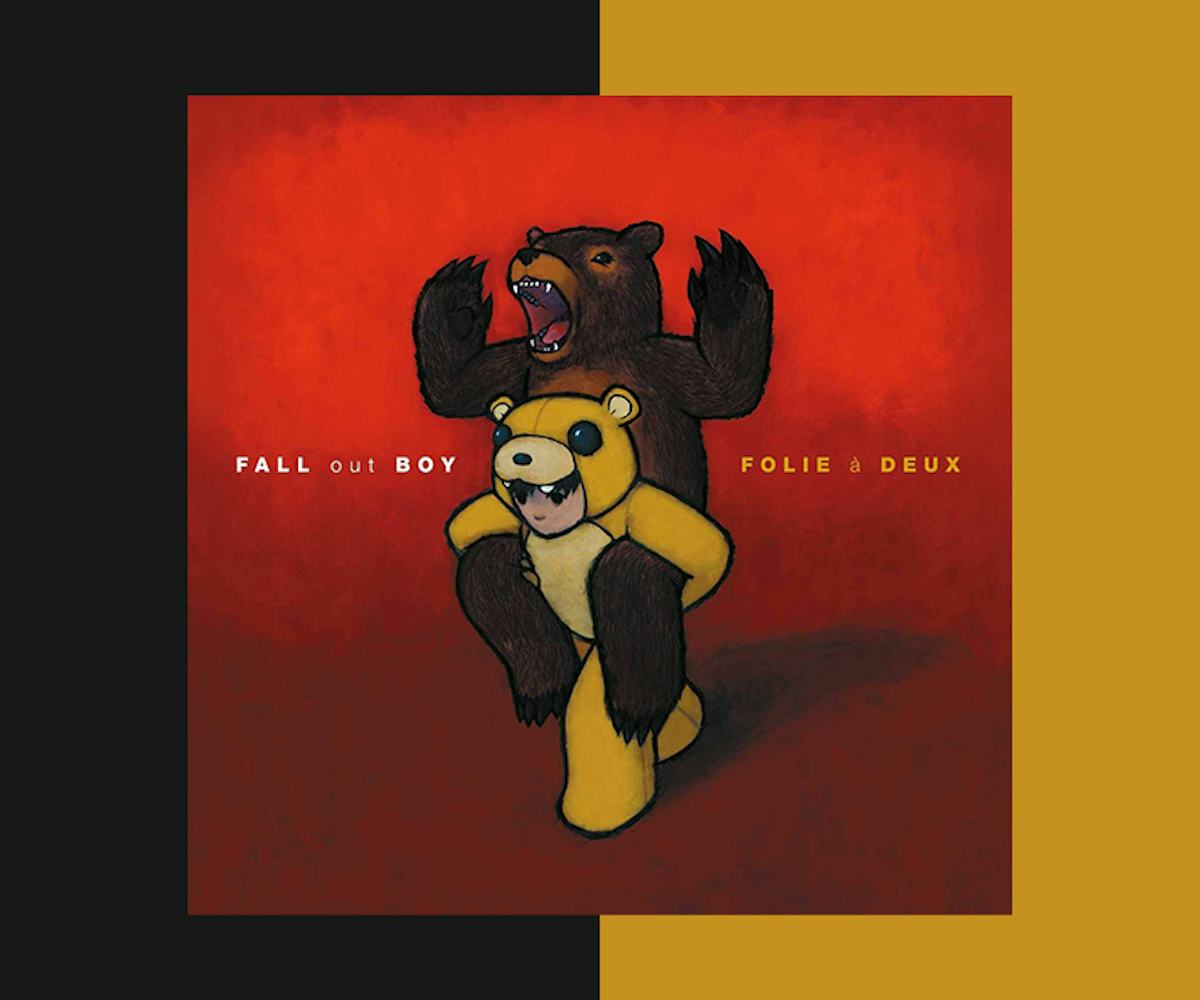 Revisiting Fall Out Boy's 'Folie Á Deux' 10 Years Later
In defense of the creative pivot
An entire decade has passed since the release of Fall Out Boy's widely panned fourth studio album Folie à Deux; a decade since the subsequent five-year hiatus of a band that had served as a cultural signifier of the early aughts, but which suffered a major backlash because of this one album.
Fall Out Boy vocalist Patrick Stump spoke of the emotional toll that fans' negative reaction to Folie took on the band in a blog post at the time, writing, "Touring on Folie was like being the last act at the Vaudeville show: We were rotten vegetable targets in Clandestine hoodies." Playing songs from the album resulted in audience's booing; the fans wanted nothing to do with the record—even if they had just bought tickets to attend a tour in support of that same album.
This was Fall Out Boy's first major brush with fans who demanded they put a stop to their creative exploration and growth. Those fans had internalized the canon of FOB music, and Folie felt like a turn away from everything they loved. But, in retrospect, it isn't quite that simple, and certainly not that dramatic.
Looking back on it now, Folie seems to marry the band to the era of emo in a much more seamless way than all of their preceding albums. From the five years post-Folie and onward, there's been an unspoken shift amongst fans as well. Tracks like "Disloyal Order of Water Buffaloes" and "(Coffee's for Closers)" are now as excitedly received by fans as earlier songs.
I was young enough when I first heard Folie that I wasn't going to think too deeply about the complexity of bassist-lyricist Pete Wentz's flippant lyrics (or on the subconscious grooming that took place in misogyny-riddled emo in general), but old enough to be fully consumed by the angst that I'd already experienced, and connect with sonic portrayal of the very different angst that a group of 20-something-year-old men were throwing onto an album. As puberty and bullies and needing-to-leave-this-town were bringing me down, Wentz would pick me back up as he referenced Nirvana's "Drain You"; "I don't care what you think/ as long as it's about me," can feel like a tough-as-nails boost of fake confidence when you're blasting it through your headphones on the bus ride home from school, especially if you're not about to think too hard about the meaning of the rest of the words.
The tortured, yet self-absorbed, artist is clearest on this installment in the FOB discography—perhaps because they'd finally begun to embrace diction on more than just their hooks (how long did it take you to figure out "loaded god complex/ cock it and pull it" were the real words to From Under The Cork Tree single "Sugar, We're Goin Down?"). But it's in the band's response to fans' distaste, along with this pseudo-cockiness that Wentz is so good at writing into a track, that looking back at the album makes the through-line come across as more defeated and melancholic than defiant hubris.
Wentz's lyricism never shied away from heavy-handed references or self-referential motifs. As he reuses the same line for "Headfirst Slide into Cooperstown on a Bad Bet" on "What a Catch, Donnie," the lyric takes on a dual existence. The lines, "I will never end up like him/ Behind my back, I already am/ Keep a calendar, this way you will always know," take on self-imposed lyrical "swagger" on the first track, and, as Stump explained to MTV, "the music—in conjunction with the lyric" were meant to "express that arrogance is usually a mask for terrible insecurity." It feels awfully self-referential, but Stump refers to the narrator in the song as a fictional character.
And on "What a Catch, Donnie," the insecurity takes center stage. The title (and intermittently, the lyrics) reference blues musician Donny Hathaway's death by suicide, indirectly calling back to Wentz's two suicide attempts while in FOB. With the aforementioned "Headfirst Slide" lyric repeated, Wentz promises to never end up like Hathaway, although two calendar dates have brought him close. With Elvis Costello singing the line, prior to other vocalists/friends of the band hopping on to sing other well-known lyrics from the band's catalogue (the rest of which were not from Folie tracks), it's easy to miss the significance of the repetition and think of it just as the beginning of a nostalgia trip for fans.
But, more on the idea of a nostalgia trip—tapping artists that have remained as figureheads for that time in music (Cobra Starship's Gabe Saporta, William Beckett of The Academy Is, Travie McCoy of Gym Class Heroes) gives the song permanent context. Their vocal co-sign of the band forever remains across digital streaming platforms. Panic! At the Disco frontman Brendon Urie's presence on the track, and on the album as a whole, only furthers this.
I'll admit, had I digested this album when it first came out in a more critical way (but, you know, I was 12), I probably wouldn't have known how to reconcile my very specific love for the band behind Take This to Your Grave with the theatrical (yet still lyrically flippant) "20 Dollar Nosebleed." It came within the same year of Panic!'s Pretty. Odd., so perhaps fans felt a bit of sonic whiplash as a result. Urie's creative influence on "20 Dollar Nosebleed" is undeniable—on some listens, it's easier to peg it as a Panic! Song rather than FOB (until the outro, which is undeniably FOB sonically, as well as with the cutting political commentary and reflection on pop music).
"Have you ever wanted to disappear?" Stump asks after a measure and a half of staccato piano (not the usual FOB introduction), before Urie joins in on the pre-chorus singing of "permanent jet-lag," bolstering the tongue-in-cheek descriptors of depression and the shitty feelings that can come along with treatment (or a lack thereof). Rather than sticking with a sound that is inherently FOB or Panic!, they embraced a proper mix of both bands' strengths, even if, at the time, it felt as if it came out of left field.
Alike Pretty. Odd., "20 Dollar Nosebleed" and Folie no longer satisfy the haters; they're looked upon with a warm nostalgia and welcomed at current live shows and upon record collectors shelves. The elitist fan hate is saved for anything released post-hiatus, and still carries the same boring (and inaccurate) mantra of "I liked them better before they sold out" along with it (just because some of FOB's new tracks are more danceable than head-bangable don't make them any less good, or any less inherently "Fall Out Boy").
Maybe the fact that Folie works now, better than it did back then, can explain the ease with which retrospective re-appraisal has happened. Turning on the album no longer comes with the sonic shock; it's just a Fall Out Boy album from yesteryear. There's no gut urge to critique it against Infinity on High or anything that came immediately prior. As the opening staticky-guitar notes of "America's Suitehearts" come through my headphones in 2018, they act as a time capsule. "You could have knocked me out with a feather," I'm as vulnerable as ever but in Stump's belt and Wentz's irreverent social commentary that verges on confessional ("Why, why, why won't the world revolve around me?"), I can roll my eyes, brush off whatever bullshit I need to forget for a single moment.
The inability, still, to directly relate to the lyrics at hand (especially as I've come to understand the ways in which women have always been mistreated by the discourse of emo and punk when men hold the pen) enforces emotional distance between the content and what we need to use it for. It can make one feel better without getting too introspective, too real. It can still create an emotional armor for those who used it as such in the decade prior. At least, it still works for me.