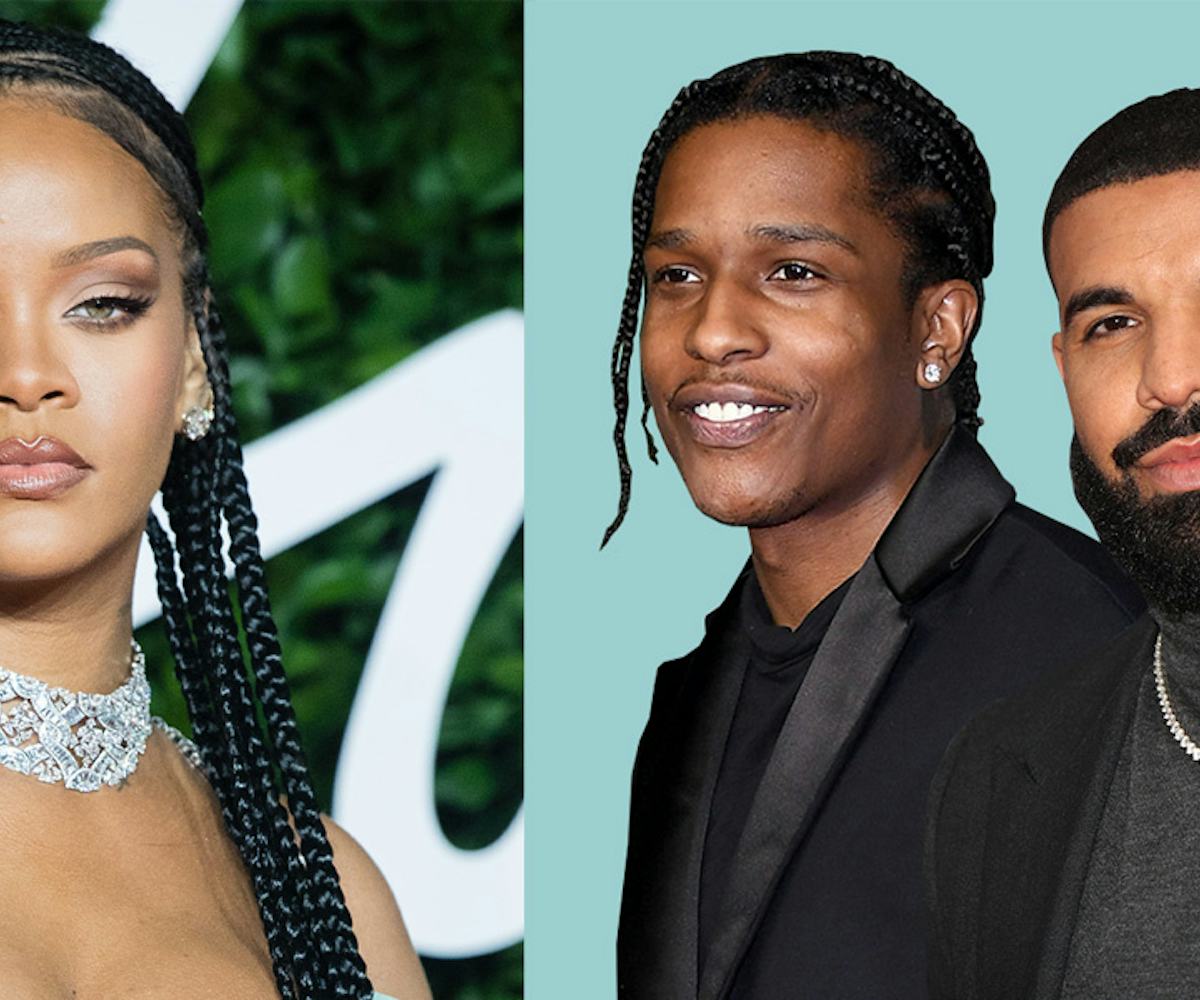 Photos by Samir Hussein/Getty Images, Karwai Tang/Getty Images & Mike Marsland/Getty Images
Very-Single Rihanna Hangs With A$AP Rocky, Drake Post-Breakup
She's apparently handling the split very well
Long weekends are best spent with friends, especially after breaking up with a billionaire. A newly single Rihanna spent hers at the 2020 Yams Day Benefit Concert with ex-boyfriend and forever sadboi Drake (per Page Six), as well as A$AP Rocky (per E!), just shortly after news of her split from Hassan Jameel was made public.
Rihanna and A$AP Rocky have been the subject of relationship rumors in the past, but none have ever been confirmed. A$AP Rocky has previously detailed his friendship with Rihanna, emphasizing that it is nothing more than that. In a 2015 interview with Hot 97, he declared that a relationship with Rih "never happened." He added, "You never know. That's not what I'm looking forward to, I'm looking forward to the friendship that I already have with all these females." Aside from the ultra-hot "Fashion Killa" video and subsequent shipping that has gone down since, there's no reason to believe the two are dating whatsoever.
Drake wasn't necessarily palling around with the love of his life Fenty mogul, but fans did take video of the two in close proximity to one another at the benefit concert. Both Rih and Drake were captured in photos where they can be seen hanging with A$AP Rocky separately, so they probably ran into one another via the mutual friend, but it'd be a stretch to think they planned to hang out.
In May 2018, Rihanna winced at the mention of Drake during an interview with Vogue, and went on to describe her discomfort with the way he publicly declared his love at the 2016 MTV VMAs. At the time, she she stated, "We don't have a friendship now, but we're not enemies either. It is what it is." Drake, not a fan of reading the room, still continued talking about his feelings for Rihanna in a public manner and admitted to having wanted to start a family with her in a December appearance on The Shop.
Lest anyone forget, it wasn't too long ago that Drake shared some confusing remarks about his 2019 collaboration with Chris Brown, referring to their former beef with Rihanna's abusive ex as "girl stuff" on Rap Radarin late December. He didn't mention Rihanna by name when discussing the collab, only referencing an unnamed woman that came between the two, but stated, "I actually had kind of a moment of hesitation before because I didn't want her to ever feel disrespected by me linking up with him, but I also know how many nights she knows that me and him have both been consumed by this issue." He added, "I think she is a good person with a good heart who would rather see us put the issue to bed than continue like childish shit that could end up in a serious situation."
Here's to Rihanna being booked, busy, and surrounded by friends — without them sliding into her DMs — in 2020.