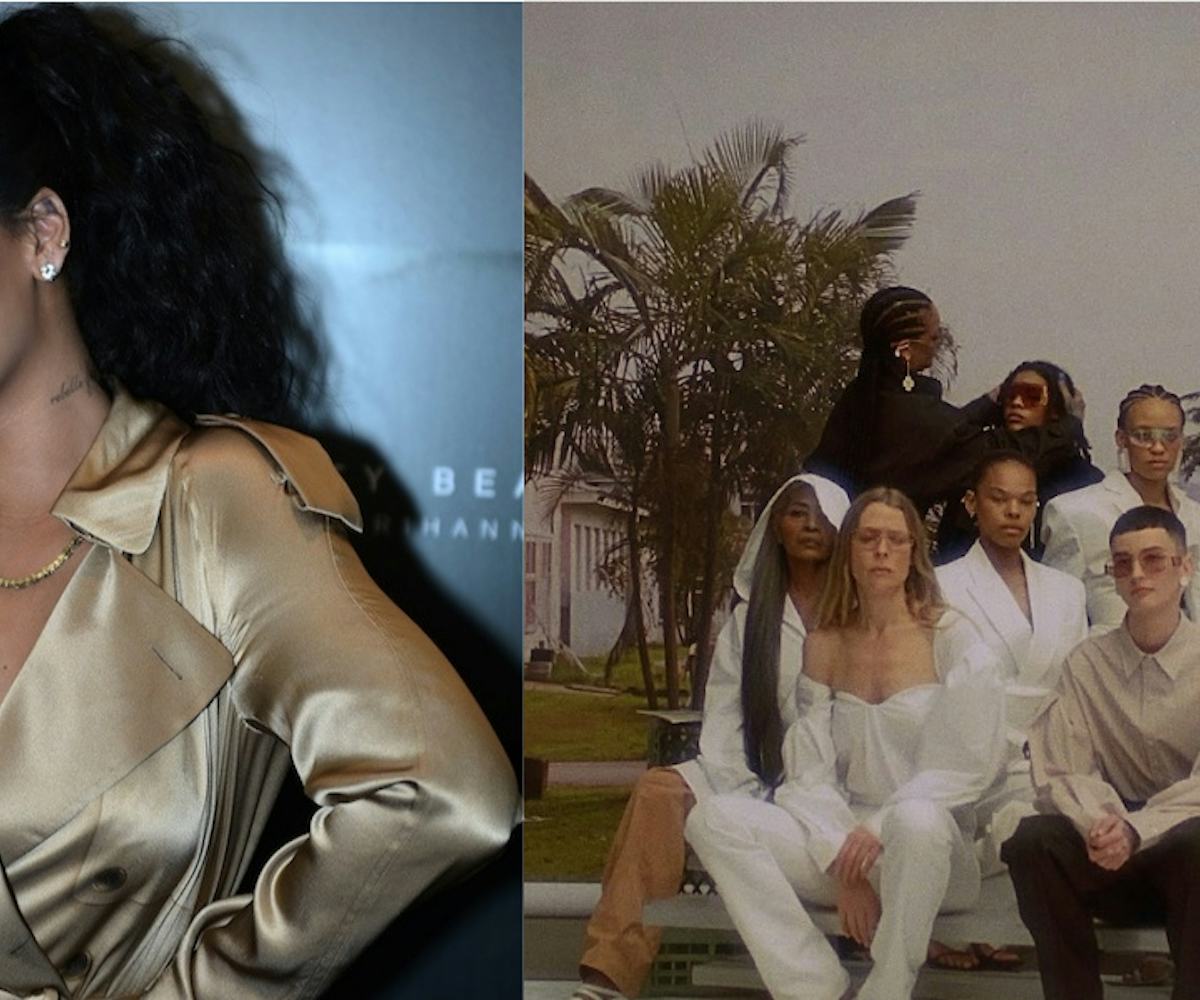 Photo by Mark Ganzon/Getty Images, Photo via @Fenty on Instagram
Rihanna Advances A Pro-Pantsuit Agenda And We're Obsessed
She just released the first visuals of her Fenty line and its a neutral-dreamscape
Just over a week after the announcement of Rihanna's venture into high-fashion, she's given us our first visual taste of the designs to come. Fenty, Rihanna's high fashion house launched by LVMH, has revealed a behind-the-scenes sizzle reel of Rihanna styling models in mostly neutral coordinating sets and power suits. Somewhere, Yeezy was found shaking.
A diverse cast of models rock plenty of the kind of khaki-hued clothes that every hypebeast will be wearing next season, but it's the salmon-colored suit breaking up all those neutrals that has my full attention. Please take all my money, Rihanna.
In an interview with T Magazine, Rihanna revealed that the line will be shoppable starting on May 24 at a pop-up store in Paris, with the entire collection hitting the web on May 29. Size-wise, Rihanna shares that the collection ranges up to the equivalent of a U.S. women's 14. Rih says she used herself as the muse for the collection, telling T, "It's sweatpants with pearls, or a masculine denim jacket with a corset. I feel like we live in a world where people are embracing every bit of who they are. Look at Jaden Smith, Childish Gambino. They dare you to tell them not to."
With direct-to-consumer sales, Rihanna and team plan to drop accessories "like singles," hitting the web every few weeks to keep the hype alive and keep the stans looking hot (and their wallets, uh, empty). T notes that the collection features "structured silhouettes in subdued neutrals (at least to start) that emphasize strong shoulders, cinched waists and exposed legs," which are all shown off in the first visual, as well as in a shoot with Rih that sees her styled entirely in new Fenty designs.