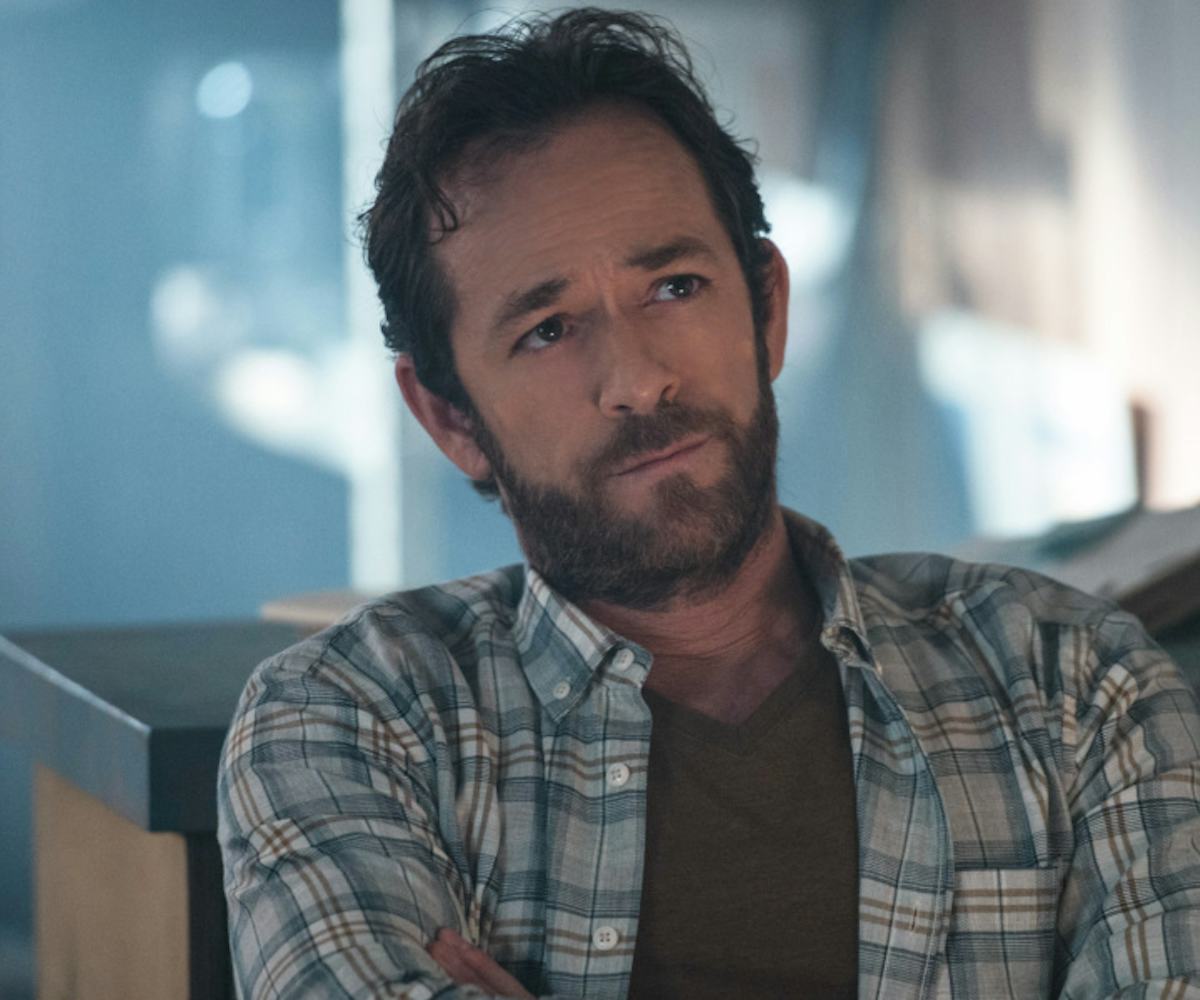 Everything We Know About The Tribute To Luke Perry On 'Riverdale'
More details were revealed about the tribute episode at Comic-Con
As Riverdale's fourth season approaches, more details of how the cast will pay tribute onscreen to late actor Luke Perry have been revealed. Rather than tying up Perry's story line as KJ Apa's character's dad Fred Andrews in Season 3, after Perry died from a stroke in March, the show will tackle it at the beginning of this season.
In an interview with The Hollywood Reporter back in May, showrunner Roberto Aguirre-Sacasa responded to why a tribute to Perry was left for Season 4. "We wanted to honor Luke, and figure out the best way to handle the character of Fred Andrews in the show, so we sort of said, you know what? Let's not squeeze, let's not rush to squeeze something into the finale, or into the last couple of episodes, let's really think about it, and let's tell that story at the beginning of season four," Aguirre-Sacasa said then. "Luke was one of the hearts of the show—Luke and KJ, their relationship, and as crazy as things got, we always turned back to them. We wanted to take the time to understand how the show will change [without Fred], and how we could best address that."
Just a month later, Aguirre-Sacasa revealed that the first episode of the fourth season would be titled "Chapter Fifty-Eight: IN MEMORIAM," writing that it is "probably the most important episode of Riverdale we'll do this year, if not ever."
More recently, when the Riverdale cast hit up San Diego Comic-Con, more details about Perry's tribute were released. In an interview with TooFab, Aguirre-Sacasa stated that the episode will take place on July 4 (airing on October 9) and serve as a standalone tribute to Perry. "We had the table read two weeks ago. I've been in television probably 12 or 13 years, I've never experienced a table read like that," he told TooFab. Apparently, it was the first time the cast had been in a room together since Perry's passing and, according to Aguirre-Sacasa, "a lot of us starting crying."
During the Comic-Con panel, it was also announced that Perry's Beverly Hills, 90210 costar Shannen Doherty would be joining the cast for this episode, fulfilling a wish Perry had "since season 1," according to Aguirre-Sacasa. He told Variety, "They were such good friends, and when we were putting together this tribute episode, we wanted to make it as special as possible, and so we asked Shannen to do a pivotal, super-emotional role. She read the script and immediately said 'yes.' It's very impactful."
Doherty also announced the news to fans in an Instagram caption under a photo of her and Perry: "I am deeply honored to pay tribute to Luke on Riverdale. The care in which this show takes in honoring his memory is beautiful. He is missed. Today. Tomorrow. Forever." Details of her character are otherwise unknown.
Riverdale returns to the CW on October 9.