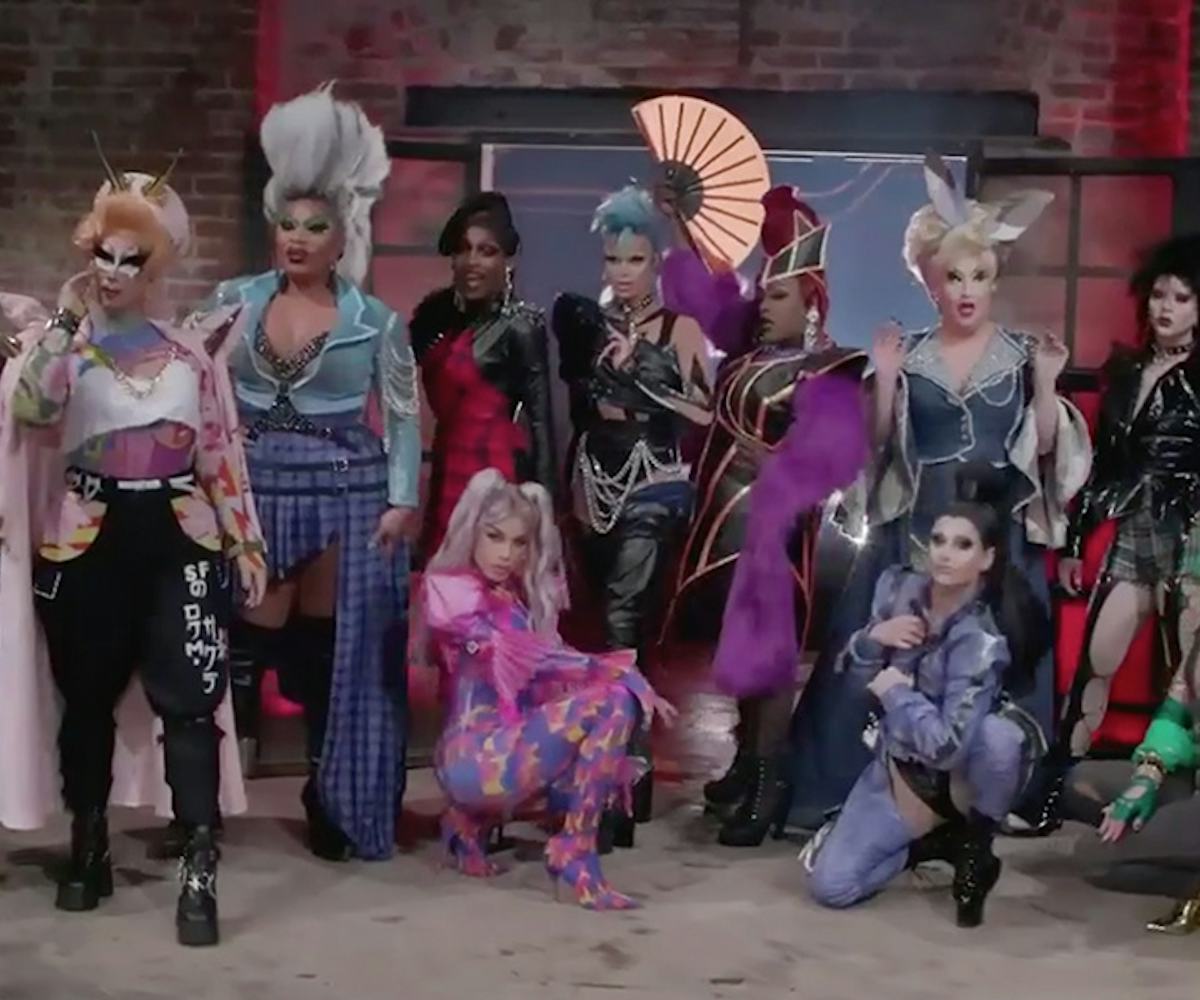 Screenshot
RuPaul Just RuVealed The Season 12 'Drag Race' Queens, And They Came To Win
Are you ready for the drama?
The RuVeal for cast members of RuPaul's Drag Race Season 12 has finally arrived, and we're ready to meet the next 13 queens competing to take the crown. Hosted by reigning queen Yvie Oddly, the short live show was filled with everything from a David Bowie-inspired look to a video featuring a heavy-handed dose of patriotism.
Though fans have only seen singular looks from each of the queens, there are already clear standouts from the forthcoming season. Hailing from Georgia, Aiden Zhane started out the RuVeal strong with a very cyberpunk Goth David Bowie look. From there, Heidi N Closet transformed into Sporty Spice, space buns and all, while Jaida Essence Hall served a Black Panther 'fit the internet won't be able to stop talking about for a while. The team behind Drag Race ensured an easy meme with the announcement of competitor Jan, aka NYC's Jan Sport, and had already employed the iconic Brady Bunch GIF on social media.
After all 13 queens left the stage, the RuVeal concluded with an, erm, interesting patriotic teaser video — set to RuPaul's 2017 single "American" — doused in all the red, white, and blue possible.
RuPaul's Drag Race Season 12 premieres on Friday, February 28 at 8 p.m. EST on VH1. Get a first look at all the competitors, below.
Aiden Zhane
Aiden Zhane was serving full-on goth David Bowie.
Brita
NYC favorite Brita Filter continued the punk energy with the studded harness and plaid combo.
Crystal Methyd
Crystal Methyd's color story came to win.
Dahlia Sin
Is this Dahlia Sin, or a sneak peek of Harley Quinn in Birds of Prey?
Gigi Goode
Gigi Goode has Natasha Lyonne taking notes.
Heidi N Closet
Scary Spice walked so Heidi N Closet could run.
Jackie Cox
Jackie Cox tapped into her Iranian heritage for her introduction.
Jaida Essence Hall
Jaida Essence Hall's Black Panther-inspired attire deserves its own show.
Jan
Beloved NYC drag queen Jan Sport is just going by Jan, now. Let the memes roll in.
Nicky Doll
French queen Nicky Doll came (literally) armed for the runway.
Rock M. Sakura
San Francisco's Rock M. Sakura wasted no time before declaring that trans and Black lives matter.
Sherry Pie
This denim on denim by Sherry Pie is taking it back to Britney Spears at the 2001 AMAs.
Widow Von'Du
Widow Von'Du said go big (sleeves) or go home.