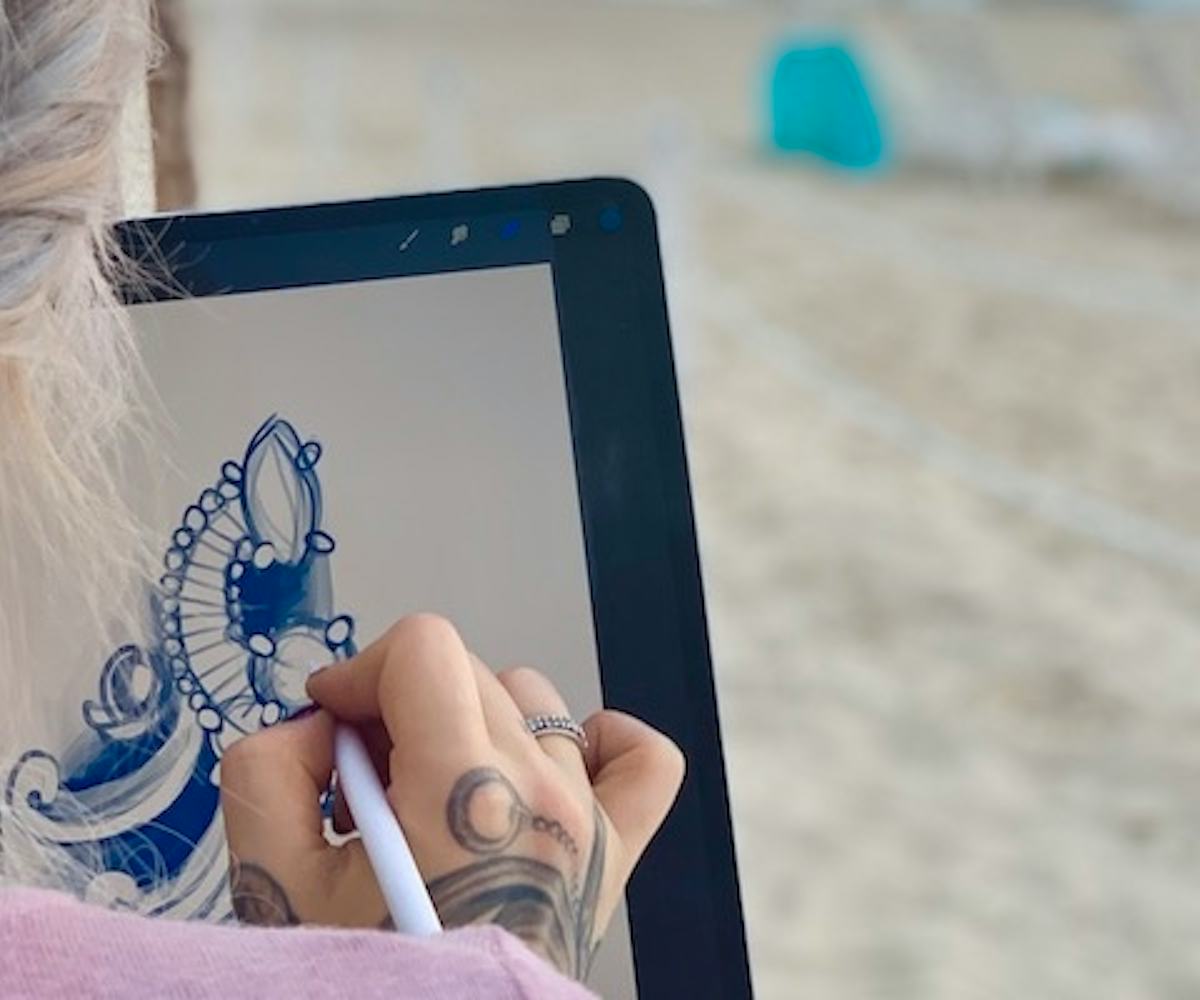 Photo courtesy of Ryan Ashley Malarkey
Meet The Artist Combining Tattoos And Technology
How tech has transformed Ryan Ashley Malarkey's art
In an industry that's as saturated as that of tattooing, it takes a truly distinctive style and process to stand out—and that's exactly why Ryan Ashley Malarkey is an artist to watch. Malarkey is known for her intricate and feminine designs, mimicking the embellishments and bedazzlements you'd find on a 1920s Art Deco-style dress.
Starting off her career in fashion design, Malarkey worked as an in-house artist and designer for a private label, where she designed beadwork, lacework, jeweled appliqués, and embroidery—references you'll find frequently in her current tattoo work. "I felt connected to anything intricate and feminine—and moving into tattooing, not much has changed," she says. "My style in tattooing happened organically, on its own. I continued with my love for beadwork, lacework, and intricacy at its finest and developed a style of tattooing based on my experience designing these things."
Because Malarkey's particular style in tattooing was so unique at the time, her career took off rather quickly. "I was lucky because at the time my style was developing, there was a lack of feminine, organic tattoos out there, and filling this void got me noticed very quickly. The more tattoos I produced in this custom ornate style, the more my clientele trusted me to do my own thing, which allowed me to develop not only as a tattooer but as an artist." It also earned her quite an extensive list of awards.
Though Malarkey comes from a traditional fashion design background, her design process in the year 2018 doesn't involve the amount of hand sketching you'd expect. What makes her style—and process—so unique is her use and full embrace of modern technology.
"My creative and design process has changed drastically over the past few years due to advancements in artistic technology," she says. "When I got my first iPad Pro, I didn't realize all of the creative windows that would open in my mind due to the endless amount of possibilities it showed me—so much that after years of designing on paper and directly onto the skin, it was like my entire world changed."
While being able to seamlessly design and "place" a tattoo on her client's body plays a major role in how she creates custom pieces, she now uses her iPad Pro for the entire process. From storing and organizing her art references and scheduling clients to creating both her design and tattoo stencil, using software like TattooSmart to speed up the process, it has essentially changed everything she does. "Everything I need to be the world-traveling tattooer and artist is within this piece of glass," she says.
Is digitizing the tattoo process—you know, up until the actual tattooing process—the future of tattooing? According to Malarkey, it might just be.