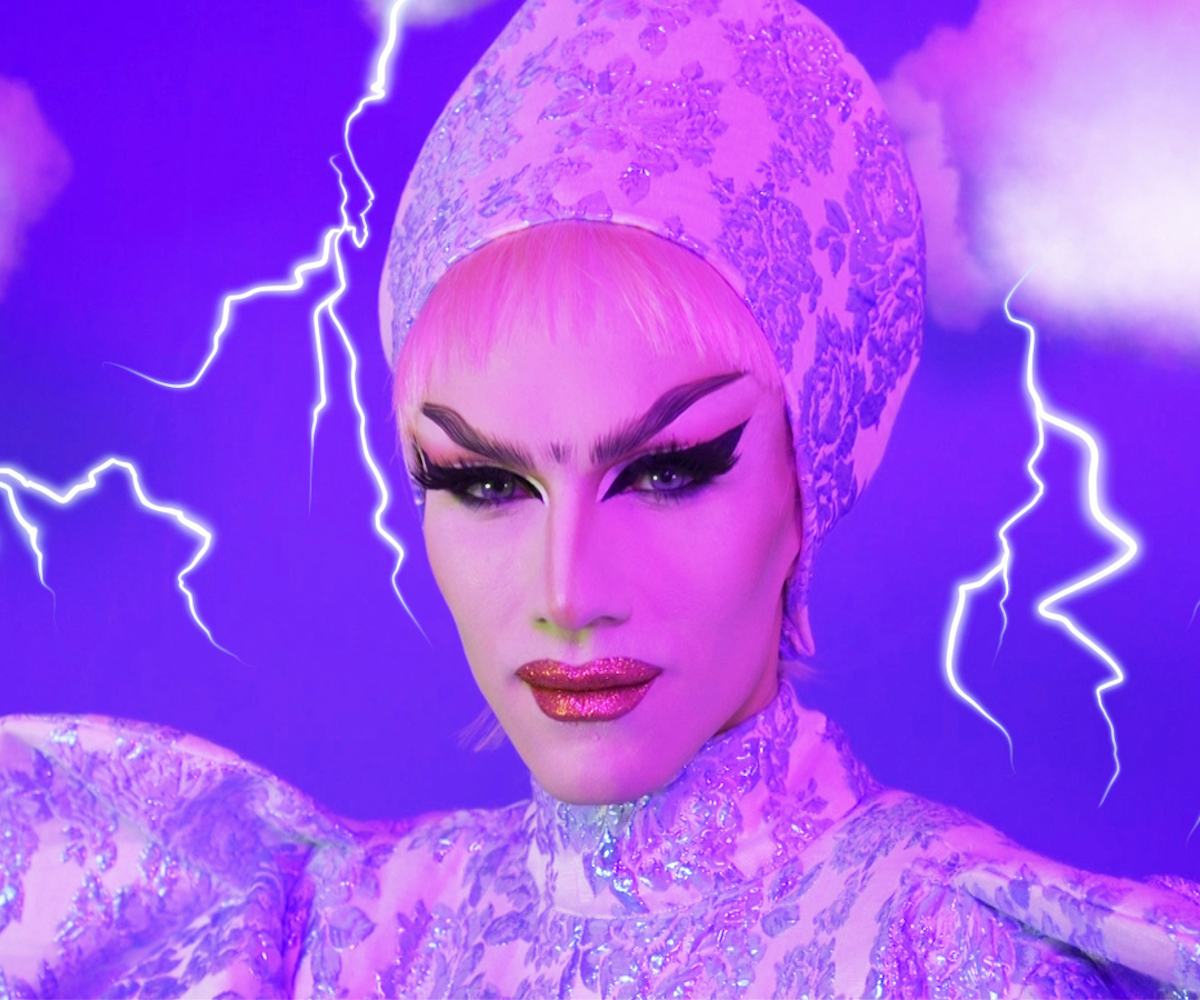 Sasha Velour Is Writing Her Own Fairy-tale Ending
The drag icon is constantly reinventing herself, and it's our privilege to watch her do it
One of the most revealing things about Sasha Velour is her speech. Not her voice, which is calming—deep and rich, like the fabric in her name—but her idiom, the way she puts her sentences together. "When really young children hear a fairy tale, they don't…" she began to tell me, then paused and started over. "If the protagonist is of a different gender, that doesn't stop them from identifying with the fantasy." Our conversation was peppered with moments like this: there would be the beginning of a thought, quiet deliberation I wasn't privy to, and slight verbal rerouting.
I noticed this habit because it was so characteristically exact. Velour—who is genderfluid, and uses "she/her" pronouns almost always—is a meticulous thinker. She's the kind of artist who exudes intention, who does her homework (she's a Fulbright scholar with a visual art MFA, but that's the tip of the iceberg). When she won the ninth season of RuPaul's Drag Race in 2017, she was celebrated for her thoughtful stylistic consistency. Every week, she brought the judges what RuPaul called her "smarty, arty," recognizable Sasha-ness, a carefully cultivated blend of intellectualism and voguish style. Saturated colors and dramatic silhouettes, a dash of the avant-garde—alien/vampire regality?—and well-read references. You know, nods to commedia dell'arte and Judith Butler on VH1.
She ended her Drag Race stint with her only lip-syncs of the season, which introduced TV audiences to another key aspect of her drag: big onstage emotionality, broad theatrical expressiveness. Her eruptive take on Whitney Houston's "So Emotional" basically rewrote the meaning of the song, and forever branded her the queen who explodes into rose petals. But she does nothing, including unbridled theatrics, without forethought. Her expressions in that lip-sync are extraordinarily precise (seriously, watch it back): they tell a three-minute epic story, the saga of a heroine who, in post-romance agony, rips herself apart.
Velour and I met on an unreasonably cold mid-May day, in her Brooklyn home. She lives with her partner, Johnny, and their greyhound, Vanya, in a dreamy, old-boned house not far from Prospect Park. "We just cleaned yesterday!" she said, and settled onto a cinnamon-leather couch with a mug of coffee. We were on the second floor, in a cheerful room with bay windows overlooking the tree-lined street. Velour was bare-faced that day, and dressed all the way down: soft pants, a white turtleneck, and fuzzy open cardigan. Her angular, ivory-toned earrings provided the sole touch of drama. They rippled almost to her collarbones.
She was excited—though, admittedly, nervous—to be leaving soon, for the West Coast debut of her new show, "Smoke & Mirrors." She was still revising when we met, making changes practically every time she ran it: "I keep asking myself what I can do to make it even better," she said. She's precious about everything, but particularly this, her first one-queen show and her first full-length theater piece. It's an abstracted look at her life so far, her chance to tell her story on her own terms. And it's her largest production effort to date. She floats down from the heavens in a lustrous set of 30-pound wings; she practically melts into her backdrop, in a puddle of projected light. Later, while lip-synching to Lana del Rey's "High by the Beach," she saws herself in half. "A two-hour show with only one theatrical gag at the end is such a waste," she said. "You can have 10 theatrical gags in 10 minutes! Have the circus-y, operatic explosions of emotion."
It's almost hard to remember that she reaches, theatrically, into the stratosphere, when you're sitting across from her in a quiet, sun-soaked study. Offstage, the 32-year-old has a softness about her. She wears oversized glasses, and is famously egg-bald; she has a gentle, generous laugh, and a tendency to get contentedly absorbed in abstract ideas. At one point, she plucked a glossy, hand-painted Matryoshka doll off her wall-length bookcase, something she acquired when living, briefly, in her ancestral Russia. "They're traditionally peasant women, and this is a peasant man, so it's like, a constructivist, drag Matryoshka," she explained, with nerdy joy. Then she added, a little unnecessarily: "Myself!"
"Smoke & Mirrors," for all its newness and scale, is still intimate in a Velourian way. It's built on deep thinking, scrupulous focus, and personal anecdote (one of Velour's philosophies: "In order to tell a story properly, you have to ground it in history"). She projects home footage of herself as a kid, muses about her fame, and discusses her flexible identity. She explores the supposed dichotomy of "real" and "false," suggesting there's truth in what we engineer. In the final number, she transforms herself into a tree—sculptural branches lift up off her costume, into a breathtaking canopy of projected leaves. Tree-Sasha cycles through the seasons, beginning in winter, bursting into verdant summer, and returning to barrenness, again; it's about what's beautiful and temporary, dedicated to her late mother.
"It's pretty much what I've always been dreaming of doing," she said, of "Smoke & Mirrors." "In every previous instance of me doing drag, there were constraints…[Now], I have the privilege of a blank page." Now, she can really do her thing—spectacle, but make it think-y. Magic that hits close to home.
I asked her, later, about the process of cultivating this style. I expected a story of painstaking deliberation, building the queen with razor-edged particularity. How else could all her output, including this new show, feel so identifiably Sasha? But I phrased the question weirdly, almost in the negative. I asked whether it all came "naturally" to her. And her response surprised me. "I hate to say that anything is natural..." she said, sounding hesitant, laughing a little. "But it did almost fall into place."
To understand how, it helps to look backward. Sasha Steinberg was raised mostly in Champaign-Urbana, Illinois, the only child of "hard-core California hippie feminists"—intellectuals, who encouraged her creativity. They made it safe, at home, for her to explore, and little Sasha was always fabricating fantasies. She would direct plays and cast all the kids on the block. She'd lip-synch to everything she heard, from Rigoletto to Annie (she preferred Rigoletto to Annie, by the way. Death and murder were more interesting). She'd wrap herself in DIY drag—a towel wig, a blanket gown—and was surrounded, from the beginning, by books and culture. "Somewhere in the combination of Agatha Christie, the Wicked Witch of the West, Lady Macbeth… Simone de Beauvoir and Karl Marx…" she said, scanning the bookcase for names forgotten, "... Georgia O'Keeffe! Being exposed to those things shaped my sense of what was beautiful."
She tried acting in college but found the male roles frustratingly limiting (with the exception of Twelfth Night's Toby Belch, who she played "as basically a drag queen"). Fulbright brought her to Russia after graduation, to study the works of queer artists there. When she came back to the States, she got an MFA in cartooning. "I never had much internal conflict," she told me, about discovering her own queerness at a young age; she was similarly resolved, it seems, about wanting to make art, to explore queer experience and "nourish queer community" through what she created. But she grappled, for a long time, with the how.
She was in her 20s when she first read about the theatrical history of drag, its roots in Elizabethan theater and Kabuki. Drag embraces realness, as opposed to "reality"; it's the art of staging reverie, enveloping yourself in outsized fantasy, and Velour realized she had "intuitively, instinctively wanted to do that type of performance from a very young age." She had, in fact, been doing it from a very young age. She read about drag's political history, too, how its performers have long served as community advocates and ambassadors, and was drawn to that legacy. When she and I talked about this critical juncture—understanding drag, feeling connected to it, considering donning Sasha Velour for the first time—she spoke quite simply. "I had to try it," she said.
She moved to Brooklyn to pursue drag in earnest. Her early work was brainy, conceptual, a little dark. And it drew, like "Smoke & Mirrors" does, from real-world emotions and events: "The truth shines more clearly when it's stylized," she said, about excavating personal histories through drag. She was using the art form to think deeply about lived experience. Her first-ever Brooklyn number was her now-iconic "Lady Gollum," a piece about banishing inner demons. In it, she's stringy-haired, pointy-eared, and spectral like the Lord of the Rings character, crawling around on the floor and mouthing along to a Two Towers scene in which Gollum is possessed by the ring. She eventually casts out its corrupting energy, with a triumphant performance of Kate Bush's "Wuthering Heights." She channels an exuberant Catherine, dancing on the moors.
Before Sasha Velour, the celestial drag being, ever stepped onto a stage, she was already in-process. The artist behind her had already explored many art forms. She'd done her readings. She had been working toward these ideas about gender and performance, about stylization and its magnification of truth, in other mediums and modes—but, in her words, "had never quite been able to put [it] into action, with economy and precision." Not until drag, which allowed her to build the perfect container for all of this content. I understood, later, why I tripped her up with my word choice—why she balked a little when I asked if she came upon Sasha Velour "naturally." She does everything with purpose. Her heart and her art orbit what she engineers, the realities she chooses and fashions with intent. But by her own admission, her drag self "almost fell into place." Aspects of the style and persona had been building for forever in her very marrow, and simply had to be called up. Which makes Sasha Velour both an intentional and an inevitable creation. She's a creature born of endless preparation, and also gut instinct.
After we talked for a while, Velour stood up and said she wanted to show me the basement. I trailed her into the belly of the house, past an elegant chandelier, a lounging Vanya, and a royal blue wall. When we reached our destination, even though I knew what was coming, I was overwhelmed. All her drag was down there, the gowns, wigs, props, and headpieces, sprawling radiantly on racks and shelves. A glittering forest. "Sometimes I come down here to get ideas," she told me, as I tried to take it all in. I spotted, in one corner, the metallic wings from "Smoke & Mirrors."
As I stood with her there, I thought about all the historical Sasha Velours. The one queering already-super-gay Shakespeare plays. The one studying in Russia. The one with the Drag Race scepter, and the one in that childhood bathroom, swathed in towel glam. There's been refining up to this point, trial-and-error in terms of how to manifest and express the ideas, but she's never really wavered on the vision. So I'm not surprised she visits that basement for inspiration—it's a room full of her past looks, her own shimmering history. When she needs to conjure newness, she returns to her roots.
Sasha Velour's "Nightgowns" show will take over World Pride 2019 for three epic nights of shows (June 27 to 29) at the Abrons Center Theatre; sponsored by Lyft, there will be a Nightgowns "Encore Set" on the Lyft Pride Parade float on June 30.
Sasha's bringing "Smoke & Mirrors" to London, August 9 and 10 at O2 Shepherd's Bush Empire.
Artwork by: Dani Okon
Produced by: Alexandra Hsie
Production Assistant: Eliza Jouin