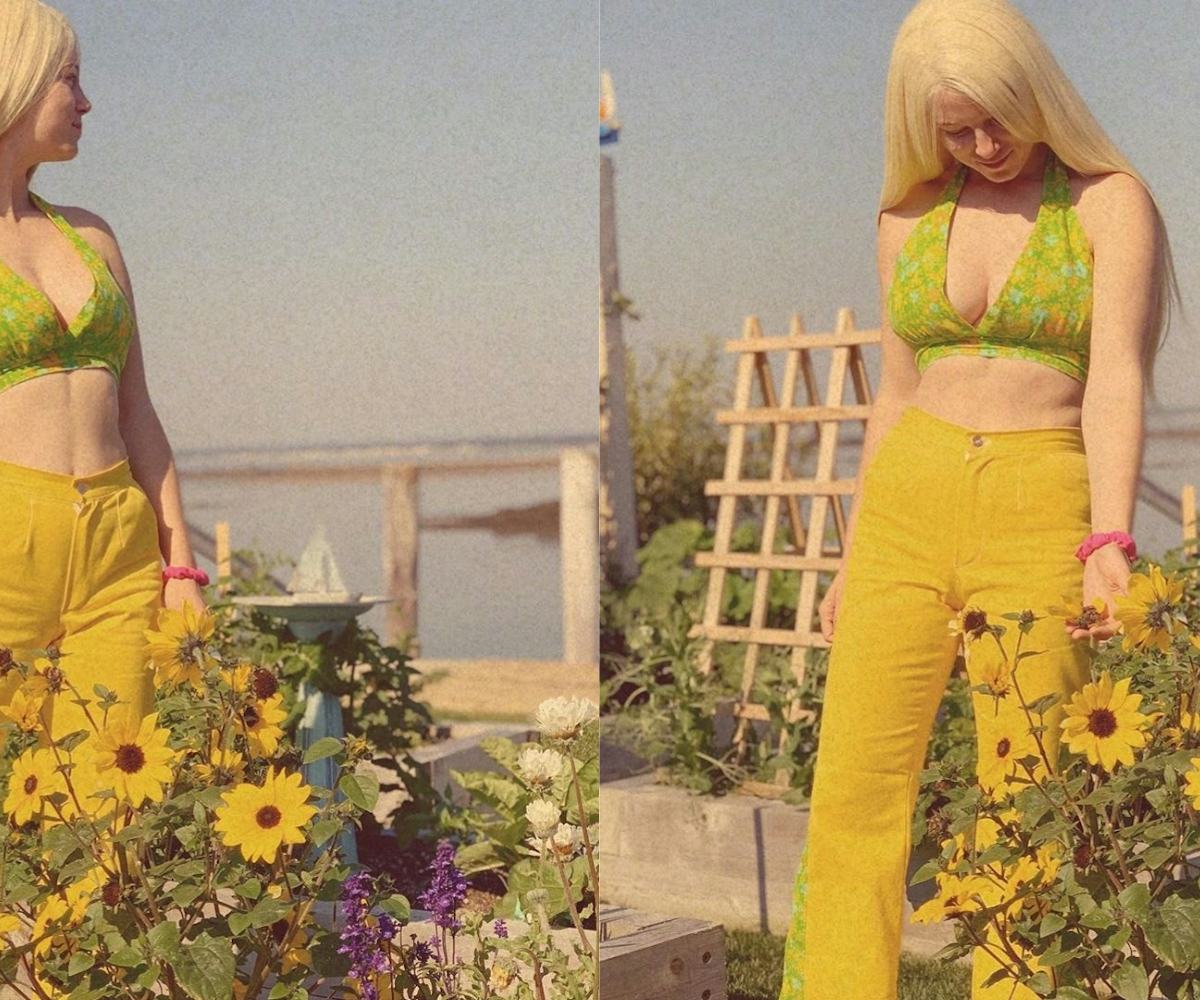 Meet The Designer Making The Most Whimsical Retro Sets On Instagram
Meaghan Syrjälä of Saudade Vintage puts authenticity first
Meaghan Syrjälä, Oklahoma City-based designer and owner of Saudade Vintage, grew up feeling nostalgic for a decade she'd never lived through. At 21 years old, she's the face and designer behind some of the most authentic bespoke coordinating sets made to look straight out of the '70s, and has curated a collection of some of the most desirable patchwork bell-bottoms vintage-hunters have laid eyes on. In less than a year, Syrjälä has grown her Instagram platform to nearly 15,000 followers, snagging the attention of celebrity stylists and vintage lovers alike.
In her first-ever interview, Syrjälä recalls how economic hardships led to her love of secondhand shopping, and how abuse at the hands of her stepfather nearly robbed her of her creative energy. When Syrjälä turned 18, she ran away from home in Vermont to pursue her dream. "I flew down to Oklahoma City because I had dreams of wanting to own and work on muscle cars," she tells me over the phone. Growing up with a love for classic rock and classic cars made a vintage wardrobe the obvious next step.
Read our full conversation with the young designer below.
Did you shop secondhand and vintage a lot growing up?
I have been shopping vintage clothing my whole life. I had a very interesting childhood... [when] my mom and dad had me, my mother was very young, she was 21. And my father, as good a man as he was, he was a drug addict. I stopped seeing him when I was six. My mother was very poor, so we shopped secondhand all the time, and I absolutely loved it. I never thought anything different; It was thrift store day, we got to go get some new clothes. And when I was 14 — there's no easy way to say this — my mom abandoned me because my stepfather was abusing me sexually; I came out about it, and she decided not to take my side.
I decided to [share] this because it's really a part of my journey, because I started sewing when I was young. My grandmother taught me how to sew, and when all of these traumatic events happened, I completely stopped sewing. Maybe two years ago... I had been doing so much healing and, all of a sudden, I had this drive, a more powerful feeling like I've never had before, to just start creating. I feel like my creative side kind of got stolen from me during that traumatic process. And once I started healing, I got this powerful drive to start creating.
The work you create is so colorful and whimsical, but also it feels really honest to the time period. It feels like it really is made with heart.
That's what's most important to me. There are a lot of other brands that do nostalgia and '70s- and '60s-themed clothing, but to me, I am so obsessed with it. I probably have one of the most extensive vintage clothing collections in my state. I am so obsessed with it looking and feeling authentic and not sacrificing on cheap materials. Most brands won't make clothing without stretch in it because it's so hard to fit people. Well, I fit people in authentic materials and I feel like it makes such a difference. I can tell immediately when somebody is wearing Forever 21 bell-bottoms and when somebody is wearing authentic bell-bottoms, because I can see the difference in the quality of material.
Where did the name for the store come from?
I've lived my whole life in the '70s and the '60s [as] truly a lifestyle. I don't mean that to sound cliche, but it's true. I dress in real vintage and my creations every day. The only genre of music I listen to is classic rock and some new bands, but folk-rock is personally my favorite. I drive muscle cars, and my friends are all older. So, I oftentimes have this longing for nostalgia or sadness that I wasn't born in that era. I know it sounds funny, but it's true. I love it all so much, and I try to make my own reality. I was looking up if there was an actual word for that, and, apparently, there is! That's what the word "saudade" means. It's a Portuguese word, and it's very unique to the language, and it basically [means], the way I understand it to be, a longing for nostalgia.
A specific thing that sets you apart from a lot of designers who make bespoke, retro styles is your shoes. What inspired you to take that extra step when creating coordinating sets?
Everything that I make, it's all stuff that I either saw or really wanted. The platform shoes, for example, I have maybe four [vintage] pairs of them, and they are so hard to find, and I love them so much. So, I think to myself, Well why can't I make that? I have been trying to make these shoes for so long, and, obviously, I'm not a shoe-maker, so it's taken a lot of trial and error. Finally, I found a local person who has [the correct tools], and we came up with the design and probably cut out like seven pieces of shoes before we figured out the right pair. [Now] he cuts the amount of wood, and then I take the fabric that I want to do with it and just start putting it on.
What are some of the things that you look for in a piece?
I'm a huge sucker for the cheater patchwork fabric. I'm always looking out for that. My favorite materials are corduroy denim. I love the real vintage-looking crushed velvet because a lot of other brands they use — I'm sorry, I just hate it so much — the penne velvet that's stretchy. To me, it just looks so bad and so cheap; you can get it for a dollar a yard, and other brands want to sell a pair of pants for $74, and it's cheap-ass penne velvet, and I can't stand it.
So, authentic, authentic, authentic; that's really what I'm about. But I love using the materials that were common to that era. Patchwork, heavy-to-medium weight materials. Quality materials.
What is it about the fashion of the '60s and '70s that is really special to you?
The '60s and '70s fashion was not only an aesthetic but a rebellion. Back in the day, I think it was Steven Tyler who said this, "When you saw dude was long hair, bell-bottoms, you knew his political affiliation. You knew the music he listened to, and you knew he was a cool guy." So, to me, I feel a lot of things; I'm very involved, and I don't turn a blind eye. Honestly, every time I turn on the television, I'm going to cry because when I see the things that are happening in our world, it affects me. And it bothers me. I can't just turn that switch off. I see a lot of things going on right now in our culture, and I look back, and I realize that those same things were happening then, and the youth didn't turn a blind eye to it.
There was the protest music they were listening to and the clothes they were wearing, and they went out, and they were fighting for what they believed in. Everything all started then. I go to a lot of political rallies; women's rights, gay rights, all that. Every time I go to those rallies, I'm always wearing my vintage clothes. And people, when they see that, say to me, "I get it," and they understand what I'm trying to say. I can say a thousand things by just wearing my clothes, without even opening my mouth... I feel like not enough of us are standing up to the injustices, especially with the dangers of climate change and the dangers of our fucking president. I want my clothing to be a symbol of rebellion just like it was back in the day. And of course it's beautiful, it's colorful, it's whimsical, it's not plain. And I love things that are crazy and colorful and not plain.
What is your favorite piece of vintage clothing you've found for your own wardrobe?
I love early '70 bell-bottoms that have patchwork all over them. I have this one pair that has very naughty patches all over it, and it's so rebellious, and I love them. I post with them a lot.
I also have this leather fringe vest that has a handmade Grateful Dead patch sewn to the back of it, and I have a nickname for it. I call it my I'm-burning-my-draft-card-vest because it's so perfect. I could imagine a man who wore it; it's definitely Woodstock-era.
Where do you hope to see Saudade Vintage in the future?
Not too long ago, Katy Perry's stylist contacted me asking for a jumpsuit that I made out of a quilt from like the '30s or '40s, and she said if they were going to use it in her music video, that they would buy it. They ended up buying it. So, allegedly my quilt jumpsuit that I made will be in Katy Perry's music video.
Honestly, I'm kind of not sure about all of this. I ask myself this question all the time because I'm only 21 years old, and I really started seriously posting maybe four, five months ago. This has like taken off like a rocket. I never expected all of this to happen. I never expected to work with Katy Perry. I never expected to be contacted by a magazine. It's humbling really. And the truth is, I'm no different than anybody else. I just had the bravery and the courage to do it. You know?
I would really like to continue my designs and be able to make clothes for musicians. And just being able to continue to design, because sometimes when I get so many custom orders and the client has their own idea of what they want, I get so caught up in the business that I can't focus on my art. I guess in the future, the balance would be freedom for the ability to do my art for the people I like, as well as the art being able to support itself.