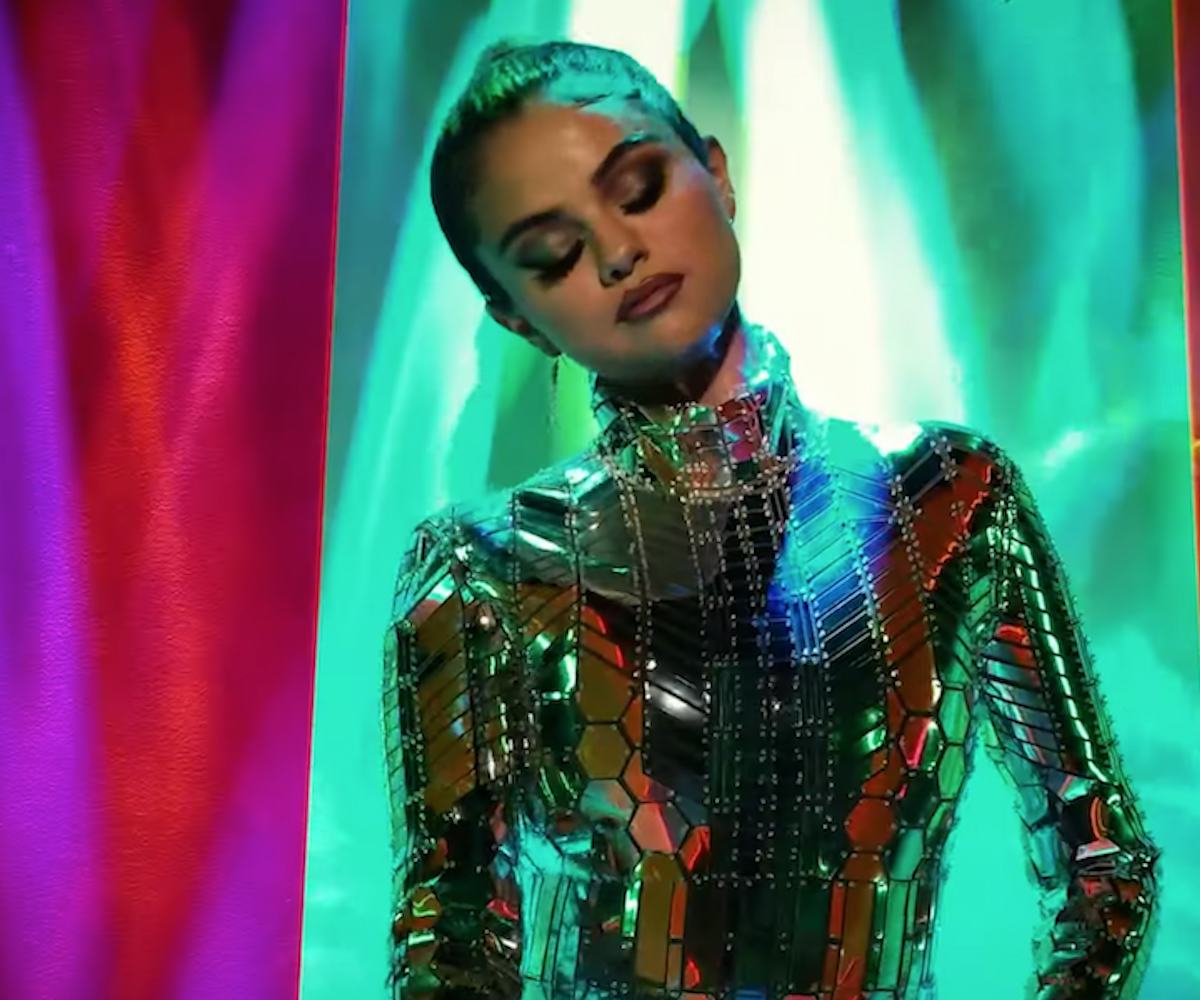 Screenshot via YouTube
Selena Gomez Drops Surprise Breakup Anthem "Look At Her Now" And Responds To Fan Rumors
"I do not stand for women tearing women down"
Selena is showing no signs of slowing down in her new, more confident era. Exactly 24 hours after returning with the emotional ballad "Lose You To Love Me," Gomez surprised fans with pop breakup anthem "Look At Her Now," complete with a colorful video to go along with it. The song acknowledges all the bad shit that went down in a past relationship, but asserts that Gomez is over it, and a stronger woman for all that she's been through. She also addressed fans who seemed to think there was beef between her and Hailey Bieber (née Baldwin) pretty directly via Instagram Live, asking them to be kind to one another.
In the first verse, Gomez sings about her ex's infidelity and how it affected her, "It was her first real lover/ His too 'til he had another/ Oh, god, when she found out/ Trust levels went way down." But she doesn't dwell in those bad feelings for too long, perking right back up in the pre-chorus, "Of course she was sad/ But now she's glad she dodged a bullet/ Took a few years to soak up the tears/ But look at her now, watch her go."
When Gomez initially returned with "Lose You To Love Me," many fans thought a post to Hailey Bieber's Instagram Story was meant as a pointed jab at Gomez: She shared a Spotify screenshot of Summer Walker's "I'll Kill You," which fans took as a threat to their queen, though it was likely no more than her simply sharing a *very* good song.
Gomez seemed to address the drama her fans have stirred up with Mrs. Bieber's fanbase on Instagram Live, saying in a video, "I'm so grateful. However, I do not stand for women tearing women down. And I will never ever be by that. So please be kind to everyone." She spoke to her fans directly, adding, "If you're my fans, don't be rude to anybody please. Don't go off and say things that you just feel in the moment." The music stands on its own, without drama to hype it up, and Gomez did a great job at settling her fans down to a simmer.
Watch "Look At Her Now" below.