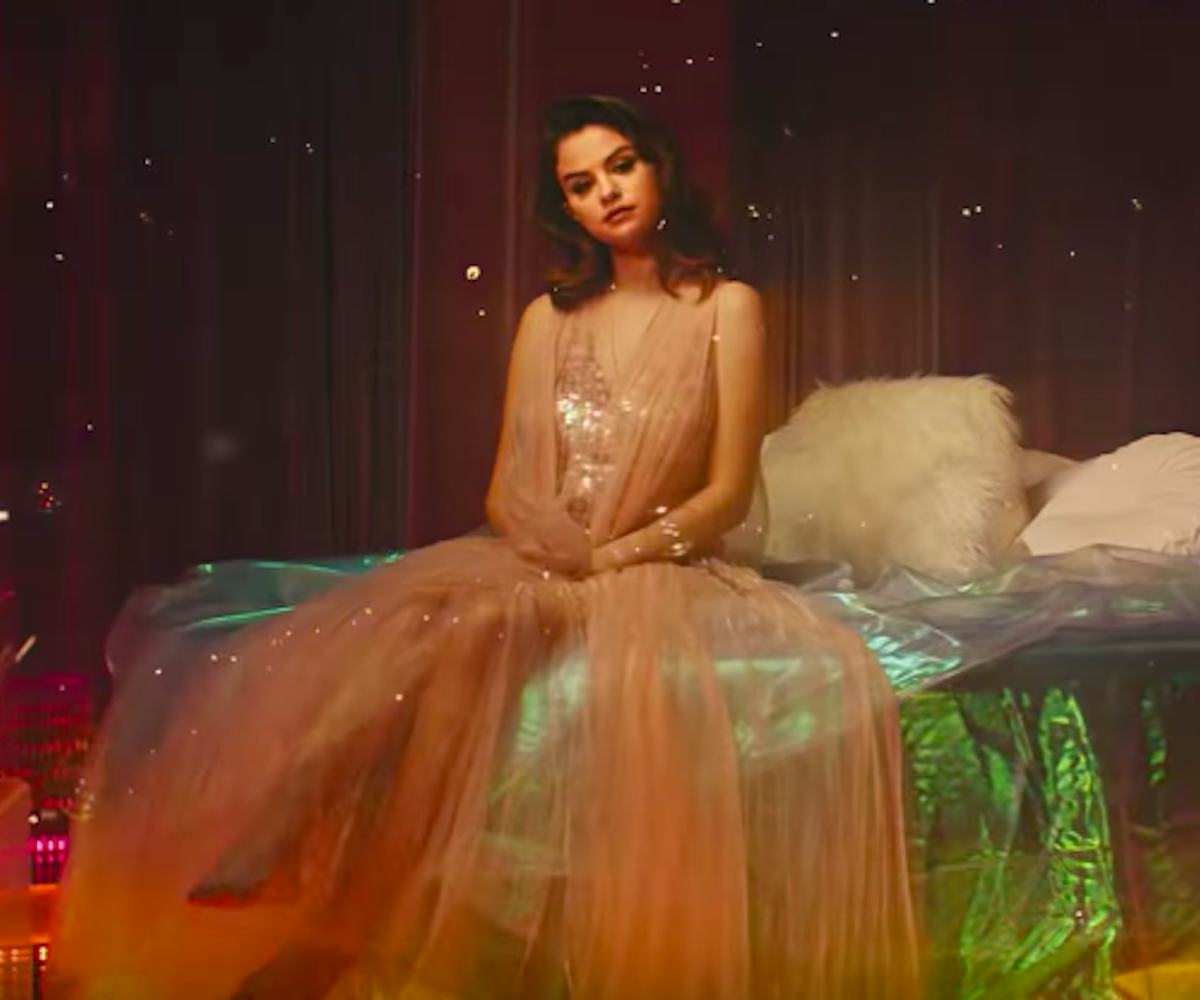 Screenshot via YouTube
Selena Gomez's "Rare" Music Video Is Lisa Frank-Meets-'Euphoria'
Off of her new album, out today
The first major pop music release of 2020 arrived in the form of Selena Gomez's Rare, an album four years in the making. The surprise music video for "Rare," the first song on the album and the third single following the declarative ballad "Lose You To Love Me" and sharp-left dance track "Look At Her Now," showcases Gomez back in her comfort zone — acting — as she performs under club lights and rainbow filters in woodsy settings.
The visuals were directed by BRTHR, the Brooklyn-based film production duo responsible for the brooding, cinematic visuals for The Weeknd's "In The Night" and Travis Scott's "Goosebumps." Their signature style was flipped into a Lisa Frank-style dream, with digitized cartoon butterflies flitting past a gown-wearing Gomez singing in a field like a Disney princess. Glitchy transitions add an edge to the otherwise simple track about the wavering interests of a lover, and Gomez's sequins, messy '70s-style hair, and glitter makeup contribute to the overall Euphoria vibes of the scenes.
Speaking to Zane Lowe on Beats 1, Gomez said of her newfound process:
I think the past few years, or, hell, decade if you want, I think I was really kind of hurting, and I think that prevented me from doing a lot more, creatively or even content-wise, of what I wanted to say. I'm interested, and I was in the studio last night. I was like, "I actually just kind of want to keep going," which I never do. Now I get to have more say, too, when it comes to even putting the music together. I was always so scared to speak up with producers. Now I know most of them so well that I just give them shit, and I'm always just like, "Well, I don't'... I've never done that, really, before, to have a conversation. It was an important experience for me.
Watch the "Rare" video, below: