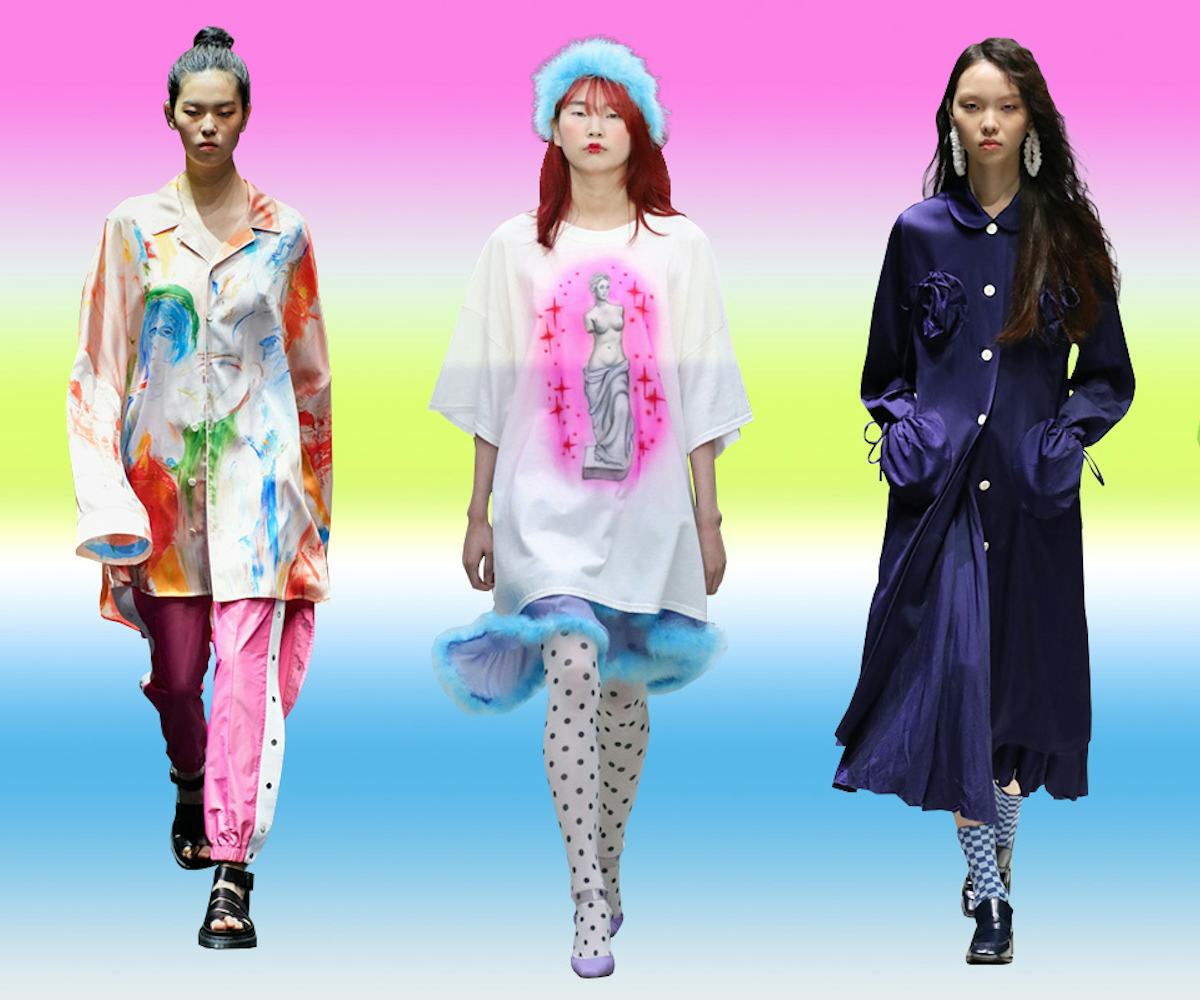 Seoul Fashion Week Was All About In-Your-Face Brights And Oversized Silhouettes
Neons and all things yeehaw reigned
When it comes to Seoul Fashion Week, go on and judge a book by its cover, starting with the venue where all of the shows are housed: the Zaha Hadid-designed Dongdaemun Design Plaza. The wildly futuristic and sleek structure also acts as a bewitching backdrop for street style photographers. And selfies. We're no SFW newbies, so we knew to arrive early for the Spring/Summer 2020 shows, which are always on time (!) because descending the ramp to get to said shows is a chaotic albeit mesmerizing process. In other words, every day we found ourselves holding our breath while carefully weaving in a ghost crab-like manner through a sea of young fashion lovers, including a handful of head-turning Instagram goths, who'd all crowd the ramp whilst striking a pose for the photogs. There were lots of majorly oversized outerwear (particularly blazers paired with long madras skirts) and sublime layering of knits going down the ramp. Also, bucket hats and intentionally faded pink disheveled locks were aplenty. But the most stylish of stars came in pint-size proportions: Designer-clad kids were the real showstoppers on the ramp slash unofficial runway.
As for what we loved on the actual runways? Akin to the varying ingredients – from snail mucin to organic sea kelp – in the sheet masks that were stuffed in front row gift bags, there was something for everyone – from the bold and the beautiful to the nutty, sexy, and so-damn-cool.
K-pop groups, projections of Sinéad O'Connor belting out "Nothing Compares 2U," and intense fog machines were among the runway entertainment and effects this season. Oh, and drag queens! For rising designer Graphiste Man.G's dizzying show, queens clad in lunatical looks worked it to songs from Madonna's Confessions on a Dance Floor album, resulting in guests getting in a borderline tizzy. But it's Madge's country-tinged bop "Don't Tell Me," and its accompanying music video, that comes to mind when reflecting on the week.
Everyone's obsessed with all things yeehaw as of late, and a slew of SFW shows reflected that. Perma-punk AF brand YOUSER really nailed it with a cowboy glam take on the Wild West. See also: brooding models rocking 10-gallon hats with crystal chains; big camel blazers sparkled with sewn-on bullets; the abs of male models in midriffs peeking from behind curtains of swaying fringe. We noticed some Calvin Klein x Raf Simons with a side of Off-White moments, but it was more tongue-in-cheek — and would fit perfectly on a VFILES' rack and/or on Lil Nas X.
Then there was KYE, whose Western wearable yet wonderfully wacky collection, with its splashy colors, animal prints, and utterly fun styling, was YEEHAWT. (Sorry, we had to. The collection is aptly named "UNTAMABLE," though.) Models stormed the runway in various look-at-me looks – neon cowgirl hats, exaggerated silhouettes over seriously frayed denim pieces and knits – as Nancy Sinatra's "These Boots Are Made For Walkin'" blasted away. A standout involved KYE's shirt dress-slip dress-corset hybrid, with a trick collar that tied in the back instead of buttoning down the front. It gave us Baby Spice Gone Wild vibes. The show was as hip as its front row, which was packed with Korean celebs, including actress Arden Cho and fashion darling/influencer Irene Kim. Fun impressive-as-the-Dongdaemun-Design-Plaza fact: KYE, LVMH semi-finalist, has also been seen on Rihanna, Kylie and Kendall Jenner, Girls' Generation, Bella Hadid, Hailey Bieber, Grimes, Alicia Keys, Kehlani, et very famous el!
This was an especially in-your-face SFW, with loads of neon and an emphasis on oversized everything. Sartorial-slaying shout-out to London's Ashley Williams, SFW's special guest designer, whose kaleidoscopic '90s wonderland of a collection made its runway debut with a high-kick. This time around, we were also into a lot of the menswear brands, especially SONGZIO's (oversized, duh) tear-away pants, shirts, and trench coats, which came in acid-y pastel explosions with punchy prints. Newsflash: The skinny jean has officially left the building, as seen via Han Chul Lee's collection which featured many a split-leg slack.
Even the award-winning, the always dramatic, the very-famous-in-Seoul brand MÜNN, known to be the chicest of them all, got pretty (and) punk. The brand's Hyun-min Han, who has also designed stage costumes for K-Pop royalty BTS, is known for putting on one of the most anticipated shows of the week, and SS20 didn't disappoint. Moody models strutted away in a collection that mixed detailed, structured tailoring with lightweight fabrics, infused with '80s decadence (and '80s towering shoulders) a la Dynasty. There were tall regal hats that Cristóbal Balenciaga would have loved – the hat worn in look one was a standout, and, maybe it's the jetlag, but it made us think of some of Natalie Portman's Queen Amidala (yep, the character from the Star Wars' prequels) many attention-snatching hairstyles. Chunky silver earrings and chokers were also involved. Sweet eye-candy highlights: a colossal, shimmering black windbreaker given a fancy Victorian treatment and a Wall Street pinstripe blazer-meets-black tulle baby doll dress. As for the most Instagrammable look? So, you know that plastic thing that holds your soda cans together when you buy a six-pack? Well, a male model wore what from afar looked like a purple version of said plastic soda can thing over his otherwise shirtlessness replete with enormous puffed wrist cuffs and enormous harem pants. Whatever it was, it's a sexy and space-y number that we're absolutely here for.
Bourie's new collection was all about deconstructed details, elements of surrealism (think: Elsa Schiaparelli), and '80s silhouettes that were subtle yet striking. An ultraviolet satin coat with circular chest pockets paired with an ultraviolet midi skirt was a winner. So was a #NEEDNOW oversized ecru linen suit over an ivory ruched blouse.
But what we really need now after Seoul Fashion Week – and after that 14-hour flight – is to remove this placenta sheet mask and crawl back into bed in Child's Pose. Reminder: Don't sleep on the electric fashion capital that is Seoul. Now, it's back to hibernating.