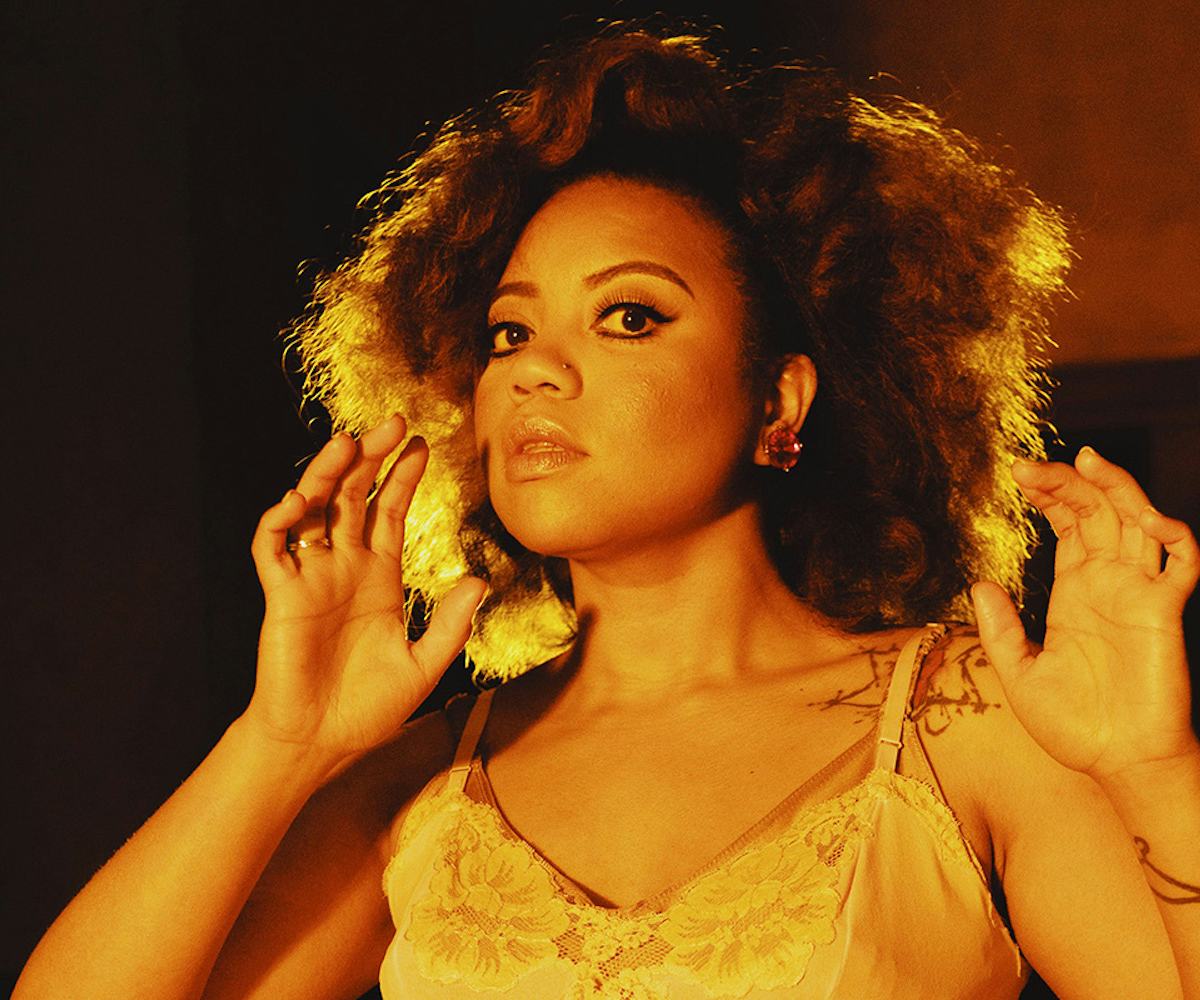 Courtesy of Seratones
AJ Haynes Doesn't Give A Shit If Men Are Uncomfortable
The Seratones lead singer talks 'Power,' reproductive rights advocacy, and being more honest than ever
AJ Haynes seems like the type of friend we all wish we had. She speaks in pull quotes, in words so biting and funny that I'd like to tattoo them across my forehead, or at least have made into a nice poster. Her love language is food, she's a fierce reproductive rights advocate, and a charming rock icon-in-the-making to top it off. As I sat with the Seratones' lead singer a few weeks back, ahead of the release of the band's sophomore album Power, I felt that a-ha moment of, Oh, this is the artist I'd been looking for. She's unabashedly herself, excitedly pointing out to me that her athletic socks matched her dress as she kicked off her shoes and curled up on the couch, before launching into a beautiful monologue about why she simply doesn't give a shit what people think about her anymore.
For Power, the lineup of the band shifted, and Seratones shifted from a "creatively traumatic experience" to being a deeply cohesive collaboration that resulted in some of Haynes' most personal work yet. It's a drastic sonic shift, going from punk-adjacent to straight-up soul, but Haynes says, "I just feel more in myself now." She adds, "And I think having a more heightened climate absolutely made me have to hold myself accountable for recognizing what I absolutely will not deal with in my personal life, and also my creative life. I will not deal with any bullshit because I will not deal with anything that smells remotely of a nefarious and toxic patriarchal appendage. Do not fuck with that."
"I will not deal with any bullshit because I will not deal with anything that smells remotely of a nefarious and toxic patriarchal appendage."
Haynes put together a deeply personal album, both sexy and political and everything at once, and did so as the only woman in her band, often working with male co-writers. "I don't give a shit if they're uncomfortable," she says, adding, "The reality is, in order to grow as a human being, you have to deal with being uncomfortable… Regardless of gender, there's a degree when you have to put your ego aside and work at the mercy of the song." She also, of course, will not keep men around who "aren't capable of empathy and growth."
Aside from her talent for articulating everything I've ever wanted to hear or say with such rapidity and ease, there's more about Haynes that makes me want to befriend her, and that makes her so admirable. Haynes is a counselor at one of the last remaining abortion clinics in Louisiana; though she's hesitant to call herself an activist. "It's a big word, and it's also thrown around and can be vacuous, just to be real," she says. "But, would I say I'm an advocate for women's and anyone's physical autonomy? Fuck yes. Have I actively worked in the field? Have I been able to influence and help people? 100 percent able to do that."
She tells me, "I don't know anyone else who's worked at an abortion clinic for 10 years and has a rock 'n roll band. I realized, I have a really unique vantage point, and I'm just going to talk about it [in my music]." She continues, "Was there concern about backlash? Absolutely, because this is a scary time. Because the woman who shot Dr. Tiller is out on the street. That's what time it is, right? There's real violence threatened against my body in so many different ways. But I also realized that if I'm speaking about this openly and somebody wants to jump stupid, I know who I won't be fucking with anymore. Like, cool. Don't buy my record." Even so, she doesn't view her pouring her experience and beliefs into her music as using music as preaching from a platform. She tells me, "A platform is something that's tall. It's something like a pedestal. I'm talking about real day-to-day. I'm seeing people eye-to-eye. There's no platform."
"I don't know anyone else who's worked at an abortion clinic for 10 years and has a rock 'n roll band."
For Power, Haynes returned home both literally and sonically, departing from the grungy rock of Seratones' debut record and diving headfirst into the soul she grew up with. "Soul music is my safe space. Soul music for me is also a kaleidoscopic spectrum. Soul music is doo-wop, The Ronettes, but it's also Sam Cook and Rick James." She pays homage to those sounds with bits of gospel on the title track, "written with the intent of [eliciting] that feeling I have in church, quickened but also rooted." It's the most direct connection to her work with reproductive rights, but it's assuredly not the only political track on the record.
The sexiest song on the record is just as political. "Because, 'Permission' is about fucking," Haynes says. "It's, who do I grant access to my body and who do I not? Understanding intimacy and all these really complex things. It's not always good or bad; it's sometimes just weird." It's her favorite song on the record, she tells me, and it represents a woman's real experience. "Like, let's talk about ovulating, bitch," which was happening as she wrote the song itself. "I was like, How do I channel this ovulating energy that's happening right now? Because I'm feeling myself."
Similarly sexy, the soft boy—the type that likes "Bukowski and Baudelaire"—is treated to a funk song, "Sad Boi," that is less critical of his flaws, and more poking fun at the fact that Haynes definitely has a type. "I didn't think that song was going to make it on the record," she admits, considering it more of a joke song than anything. "The label was like, no, that's a single." And so it was.
Part of Haynes shift toward being more forward with the specifics of what she'd like to convey in her music, whether political or ovulation-related or otherwise, came from looking out into the crowd when she was onstage. "I want people who look like me at my shows, I want people who identify like me at my shows," she stated. "I want more people that I would hang out with and have a kiki with at my shows. I want my shows to be like a big slumber party." And, who wouldn't want to attend a slumber party and talk fuckbois and hookups and the absolute political hellscape we're living in? Especially if Haynes is providing the ideal soundtrack?
After Power, Haynes isn't ready for a break; she's onto the next record, and already has a concept in mind. "The band is better than it's ever been, and part of that is us all growing up a little bit and drinking a little less." Cutting out patriarchal appendages and "holding each other accountable" has only smoothed out any wrinkles in the creative process. You won't see Haynes churning out an album and dropping it ASAP—"I'll get there whenever I get there. I'm not going to give you a bunch of bullshit. I'm going to give you a snack and a couple of meals, and dessert." And Power is all of that and more, fresh out of the oven and ready to be devoured.
Listen to the album, below.