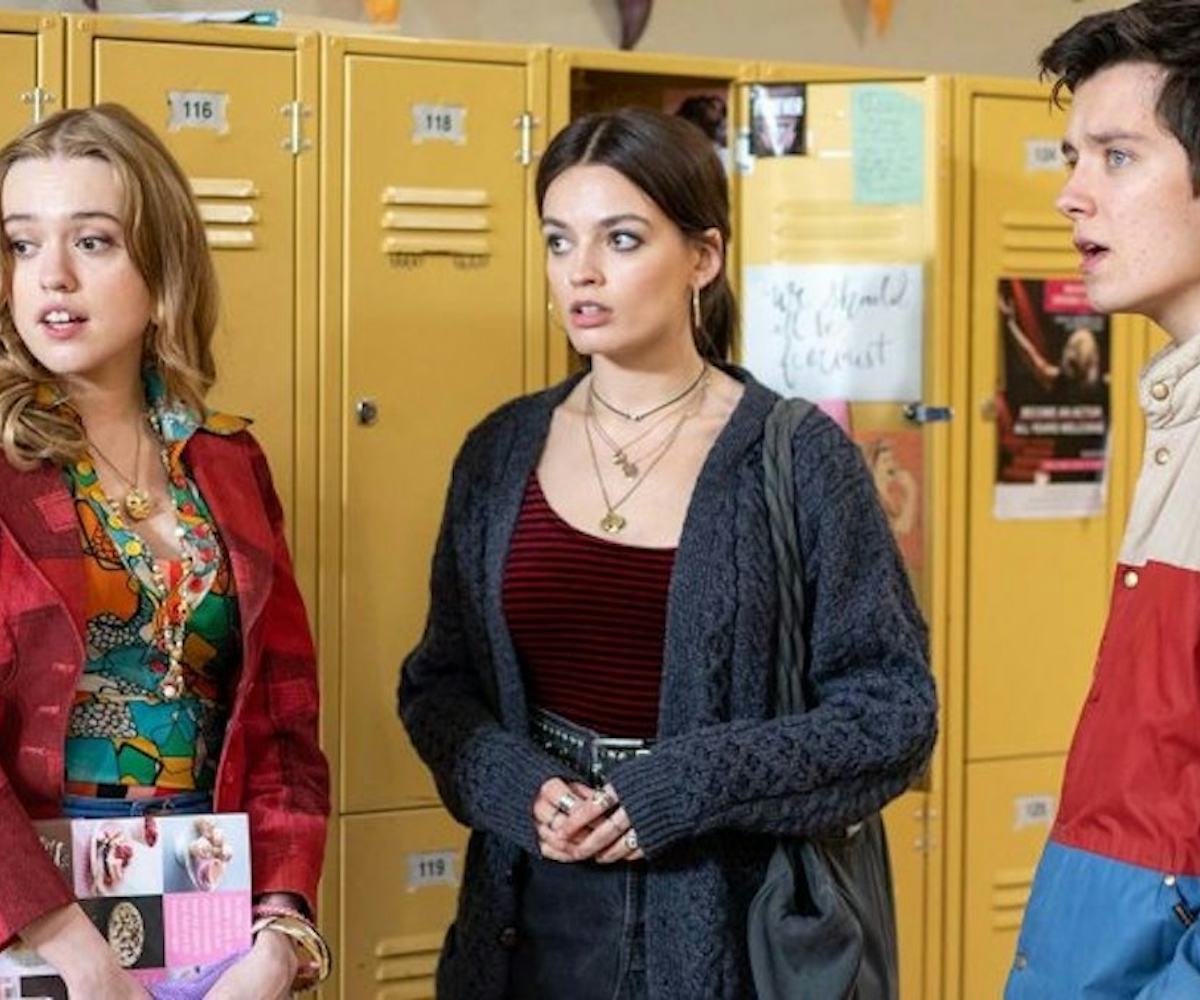 Photo courtesy Netflix
'Sex Education' Will Return to Tackle More Teen Sexuality Stories in a Third Season
The new episodes will presumably hit Netflix in 2021
When Sex Education premiered its first season on Netflix back in January 2019, it quickly became a hit for its frank but funny depiction of the struggles and confusion that often surround burgeoning teenage sexuality. With its smart writing and talented cast (plus Gillian Anderson, of course), it's no surprise people around the world fell in love. By the time its second season rolled around three and a half weeks ago, it had amassed a huge fan base, all eager to power through the new episodes in a single sitting. So, if you're like me and are already desperately awaiting more adventures from Otis, Eric, Maeve, and co., have no fear — as of today, the beloved teen dramedy has officially been renewed for a third season, presumably coming to Netflix in 2021.
In a video uploaded to the Netflix YouTube channel, Alistair Petrie, who plays the show's chief antagonist Principal Groff, walks through the hallowed hallways of Moordale Secondary School. "Today, I'm going to be an art historian as we examine this exquisite gallery," he says while passing by a whole host of portraits of the series' most recognizable characters. In the process, he offers some erudite commentary — referring to "Lily and her violets" as a "Greek symbol for lesbian and bisexual love," and Dr. Jean Millburn's pomegranate as "a symbol of fertility." Finally, he approaches the pièce de résistance: a picture of lovebirds Eric and Adam, both looking longingly into the sky. "I wonder what is in store for these two cherubs. Well, I suppose you'll have to find out in season three, won't you?" he asks with a knowing wink.
If you recall, in the show's second season, lead character Otis explored a relationship with Ola, only to have it implode when he realized he was still in love with Maeve at the same time Ola realized she was actually in love with her best friend, Lily. The show also placed an even larger focus on queerness, expanding the storyline for Eric (who found himself involved in one very hot love triangle) while also touching on pansexuality (through Ola and Lily) and asexuality (through an actress who is initially confused about her complete disinterest in having sex with anyone until Dr. Millburn assures her that what she's feeling is completely normal).
This leaves plenty more to be explored in the upcoming third season. And apparently, we fans aren't the only ones excited about what's to come next. Already, members of the talented cast have begun celebrating the renewal news on social media.
As of now, there is no word yet on when season three will premiere.