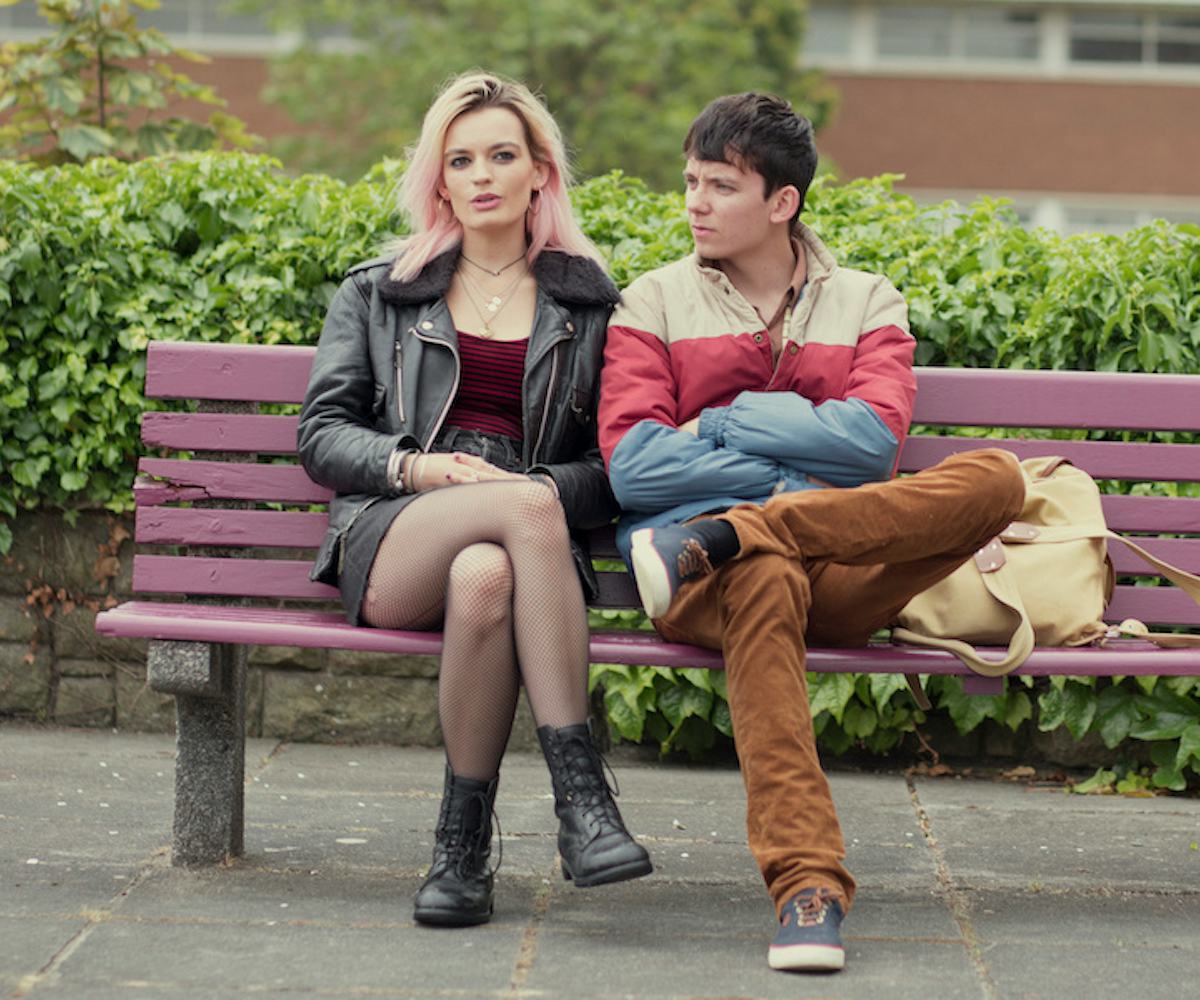 Photo by Sam Taylor/Netflix
The 'Sex Education' Soundtrack Is Finally Getting An Official Release
Listen to "Every Feeling" before the album drops
Musician and songwriter Ezra Furman is finally releasing Netflix's Sex Education soundtrack following Season 2 hitting the streaming network. Furman, tapped by the Sex Education creators to "be the Simon & Garfunkel to our The Graduate," has shared Season 1's somber acoustic ballad "Every Feeling" along with the news.
"I decided I'd use the Sex Education project as a place to put my tenderness, my sadness, and longing. The soft teenage feelings that every adult knows continue long after high school ends," Furman says in a press release. Furman says she was provided with descriptions and scripts for each episode prior to creating the soundtrack for Season 1, but was left to her own creative devices entirely for Season 2. "They were like, 'you know what to do,'" she adds. "I try to imagine what's going to be on screen as a jumping-off point, but they don't need songs that fit, they need songs of a high quality, that come from a real place. That's why they wanted me, I guess. Also, I guess they noticed an exuberant vulnerability. I lay all my feelings out there."
The full tracklist is comprised of 19 songs, mixing Furman's original work with covers of a handful of well-known songs, including LCD Soundsystem's "I Can Change" and Melanie's "The Good Book" — previously released by Furman in 2019 as a part of her Songs By Others EP — as well as a new cover of The Clovers' "Devil Or Angel."
The soundtrack will hit digital streaming platforms on Friday, January 24. Until then, pore over Furman's catalogue — including 2019's Twelve Nudes — and the newly released Sex Education Season 2 to hear the sounds. For those looking for a physical copy, the album will be available on both vinyl and CD on April 10, both of which are available to pre-order now via Bella Union.
Hear "Every Feeling" and check out the full tracklist, below.
Sex Education Original Soundtrack Tracklist:
1. "I'm Coming Clean"
2. "Love You So Bad"
3. "Every Feeling"
4. "Dr Jekyll & Mr Hyde"
5. "Care"
6. "Restless Year"
7. "Early Rain"
8. "La Madrugada"
9. "I Can Change"
10. "Amateur"
11. "My Zero"
12. "The Good Book"
13. "Body Was Made"
14. "If Only The Wind"
15. "Can I Sleep In Your Brain"
16. "Devil Or Angel"
17. "At The Bottom Of The Ocean"
18. "Splash Of Light"
19. "The Queen Of Hearts"