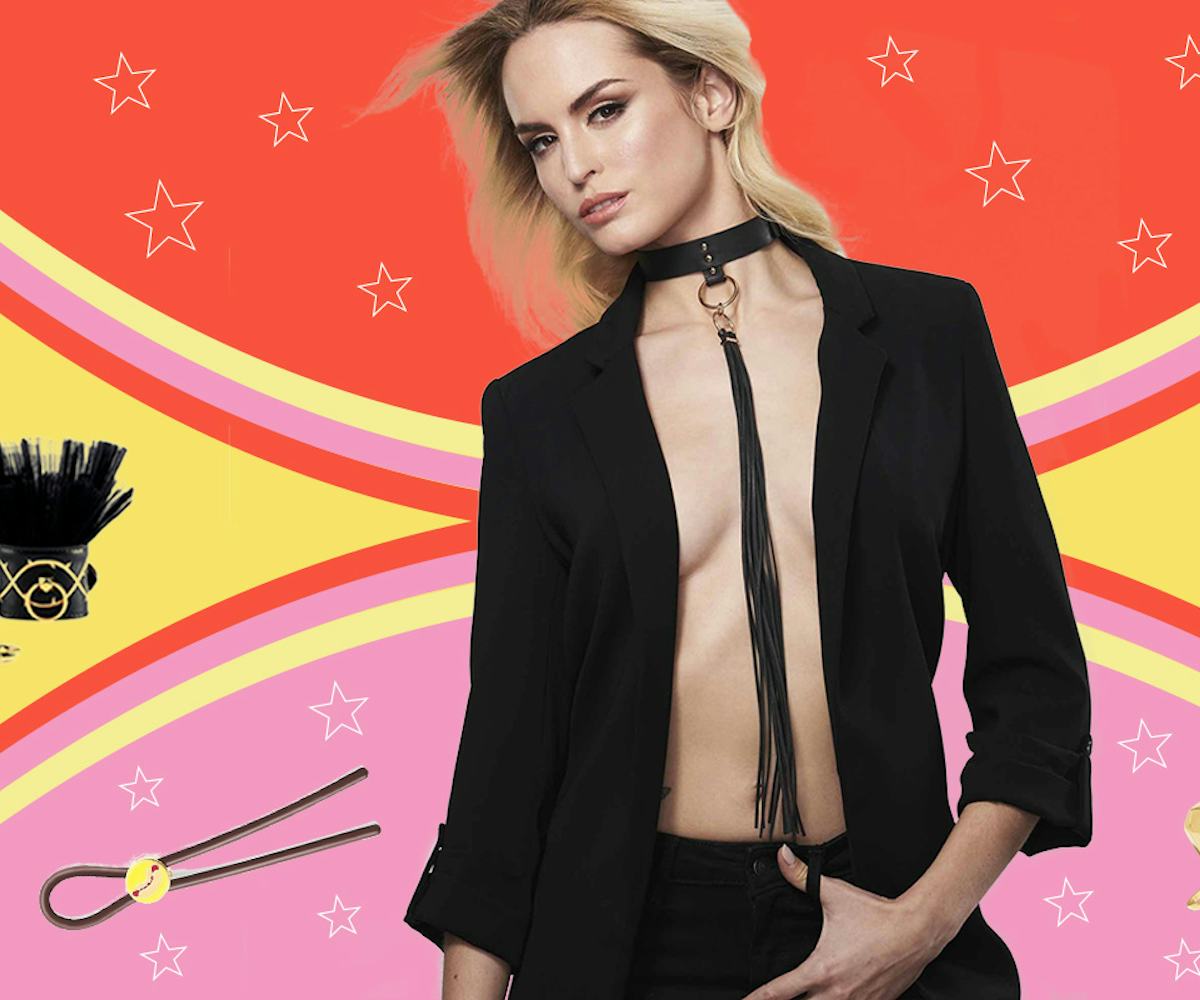 9 Pieces Of Jewelry That Double As Sex Toys
From discreet vibrator rings to nipple clamp earrings
We've come a long way in terms of sex toys. Expanding beyond just the phallic dildo or classic massage wand, there are now genderless toys, transformative toys, toys made for partner use, and some toys that are so pretty, you might even want to keep on your nightstand, rather than hidden in the back of the drawer.
Still, regardless of advancements in technology and design, it's pretty rare that a sex toy is actually discreet—in fact, more often than not, they're quite the opposite. So when a sex toy is so unobtrusive (and quiet!) that it can double as a chic piece of jewelry, we're pretty intrigued, to say the least. Not only does it make it easier to get off wherever, whenever, but there's also something a bit thrilling about wearing your sexuality on your sleeve (or, rather, around your neck or on your finger).
Whether you're looking to spice things up with a partner or have easy access to some solo fun, these pieces are discreet enough to wear all day long, ready to jump into action whenever you are. (Okay, fine, maybe some are a bit more obvious than others, but should still be worn with pride.)
From sculptural rings that double as vibrators to bangle bracelets that transform into handcuffs, to clamps that can be worn on your ears or your nether regions, there's a little something for everyone. At the end of the day, who doesn't love a multifunctional piece of jewelry? Your guide to the most pleasurable jewels and baubles, below.
Zalo & Upko, Doll Designer Collection Leather Thorn Handcuffs, $115, available at Zalo.
The sexy handcuffs can easily be disguised as chic cuff bracelets.
Unbound, Palma, $128, available at Unbound.
This modern statement ring doubles as a multi-speed, waterproof vibrator ring. Don't mind if we do!
Bijoux Indiscrets, Maze Tassel Choker, $35, available at Bijoux Indiscrets.
This fringe choker triples as a leash or a whip!
Agent Provocateur, Corazon Handcuffs Gold, $725, available at Agent Provocateur.
Okay, these might be a *bit* pricey, but they're also the prettiest, most unassuming handcuffs we've ever seen.
Unbound, Hotdog Cock Ring Bracelet, $15, available at Unbound.
This bolero-style bracelet secretly becomes a hotdog charm-bearing bracelet for, err, something else.
Wisp, Unice Ear, $792, available at Wisp.
Sure, this sculptural earring is the perfect addition to our jewelry collection, but the fact that it doubles as "sensual tech" and massage stone orbs makes it well worth the price.
Crave, Vesper Vibrator, $69, available at Violet Grey.
This minimalist necklace may seem innocent, but it's actually a four-speed, two-mode vibrator that's "whisper" quiet, for the ultimate in discretion.
Pink Bunny, Pearl Beaded Clitoral Clamp, $15, available at Pink Bunny.
Well, this is probably the prettiest clit clamp we've ever seen. Even if it doesn't technically double as jewelry that can be worn elsewhere, we're still here for it.
Lady Libido, Nipple Clamp Earrings Gold, $24.57, available at Etsy.
These beautiful nipple clamps also double as earrings for when you're trying to be more discreet… or maybe, not so discreet at all.