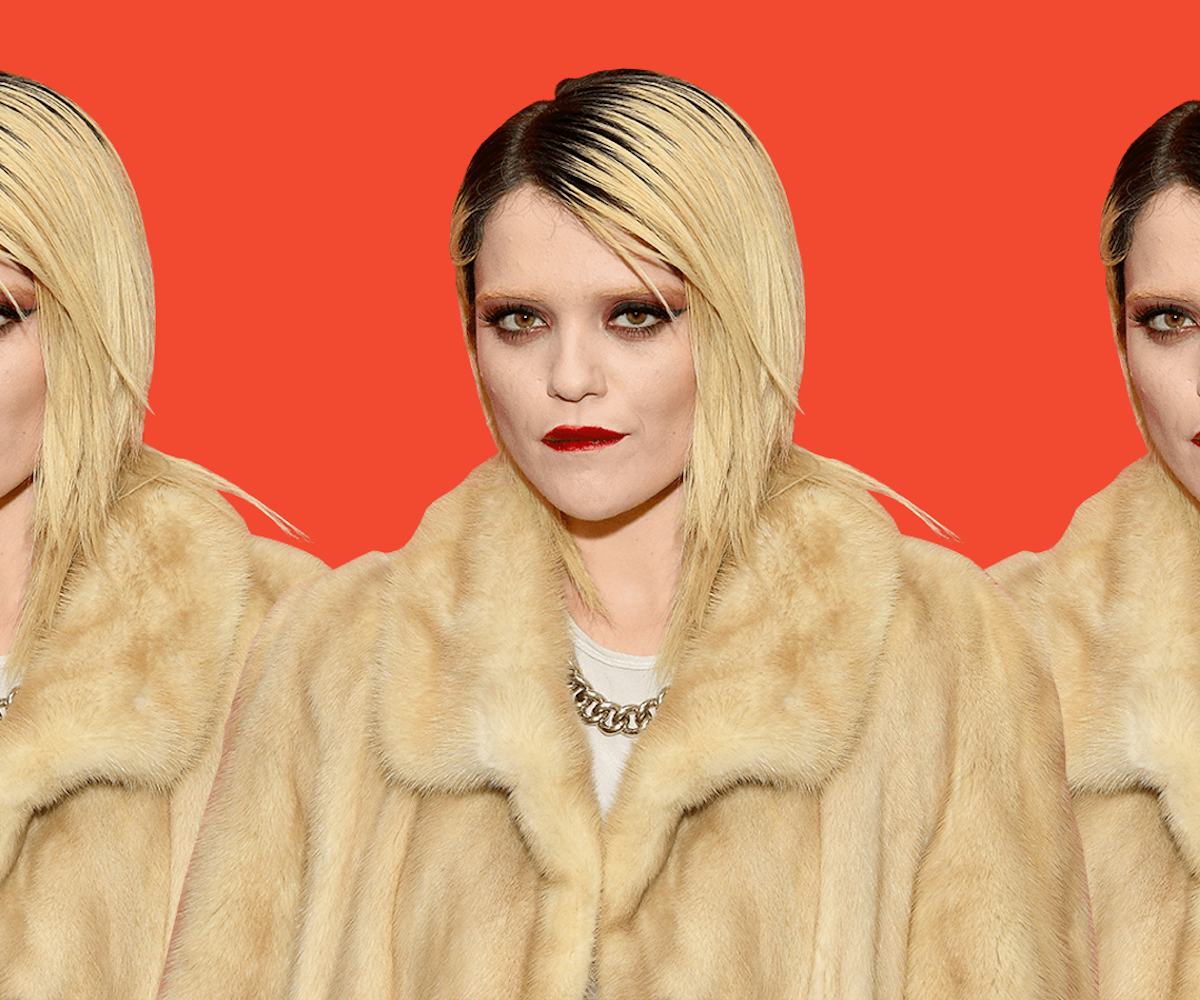 Photo by Dia Dipasupil/Getty Images
Finding Comfort In Sky Ferreira: Movie Star
We miss her music, but we love her on the big screen
If the anxious wait for Rihanna's ninth album has resulted in an international pop crisis, albeit one eased by plush photo shoots and her ascent to beauty mogul ubiquity, then the wait for Sky Ferreira's Masochism has been its evil doppelganger: a crippling, futile-seeming struggle stained with cigarette burns, awkward silences, and gay tears. But such is life as a Sky stan, being part of her fan base has always been synonymous with eschewed release dates, dashed expectations, and lingering disappointment.
So, in the meantime, we've been forced to find sustenance any way we can, clinging onto every-once-in-a-while leaks, keeping a watchful eye on her SoundCloud account, and getting our lives to her (very) occasional collaborations with acts like Jesus and Mary Chain and Iceage.
And then there are her movies, which have ended up being far more than just a means to stay visible.
Dabbling in acting in between album delays has become one of the more familiar pop narratives of the 2010s, with everyone from Rita Ora to Tinashe delivering acting performances of varying levels of distraction while labels hold their music hostage. But Ferreira's film appearances have never been quite as jarring. In fact, it's been relatively easy to spot a through line between the visionary filmmakers Ferreira has gravitated toward and her own battles for autonomy in music.
Was her role as a bound-and-gagged hostage handcuffed to a bathroom sink in the Nicolas Cage thriller The Trust a clandestine metaphor for her years singing old Katy Perry demos for major labels that just didn't understand her? Probably not. But you don't have to reach quite so far to spy Ferreira's rebellious nature in her other acting work, from her dalliances with David Lynch in 2017's Twin Peaks to her role as a purveyor of prophetic mixtapes in Edgar Wright's Baby Driver.
Her role in this month's captivating true crime drama Lords of Chaos isn't any different. It is again a minor part, but the fact that Sky makes such an impression in a movie otherwise dominated by graphic violence, skull parts, and pentagrams is a testament to her unparalleled magnetism as a performer.
She is Ann-Marit, rock photographer and girlfriend to Øystein Aarseth (Rory Culkin), the founder of controversial death metal band Mayhem, whose public disorder and gleeful fascism inspired widespread concern in 1990s Norway. But standing on the fringes of a culture drowning in strained machismo and try-hard "Hail Satan!" theatrics, Ann-Marit is the only person largely unimpressed, expressing cynicism over the genre and seeing the vulnerable, human Øystein buried somewhere underneath the corpse paint.
Ann-Marit isn't Ferreira, particularly in an uncomfortable early scene that demonstrates her readiness to bend to the will of very bad men, but the character's lack of pretense and eagerness to call out industry fraudulence will strike a familiar note to long-term Ferreira fans. Initially pushed as a teen-pop sexpot, she powerfully rebuffed the exploitative imagery once thrust upon her by her management and sought an uncompromising level of control over her material, carving out a creative identity entirely her own.
It was an inevitable move, because there was always something far more interesting about Ferreira than the run-of-the-mill pop girl her early backers decided she would embody. She was never going to fill the pearly-white void left by Britney Spears when she started singing about fucking instead of pining. If anything she was the Britney of the pap walks from Starbucks and back to her car: grungy, unbothered, and dripping in effortless, chain-smoking glam. Think America without the counterfeit sheen, or a bedraggled Live Through This prom queen. And with all of that in mind, it's truly no surprise that in her musical hiatus she'd end up crossing paths with David Lynch, the king of exploring the dirty underbelly of apple pie suburbia.
Ferreira's one-scene cameo in the Twin Peaks revival is arguably her finest acting work, and certainly her most transformative. Looking like fresh death, she is covered in meth scars and endlessly scratching at a rash beneath her armpit, a haunting embodiment of the addiction that has ravaged the town in the 25 years since the original series. It was a role that only furthered the idea of Ferreira as a fearless entertainer, drawn to experimentation, surprise and artists with an equally uncompromising vision for their own work.
In a sense, Ferreira's absence from music has been one long pop nightmare—is any moment in recent TV history more star-is-born stunning as when she pulled off her sunglasses at the end of her David Letterman performance in 2013?—but there is something undeniably invigorating about her acting work in the interim. The directors she has collaborated with, from Lynch to Eli Roth to Jonas Åkerlund, have all carved out unique spaces for themselves in an industry just as risk-averse as the music business, determined to bend the potential of the cinematic playground to their will, rather than get swallowed up by its failings. And for Ferreira, whose skill and star power has only ever been matched by her fearless determination to fight for her own voice, such creative partnerships can't help but hint at great things for her future material.
It's easy to lose hope amid so many album delays, to the extent that even her November pledge that Masochism would be released "this winter" felt too vague to be real, but Ferreira's film work has proven to be an unexpected lifeline, a drip-feed of creativity as beneficial to her fans as it has been to herself. "[David Lynch] really stands by what he believes in," she told Vanity Fair in 2017. "It's not about his 'aesthetic'... It's just who he is. It's made me want to work with people who stand by their work and don't feel the need to explain it."
From the darkness of a musical drought, a crack of light appears.
Lords of Chaos is in theaters now.