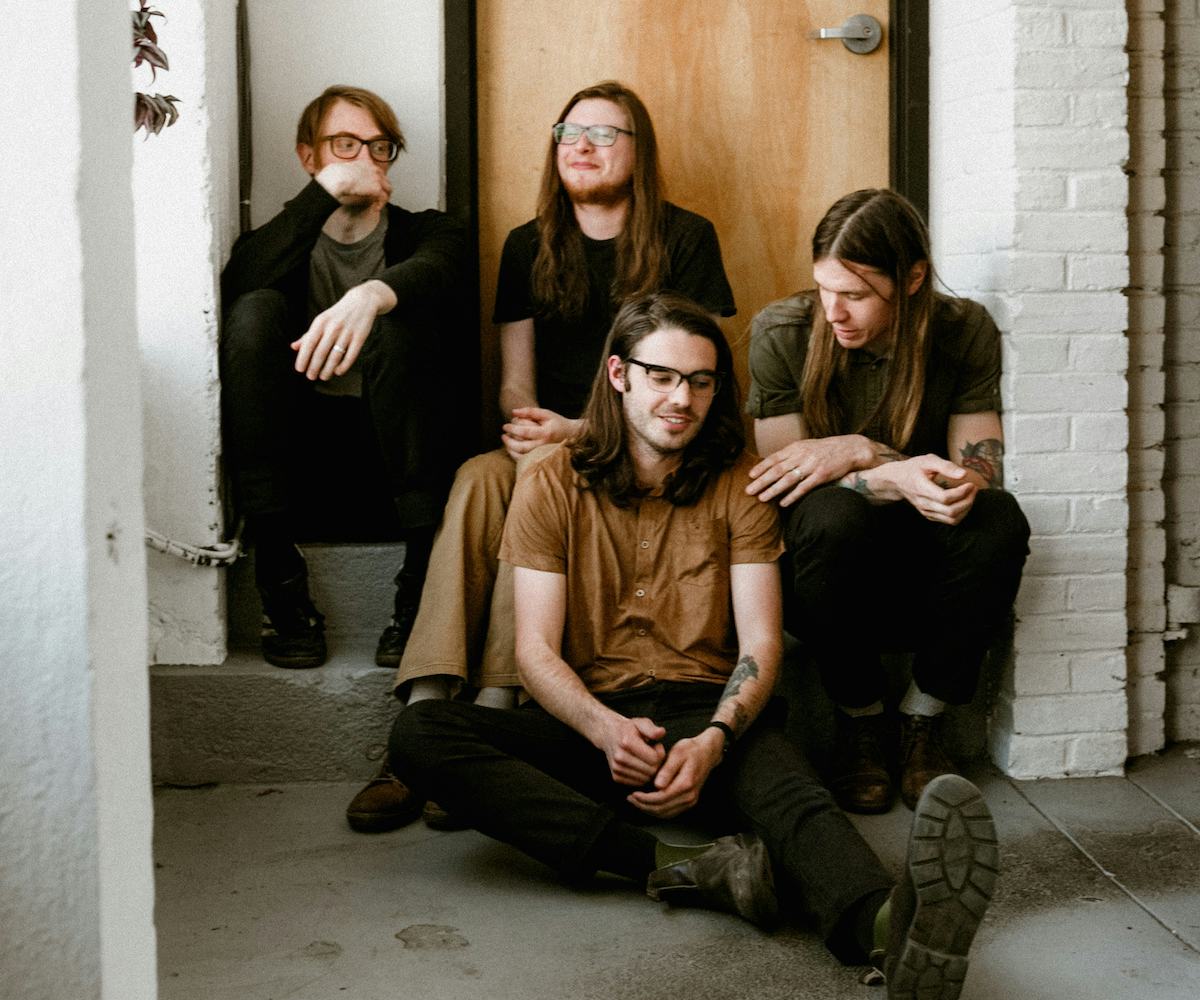 Photo by Jess Flynn
Slaughter Beach, Dog Slows Down And Opens Up On 'Safe And Also No Fear'
Frontman Jake Ewald talks anxiety and returning to collaboration on his new record
Jake Ewald has found some semblance of clarity and comfort. Formerly the only artist behind Slaughter Beach, Dog, Ewald has now seen the project become a four-piece band, bolstered by touring members that decided to stick around for the long haul. In the time between 2017's Birdie and the forthcoming LP Safe and Also No Fear, Ewald has been able to slow down and open himself up to the world around him, striving to embody those very ideas suggested in his album title.
"I had a lot of panic attacks before," Ewald says. "I still have them now, but I have them a lot less. And I had assumed that having less anxiety and being more comfortable was going to mean I had less to write about, but, in reality, it cleared me up—I felt like my capacity for remembering things and paying attention to things just got exponentially larger."
When narrowing down what songs would make the 10-track LP, Ewald left off 19 that felt a bit too "sure of themselves." What is left, Ewald says, are songs that are all "reaching for something." This musical mood is very reflective of Ewald's own vulnerability when recording his work—often after writing, he tells me, he handed over the song for his band to arrange, leading to a uniquely collaborative record for Ewald.
Safe and Also No Fear was initially supposed to be another solo project for Ewald as Slaughter Beach, Dog, but after a rotating lineup of band members joined him on the road following the release of Birdie, a few musicians clicked and stuck around, like bassist Ian Farmer, who produced Birdie and played alongside Ewald in now-defunct Modern Baseball, as well as Nick Harris of All Dogs and Zack Robbins of Superheaven.
That new comfort with the idea of letting go is palpable in the music. Ewald's storytelling, rather than subconsciously appealing toward the frenetic tendencies of previous work, takes its time here to explore the unknown. Though not written sequentially, listeners can piece together an emotional arc, and pluck out what they need to find in it at their will. The front half of the record can offer a real sense of optimism and expansiveness, but it's also lightly tinged with the coming-of-age fatigue that accompanies us as we stretch our limbs and reach out for more. And then, "Tangerine" picks up the pace for the record's latter half and forces the listener to refocus, and reconsider all their same big emotions through a new lens.
Ewald began writing Safe and Also No Fear a couple of years ago, after disbanding Modern Baseball. "I was beginning to settle into the day-to-day life that I have now, which is a lot slower than it used to be," he tells me. "I kind of started living like a student. I started reading as much as I could and I listened to a lot of older records that I hadn't given a try before," spinning the likes of Joni Mitchell, Neil Young, and John Prine. Ewald occasionally picked up shifts working the door of a music venue, and recorded here and there at home in Philadelphia, but overall he says: "I tried to be a sponge as much as I could.'
And learning via collaboration was just as beneficial as opening himself up to a more diverse catalogue of music. Ewald recalls handing over a song to the band and then recording it as a quick phone demo. "I went home that night and played it for my partner, but, as I was listening back to it, I thought, This is the kind of band I always wanted to be in," he tells me. "And it was crazy to have that feeling, because this whole time I had been thinking I was going to be able to achieve that one day on my own. But here I am, letting these people in. We trust each other, and we created that [demo] together. As soon as that feeling hit me, we just kind of rolled with it."
"This is the kind of band I always wanted to be in."
Aside from the obvious (and necessary) musical common ground shared by this now-band, each member comes to the table already having learned the same painful lessons about touring too much and heading straight for burnout. "It feels like we know what we're getting into now," Ewald says. "I don't actually want to go on tour for nine months, but I do want to tour for one month and then maybe do it again a few weeks later, and plan it out like an adult would." What was the death of one artistic endeavor can now guide the sustainment of another.
The Birdie album cycle was very much wrapped up in a melodramatic moment in the trajectory of Modern Baseball, and interviews, reviews, even reactions at shows reflected that. Plenty of clunky prefixes used to describe what Slaughter Beach, Dog was or what Ewald was doing, almost as if emphasizing his former role would be the glue that got the band back together. But, in reality, it only continued an uncomfortable conversation about the closing of a chapter, rather than bothering to read (and consider enjoying) the one that was just beginning.
"It's starting to feel like if the page has not been turned, it's very nearly turned," Ewald tells me, not to dismiss his previous band, but simply to reflect on how much has happened since he left it. "I started writing songs for this record two years ago, which means the last time I wrote a Modern Baseball song that people have heard was probably four years ago," he shares, bringing up a conversation he recently had with his partner about Safe and Also No Fear being the third LP from Slaughter Beach, Dog. "Modern Baseball only ever made three records, so this officially feels like the last time I can really indulge the Modern Baseball idea because the next time [Slaughter Beach, Dog] does another LP, I'll be able to say [we've] put out more material," he points out, laughing as he adds, "and Modern Baseball broke up, like, four years ago at this point."
Luckily, Slaughter Beach, Dog, is in no way, shape, or form some saddened attempt at Modern Baseball 2.0, nor is it an entire departure from what fans fell in love with years ago. Instead, it's an artist growing, and inviting fans new and old to grow alongside him—which, to be fair, is a far more rewarding reality than watching a band white-knuckle past its expiration date.
Safe And Also No Fear comes out on August 2 via Lame-O Records.