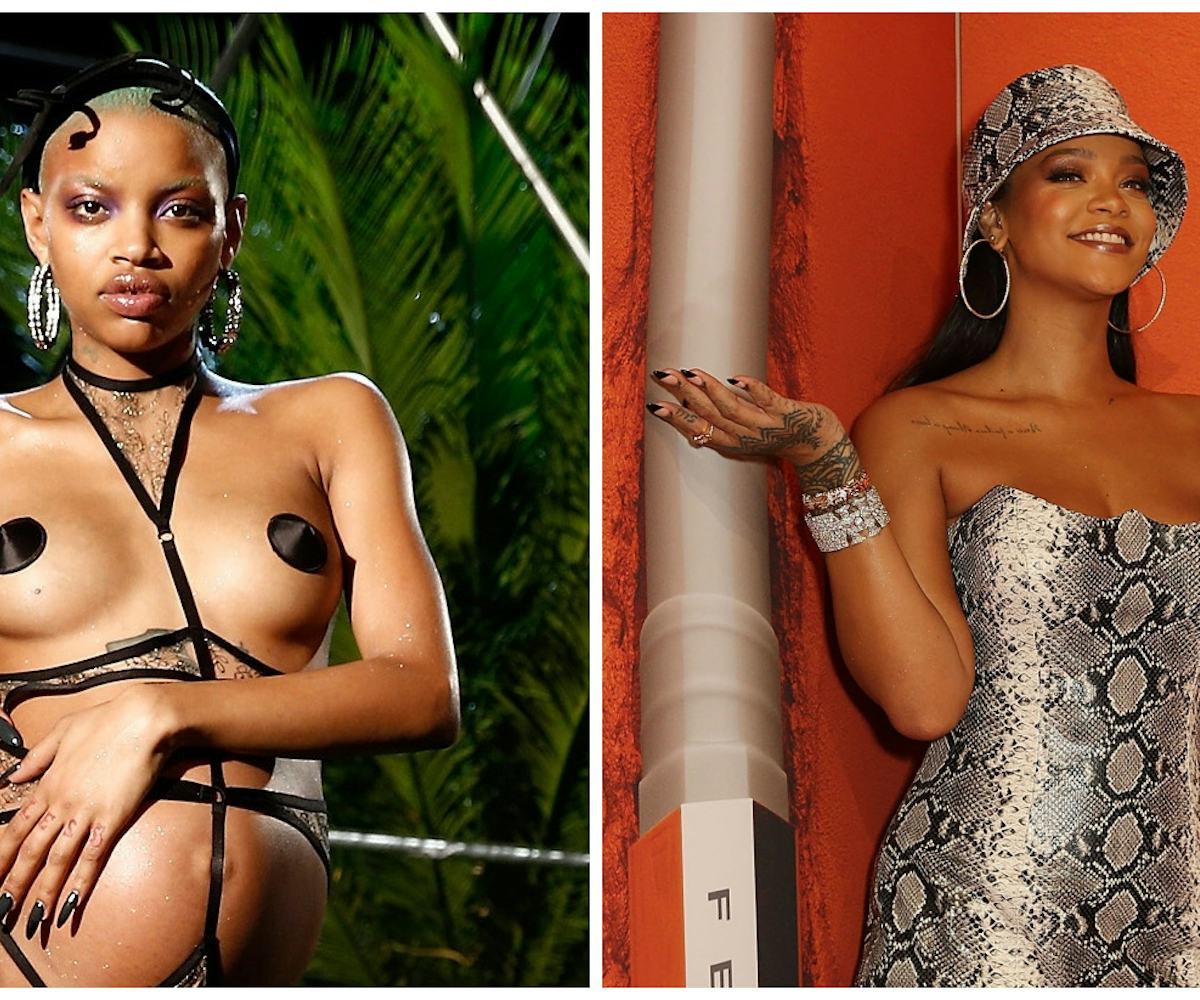 Photos by Brian Ach/Getty Images for Savage X Fenty, Caroline McCredie/Getty Images for Fenty Beauty by Rihanna
Slick Woods Says Rihanna Spanked Her Right Before She Went Into Labor
Naturally, it's her "last memory before going into the hospital"
Slick Woods just revealed that Rihanna spanked her with a whip right before she went into labor—which, as you'll remember, happened while she was walking for Savage X Fenty. I can't say I'm too surprised that the singer of "S&M" didn't hold back on the then-pregnant model.
In an essay for U.K's Vogue, Woods talks about finding out that she was pregnant six months into the pregnancy and discusses her love of her new role as a mother. She also recalls going into labor on the runway.
Woods describes the scene of the Savage X Fenty show, where she was wearing "pasties, thigh-highs, stilettos, and not much else." "There were crazy interpretive dancers, as well as the Hadid sisters and a jungle installation—all pretty normal for an event hosted by Rihanna," she jokes. What wasn't so traditional was the fact that she was in labor while it was happening, she says.
Obviously, she had to get to the hospital fast, but that didn't stop her from walking in the show and taking part in Rihanna's antics. Not only does Woods say Rihanna spanked her with a whip, but it's her "last memory before going into the hospital."
Woods also talks about the delivery process, saying that, once she got to the hospital, she was in labor for 18 more hours, which sounds exhausting. Her agent and the baby's father Adonis Bosso were in the delivery room with her, as was Erykah Badu, who acted as her doula during the process. Casual.