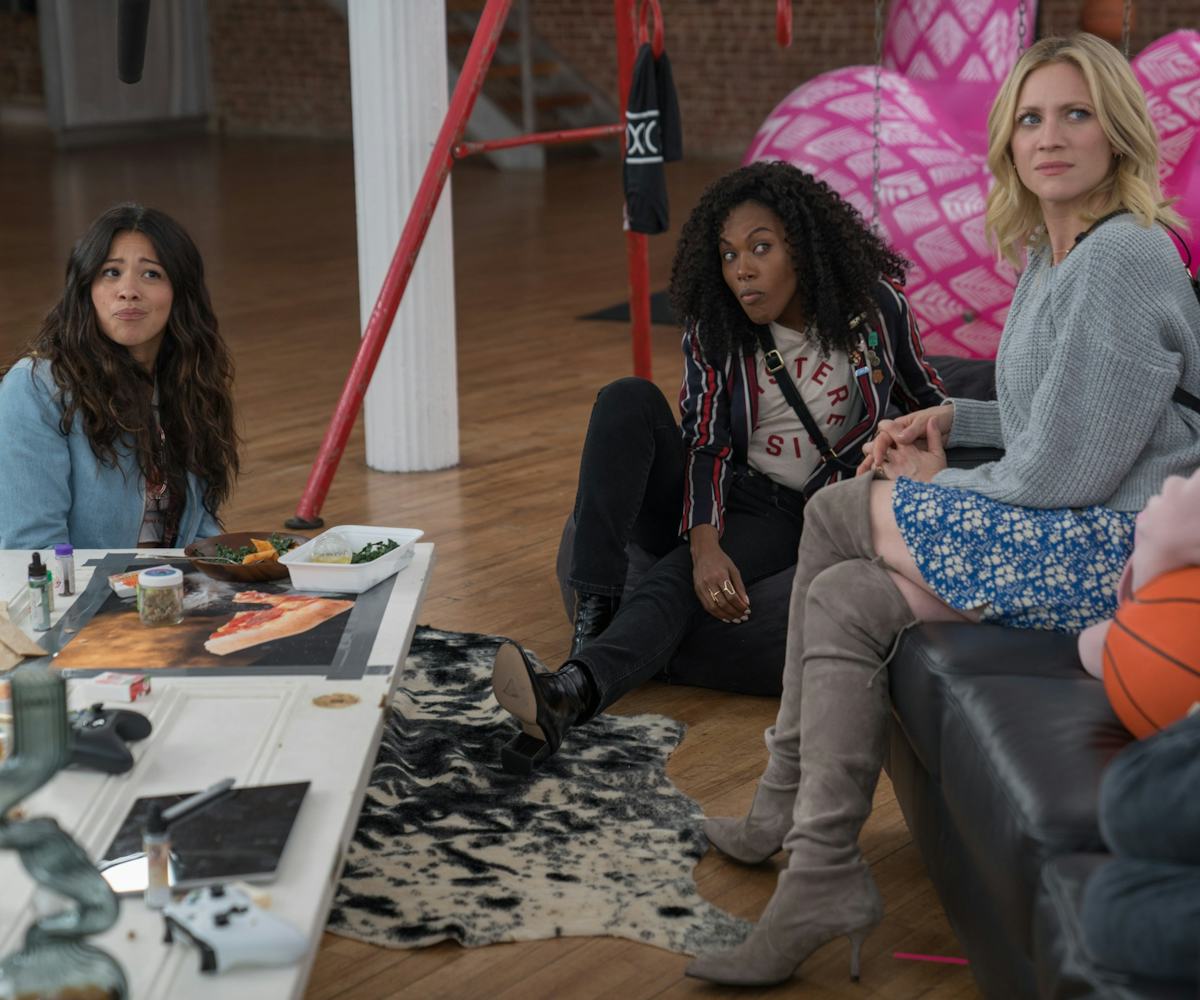 Photo courtesy of Netflix.
The Best Character In 'Someone Great' Is Weed
The new Netflix comedy has a refreshing take on women and bud
There are plenty of reasons to love Someone Great, Netflix's latest breakup comedy, but if I had to sum it up in a single word, it would definitely be: marijuana. Sure, Someone Great is relatable and funny (with a great RuPaul cameo and particularly excellent performances by DeWanda Wise and LaKeith Stanfield), but it's made even more relatable and way funnier because its main characters—three 20-something women with jobs—are enthusiastic potheads.
Jenny (Gina Rodriguez) is a music writer who has landed her dream job at Rolling Stone and is moving from New York City to San Francisco. (You read that correctly: She's leaving New York to go to San Francisco, not L.A., to cover the music industry. It doesn't make sense to me, either, but let's just roll with it.) She's just been broken up with by Nate (Stanfield), her boyfriend of nine years, who doesn't want to do a long-distance relationship. Jenny's heartbroken, but she and her two homegirls, Erin (Wise) and Blair (Brittany Snow), are adamant about having one last turn-up at a huge party called the Neon Classic.
So off they go through the streets of New York, trying to find last-minute tickets to a sold-out party, and running into all kinds of people from their past on the way. It's the story of a long romance and even longer friendships that are all experienced in a haze of weed smoke (or vape). We see them get high and have sex, get high and send emails, get high and sell apartments, get high and hang out with RuPaul. These are women who can do it all—while high. See? Relatable.
There was a time when a movie like Someone Great would have been marketed as a niche stoner flick where Jenny, Erin, and Blair are lazy and stupid, and bud was the gateway to their downfall. But that's just not realistic, even if it's rarely portrayed on-screen that way. A rare exception to this was Broad City, which was particularly good at this kind of representation—who can forget the first time Abbi put weed up her pussy to hide it from transit cops? But, still, it often descended into satire. In the real world, weed is just a part of life. Buying it is part of people's weekly errands. It's a great unifier that brings people of different backgrounds together. People use it to treat physical and mental health conditions, to zen out, and/or turn up. This is true for people across the gender spectrum—it's still far more common to see guys as goofy stoners than girls.
But as weed continues its path of rapid decriminalization, it's bound to have more accurate representation in pop culture, where it can be as normalized as it is in real life. So while Someone Great is sometimes bogged down by the tropes of all too many past romance comedies, the truly innovative thing is that it's leading us into the future when it comes to how it depicts women and drugs.
Someone Great is available on Netflix now.