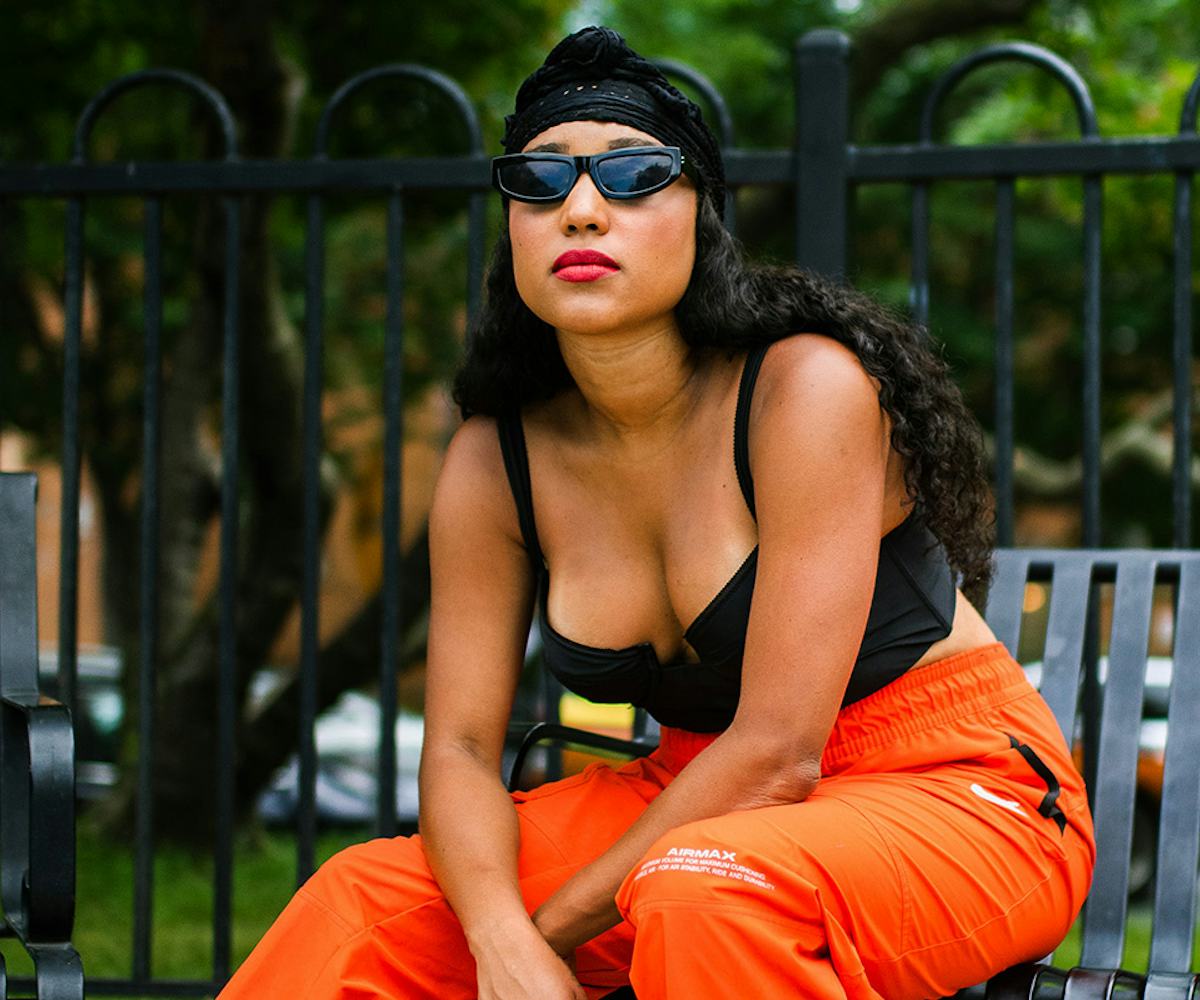 Photo by Graham Gardner
Sophia Eris Is On A Mission
The artist premieres her new single, "Arrogant," and talks about touring with Lizzo, and how she wants to change the world
Sophia Eris's new single "Arrogant," is perfectly suited to this moment in her life—even though she wrote it more than a year ago.
The rapper, DJ, and radio host tells me that she remembers when it was that she was inspired to write it, how she had gone straight to the studio after recording her morning show on Go95.3 in Minneapolis. "Kanye did something that week," Eris recalls, although she can't place what exactly it was. "And I had talked about it on the radio, about him and what arrogance is and how there's good arrogance and bad arrogance." Following that, she and her producers—Lazerbeak and Bionik—wrote and recorded the song in a rush of inspiration and put it away for a few months. When Eris listened to it again more recently, she was surprised by how much she liked it.
Over dreamy, echoing instrumentals and a tongue-clicking beat, Eris raps, "Yeah, girl, you know I'm arrogant/ Tell that girl that she arrogant." Her treble voice is easy and unhurried. "Arrogant" seems perfectly designed for listening to while getting hyped up with your friends before a night out.
"It's so relevant in my life right now," Eris tells me. "It's about being proud of yourself and not being afraid to be you, unapologetically. We have every right to be arrogant."
Sophia Eris certainly has plenty to be proud of. At the age of 31—or, as she says, "thirty-wonderful"—Eris is juggling three careers, any one of which would be impressive on its own. And she's confident that this is only the beginning. She spent the summer DJing for Lizzo on the singer and rapper's Cuz I Love You tour, performing to sold-out crowds in the U.S. and abroad and appearing at festivals and on award shows.
In addition to the busy tour schedule, Eris has been working on her own music, having released four singles since this time last year: "Who's Got the Boom," "Fanny Pack," "Feel the Burn," and now "Arrogant," which comes out September 13. She's also continued to host her weekly radio show, even while traveling. She calls in and does the show live whenever she can, but if she'll be onstage or on a plane when her co-host is taping, she sends in pre-recorded drops to keep her voice in the mix.
This month, following appearances in August at the VMAs and on the TODAY show, Eris hits the road again for Lizzo's "Cuz I Love You Too" tour. This time she'll be onstage twice a night, first as an opening act and then DJing for the headliner. "I'll have the biggest audience I've ever been able to reach," she says.
Lizzo has skyrocketed to fame this year, but Sophia Eris has known her as a friend and collaborator since 2011. They bonded over their love of Beyoncé at a karaoke bar and have been cheering each other on ever since. Along with Manchita and DJ Shannon Blowtorch, they formed the rap group GRRRL PRTY from 2013 to 2015, and when Lizzo struck out as a solo artist, she asked Eris to come along as her DJ. Eris, who has a degree in music business, says, "I always wanted to be the one to discover an artist who could change the world," and she believes Lizzo is that artist. "I got to be there with her from the jump and grow with her, and it's been an amazing journey."
But Eris hasn't let her achievements with Lizzo sideline her own musical aspirations, and she's just waiting for the right moment to drop her own EP. The tracks already released are summery and dance-worthy, building to a high-energy, feel-good project that should make Eris a household name of her own accord. "I want to make big, bass-heavy club music like I loved back in the day," Eris says. "The production is meant to feel really old-school. I want it to feel like it could be the Space Jam 2 soundtrack." A former college athlete until concussions derailed her soccer career, Eris makes songs for the gym as well as the club: "Feel the Burn" in particular is a workout jam. "I just want women to feel empowered," she says.
Eris observes that Lizzo's well-known theme of positivity and self-love "has definitely rubbed off on me." Though the two rappers touch on similar themes, Eris's bubbly voice and nostalgic '90s vibes are distinctly her own. She's cheerful and funny, but it's clear that Sophia Eris takes what she does seriously. She loves music as a creator and a fan, and she deeply believes in its potential to change the world. "We're on a mission," she says of herself and Lizzo—and their fans. "We're all on a mission together. The more we come together, the more beautiful it is."