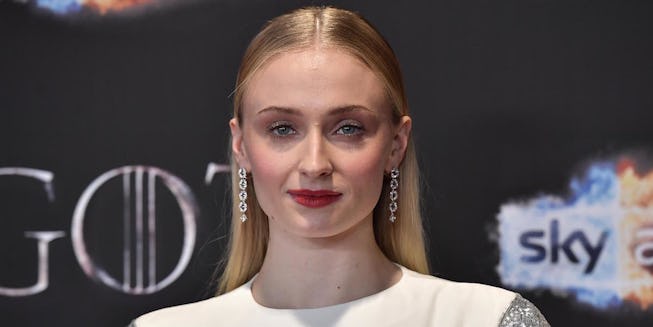 Photo by Charles McQuillan/Getty Images
Sophie Turner Wore Chainmail And Nothing Else To The Jonas Brothers Film Premiere
On the red carpet for the premiere of the new Jonas Brothers documentary Chasing Happiness, Game of Thrones actress and Joe Jonas' wife Sophie Turner had my full attention with a sheer chainmail-style dress from Paco Rabanne's Fall 2019 collection. Yes, Queen of the North!
Her new husband clearly felt the same way. Fans shared adorable clips of him acting as her personal paparazzi as she showed off all the angles this gown—which she paired with no accessories other than a pair of simple heels—has to offer on the red carpet.
Chainmail seems to be Turner's new favorite trend. Just last week, she walked the red carpet at the X-Men: Dark Phoenix premiere in South Korea wearing a sheer Louis Vuitton dress made from a similar material.
Perhaps it's all inspired by the armor of Game of Thrones, or perhaps it's simply a choice rooted in how good she looks in it. Either way, no one would complain if Turner decided to keep this theme going for all of her red carpet appearances in the foreseeable future.