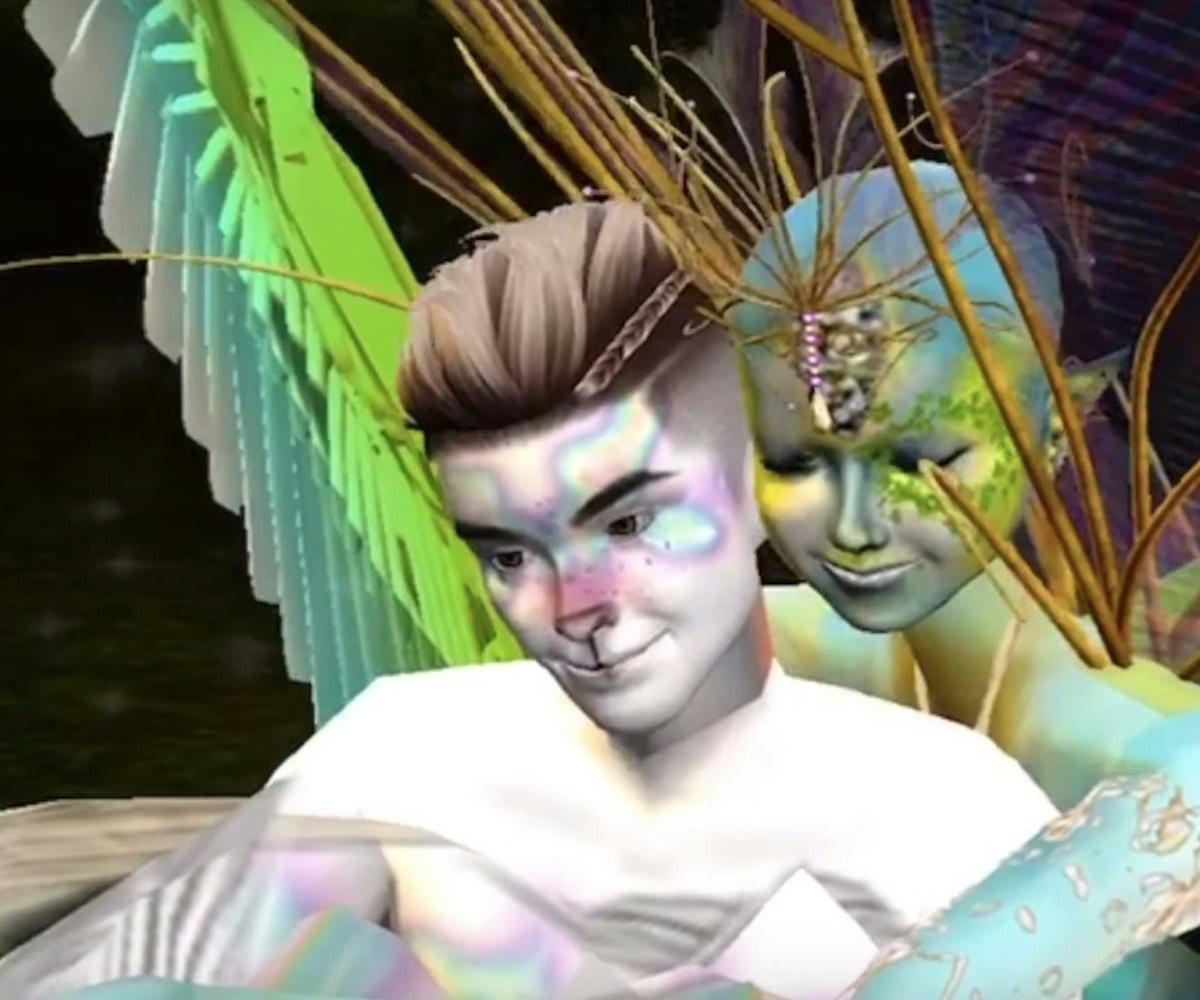 YouTube/IMVU
Premiere: Spirit Twin's Otherworldly Pop Is Inspired By Early-Aughts Games
Brooklyn-based duo Anna and Allen describe the crystalline pop they make as Spirit Twin as equivalent to hearing a lone "disembodied alien voice eerily gliding over heavy trap beats" while you're walking through a misty forest, its floor dotted with fairy circles. As whimsical and fantastic that all sounds, it's also pretty accurate. Their new song and video, symbolically titled "Angel 333," does invoke a magical otherworld where everything sounds crisper, and delicate; Anna's vocals have been pitched up to the nth degree, simultaneously enthralling and uncanny.
A scroll through Spirit Twin's Instagram reveals their devotion to the high drama and escapism of medieval times and renaissance aesthetics, and their new video is just as surreal. Using the hyper-real technology of early-aughts avatar building game IMVU, the duo take the form of two winged beings, flittering about and existing in an unreachable paradise. Combined with the music, it's a bonafide trip back to childhood imagination, flipped on its head.
"'Angel 333' is about synchronicity," the duo writes via email. "The universe is constantly revealing signs meant to encourage us to follow our highest path. Sometimes we get these signs in recurring numbers — to remind us that angels are always present, protecting us every step of the way. We created the music video for 'Angel 333' via IMVU, the online meta verse social network, where users can digitally re-invent themselves. One day we were both active in a chat room on the app and we started to screen record our progress. We compiled hours worth of footage and Anna edited it into a video."
Watch the video below, and read on for a chat with the duo about the nostalgia of old-school games and the use of AI in music.
What do you guys find interesting about the bizarre, uncanny valley-esque art of IMVU?
Anna: You can create an avatar to look or be absolutely anything you want. But really, the most impressive aspect is the vast library of chatrooms, where users can visit different worlds and interact with the features. The details are insane, and just when you think you've discovered the craziest thing, the next room has more. Shoutout to our friend Arielle Karpowicz, a 3D producer at IMVU, for bringing us deeper into that realm.
Did either of you play old school RPG? Some of your art also reminds me of 2000s Runescape graphics.
Allen: Runescape is definitely on our wave length. The Sims also left a big impression. Games have always inspired us, especially Zelda, Ocarina of Time. Catch a magic flute or two on our upcoming album.
Anna: The original Final Fantasy and some old school Might and Magic were two games I played quite a lot.Thinking about those makes me nostalgic. Funny you mention Runescape because we had so many comments mentioning it when that art came out. Special thanks to Mark Sabb at Feltzine, who made our RPG fantasies come to life!
How do you both feel about AI and its growing role in music, either via production like Holly Herndon's use of an AI to make her recent album PROTO, or the use of holograms in live shows?
Allen: We're in a really exciting time with technology. AI is already opening doors at a faster speed than we could imagine. Just the other day, we composed a track with AI via AIVA.ai.
Anna: PROTO was one of my favorite albums of 2019, visionary really. My feeling is to lean into the new technology as much as possible. Our music is electronic based and experimental so utilizing AI seems appropriate. The idea that you can collaborate with something other than another human being is intense, who knows what you could make!
Besides playing IMVU, and making otherworldly-sounding pop, what do you guys like to do in your free time?
Allen: I love digging for vinyl in record stores. I also enjoy going on long walks with Anna in our neighborhood. We usually will eat at our local spot. Shout out to Cafe Madeline in Flatbush, where everything is delicious. Go for the "Not Your Grandma's" breakfast.
Anna: We love to find inspiration in films and museums. One of our favorite things to do is have picnics in Greenwood Cemetery and explore the beautiful grounds. In our opinion, it's one of the most peaceful places in Brooklyn.