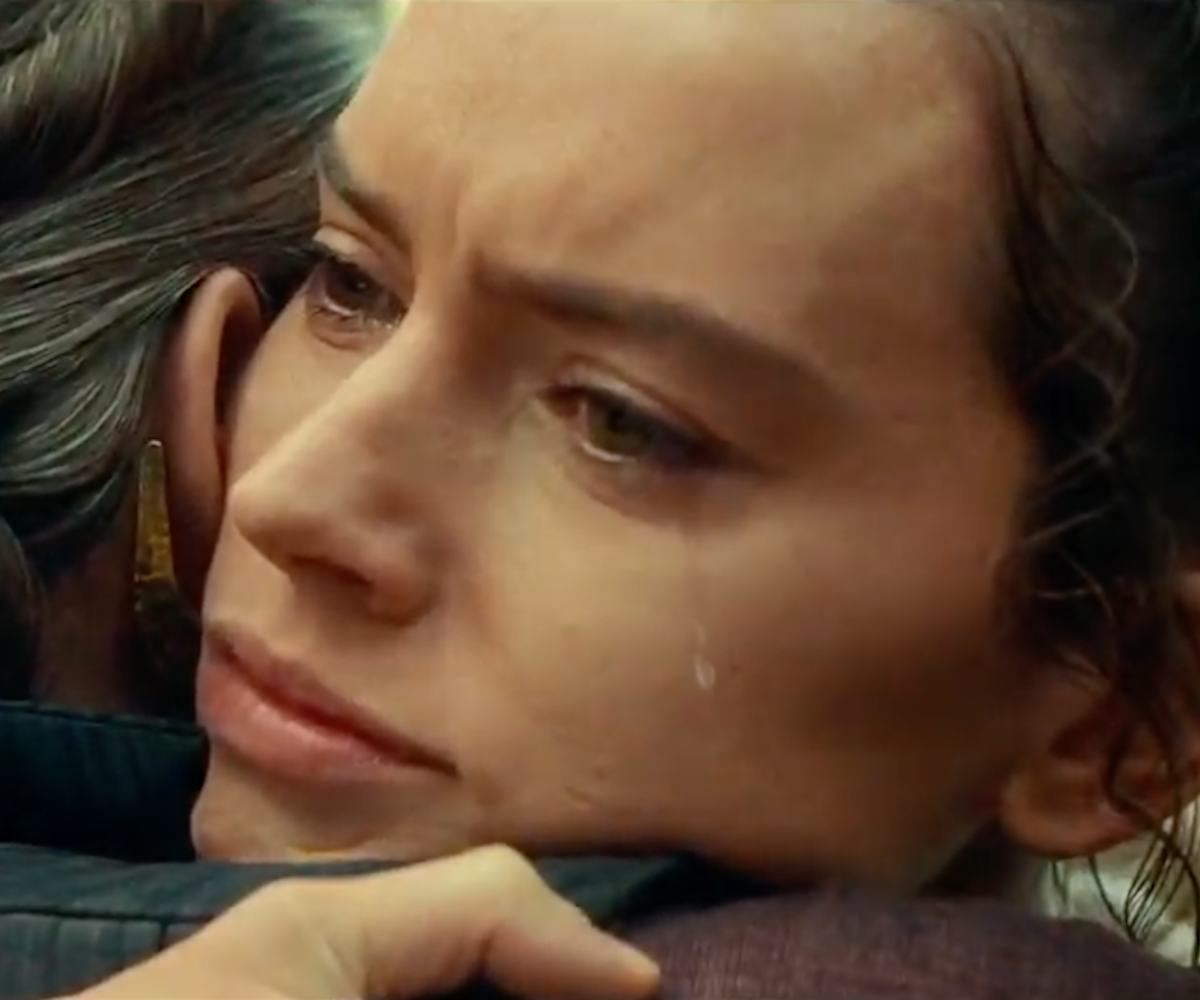 Screenshot via YouTube
Daisy Ridley And Carrie Fisher Embrace In Emotional 'Star Wars Episode IX' Trailer
"No one's ever really gone"
Following a Star Wars Celebration panel with the stars and creative team behind Star Wars Episode IX (revealed to be titled Star Wars: The Rise of Skywalker), the first teaser trailer for the final film in the latest trilogy was shown. Now, please pass me the tissues. Princess Leia, who was played by Carrie Fisher before she died before filming for this episode began, makes an appearance (director J.J. Abrams employed unused scenes from Force Awakens), along with all of your favorite characters from throughout the series.
"We've passed down all we know," Luke Skywalker says in voiceover as Rey (Daisy Ridley) breathes heavily in the desert, clutching at her lightsaber. "A thousand generations live in you now. But this is your fight." And from there, the action takes off. Billy Dee Williams returns for the first time as Lando Calrissian and is behind the wheel of the Millennium Falcon, Kylo Ren (Adam Driver) is throwing tantrums in a forest, and Poe Dameron (Oscar Isaac) is navigating alongside C3PO through a line of fire. There's even an adorable new droid, even smaller than BB-8, that makes an appearance.
As Leia pulls a teary-eyed Rey in for a hug, Skywalker narrates, "We'll always be with you... no one's ever really gone," and I'm officially a wreck. Chaos breaks up the tear-inducing moment and a menacing laugh ends the clip. After the trailer aired to the panel attendees, actor Ian McDiarmid (Emperor Palpatine) walked out on stage and demanded a re-watch, clearing up any confusion as to who was behind the faceless cackle, and teasing his character's return in the final film.
View the first teaser, below. Star Wars: The Rise of Skywalker hits theaters this Christmas.