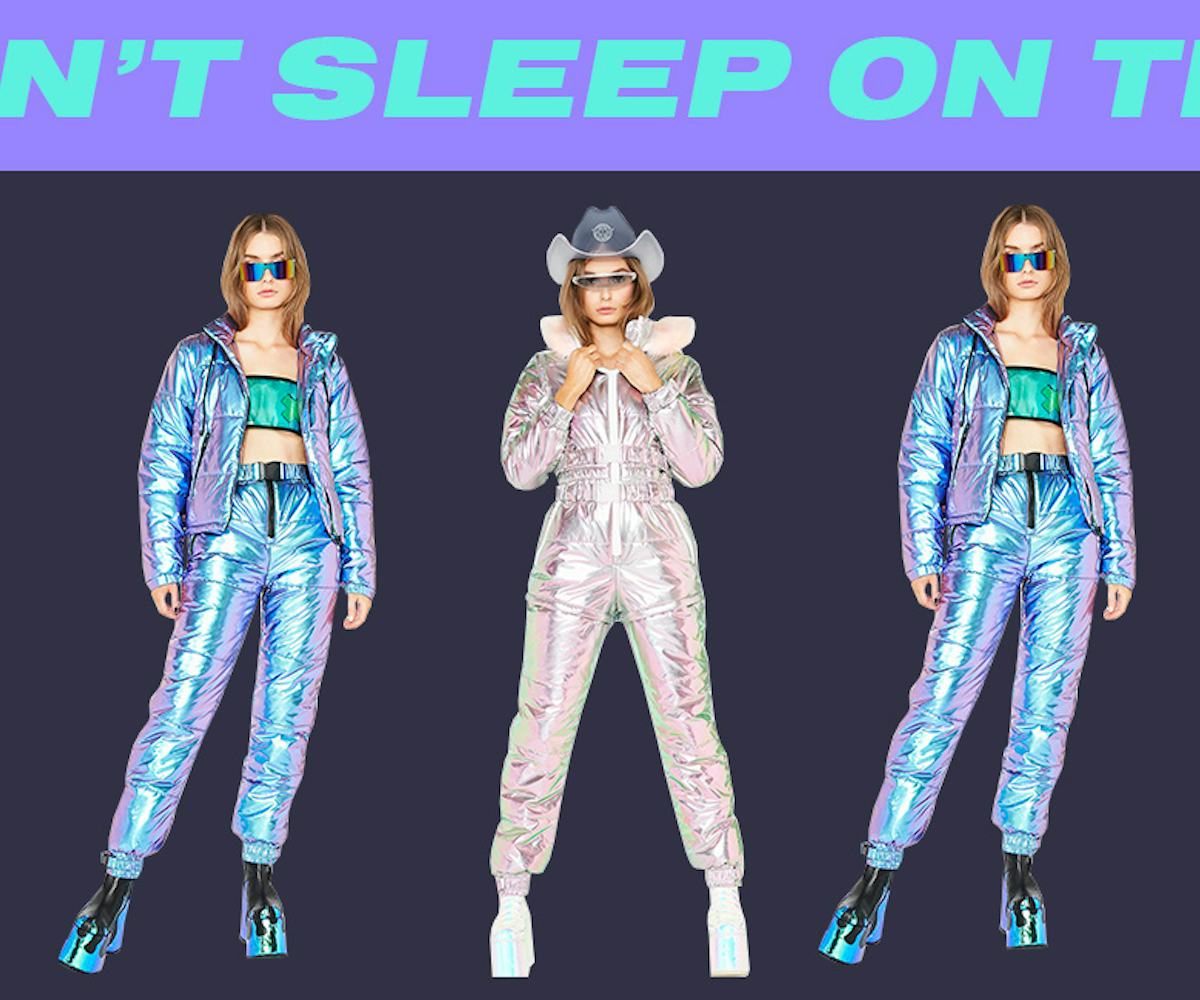 Courtesy of Dolls Kill
This Snow Gear Is All We Want To Wear This Winter
Friends don't let friends miss out on all the cool, under-the-radar things they know about, like which little-known beauty brand is low-key making the best highlighter around. And because we consider our readers to be like friends, we gather together all our best finds in our Don't Sleep On Thisseries. Check in every week to see what things we can't wait to share with you.
When it comes to the worst of winter, it's pretty hard to find clothing that looks good, but that will also keep you warm and dry. Before heading back home for the holidays, I was desperate to find snow gear that I could wear straight from going sledding with my family to the local bar afterward without sacrificing my style.
I was hopeful that I'd find something that would get the job done, but I didn't expect to find pieces that I'd end up shamelessly putting in rotation in my work wardrobe. And yet, after I found the new snow gear from Club Exx, that's exactly what happened.
If you are also a jumpsuit aficionado like me, go straight for the onesie. Club Exx, an in-house brand at Dolls Kill, made a jumpsuit that's incredibly versatile with zip-off pant legs and sleeves in a cool silvery pink fabric. Clearly, you should leave the pant legs and sleeves attached should you be hitting the ski slopes, but after that? I personally threw on chunky, sparkly tights under the now-romper, put my snow boots back on, and headed back out with friends. No sweat. Now all I need to find are snow boots that aren't totally horrendous. In the meantime, I'll keep pretending like my combat boots don't totally leak, for the sake of fashion.
When I test-drove the Space Bae Escapade set on the sledding hill back home, I received compliments left and right. And it wasn't just from fellow adults—one particular little boy tugged at his mom's sleeve to show her my outfit, and she promptly told him I was a "snow mermaid," after which my icy heart melted into a giant puddle at my feet. In the bright lights of the ski lodge, the set shimmered in blue and purple hues (perfectly complementing my faded turquoise hair, but that's totally not required to rock these) and absolutely stole the spotlight. This is definitely not a look for those who prefer to go unnoticed.
Check out my favorite snow gear, below, or check out all of Club Exx's shiny, colorful winter offerings here.
Club Exx, Space Bae Escapade Puffer Jacket, $88, available at Dolls Kill; Club Exx, Space Bae Escapade Snow Pants, $75, available at Dolls Kill.
Club Exx, Aurora Beam Holographic Snow Suit, $150, available at Dolls Kill.