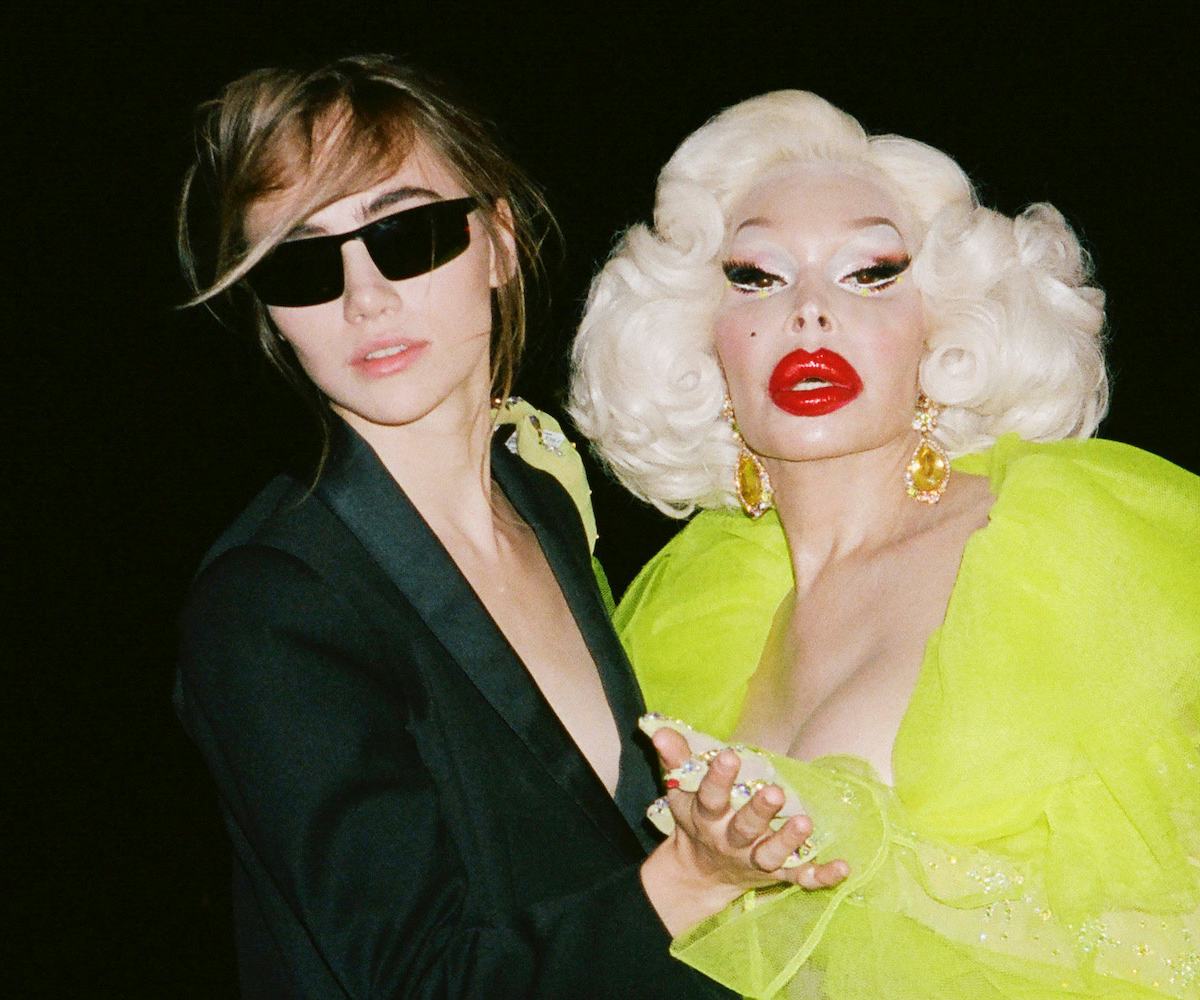 Photo by Sofia Malamute
Suki Waterhouse And Amanda Lepore Made A 'Bodyguard' Inspired Music Video
Dive into their dramatic, unrequited love with "Johanna"
Suki Waterhouse and Amanda Lepore have teamed up for the collaboration of your dreams. Actor-slash-musician Waterhouse tapped Lepore to play her love interest in new music video "Johanna," out today, and ahead of the release NYLON chatted with both artists to find out everything that went into the collab.
"In the way most fairytales begin, I stalked [Lepore] on the 'gram and found out who her people were," Waterhouse says. "It was really a treasured experience for me. I felt like being in the presence of a Hollywood star from the '50s"—a pretty apt means of describing Lepore if we do say so ourselves. She's an icon. Waterhouse continued, "She had the most beautiful array of dresses and jewelry with her that were so dazzling. I was quite nervous, I wanted to make sure everything was good enough for her because she's such an icon."
"Johanna" is a story of unrequited love, come to life on the screen between Waterhouse and Lepore. Citing inspiration from The Bodyguard and Klute, Lepore plays a glamorous starlet, and Waterhouse, her bodyguard. "At the time, the director and my friend Émilie Richard-Froozan had been in the middle of shooting a series of videos featuring my alter ego, Fred, a professional bodyguard for Hollywood starlets and beauty pageant queens who is a hopeless romantic," Waterhouse says. "Émilie and I had collaborated on experimental videos and she came to me with this character with his coiled earpiece and lovelorn stories and I felt like I could really present my music away from the image that is usually perceived of me."
Waterhouse breaks down the inner workings of the video's plot for us, saying,
In this video, Fred is working for Johanna—our glamorous starlet. A stalker threatens her life, so she is put on lockdown in her NYC penthouse. Johanna toys with Fred, knowing well that he's in love with her. In her dizzying spell he battles with his desires but more importantly, with his need to keep her safe. Johanna lets him know she's only playing with him but he doesn't mind- he takes out the stalker and it's enough for him to just be there for her.
There was no denying that Lepore was the perfect person to play the starlet, Waterhouse says, "because she manages to be impossible to pin down and so very impossible to ignore." Lepore was excited to get to participate in something that was a little off the beaten path of her usual work, getting to upend "the traditional and expected gender roles," she says. Lepore adds, "I always appear in videos with very masculine men or drag queens, so this was a new experience for me. I was surprisingly comfortable. Suki was also dressed in a suit, the way I love my men to be dressed—so that helped. LOL!"
Watch the video for "Johanna" below.