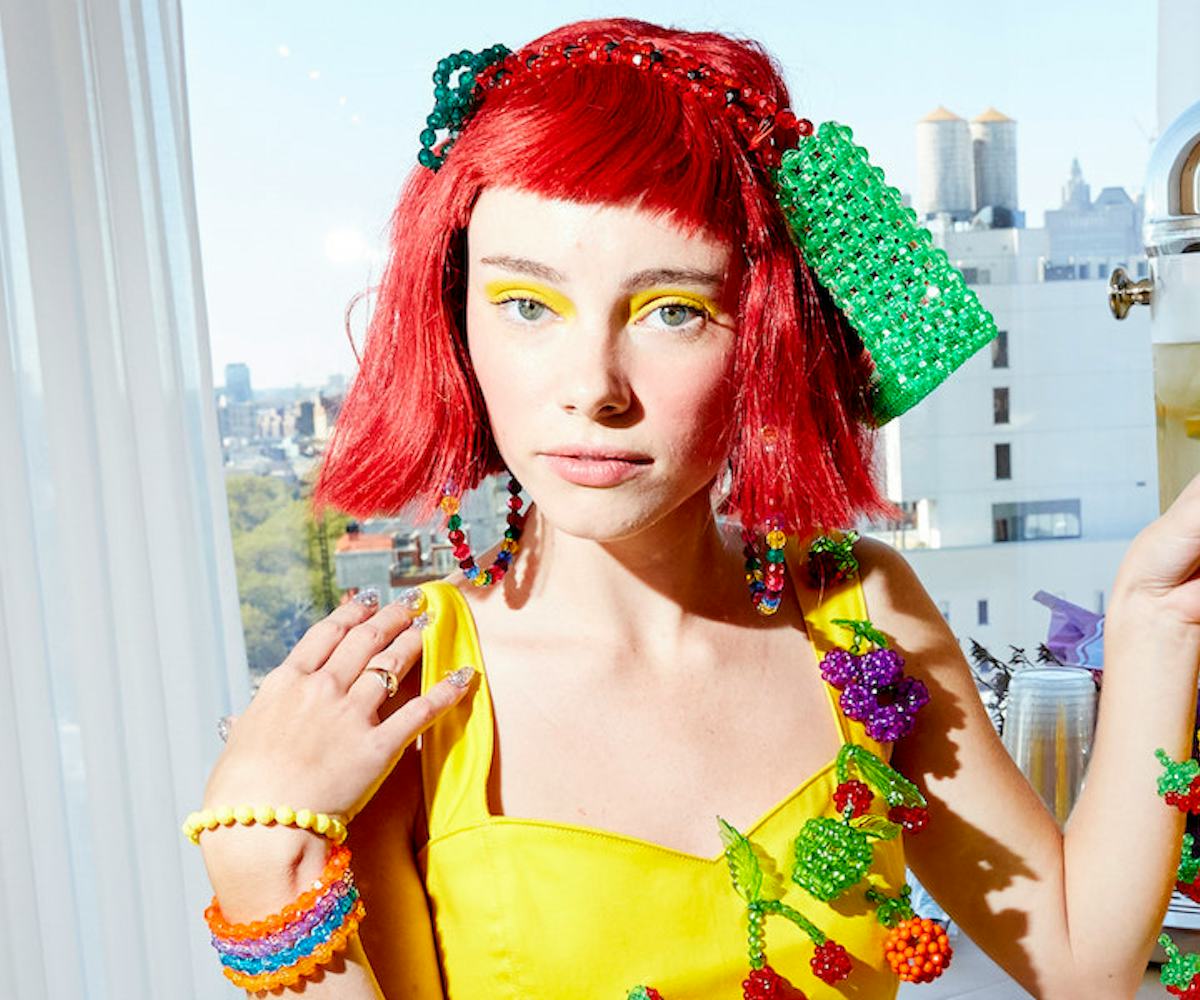 Courtesy of Alexandra Arnold
Models Did The Macarena At Susan Alexandra's Delightful Ready To Wear Debut
It was bat mitzvah-themed, and, yes, Susan Alexandra is our new religious leader
The designer behind Instagram's favorite beaded handbags just debuted her first ready to wear collection at NYFW. Drag queens and friends of the designer were the models blessed with debuting the collection to the world at a NYFW "bat mitzvah," held at PUBLIC hotel, featuring a rabbi, Macarena, and more. Susan Alexandra turned her dream bat mitzvah outfits into an entire collection of beaded clothing that will have diehard fans of the designer drooling, and others thinking their wardrobe needs its daily fix of fruit ASAP.
Susan Korn, the designer behind the beaded collection tells NYLON that her debut is filled with "clothes that I want to wear now and that I wanted to wear when I was 13. Hints of sparkle in a 7th grade palette—basically the clothing version of my bags!" Some items in the collection are a more literal transformation of her bags into garments (see: crop tops made entirely of beads), while others took some of our favorite details and transformed them as embellishments on shirts and dresses.
There's beaded nectarines as buttons on a lavender dress, rainbow beads as a dainty shirt trim, even an assortment of fruits cascading down a shirt to make the most scrumptious (and stylish) fruit salad. Furthest from the original bags, but still undeniably Susan Alexandra, are the fruit and flower embroidered attire. With classic cut pencil skirts, babydoll frocks, and sheer blouses in an array of hues, they're easily the most versatile garments to add to your closet, especially if you're not confident enough to rock a translucent beaded crop top on the reg.
Check out the highlights from Susan Alexandra's NYFW presentation and find the coolest bat mitzvah ever, below.