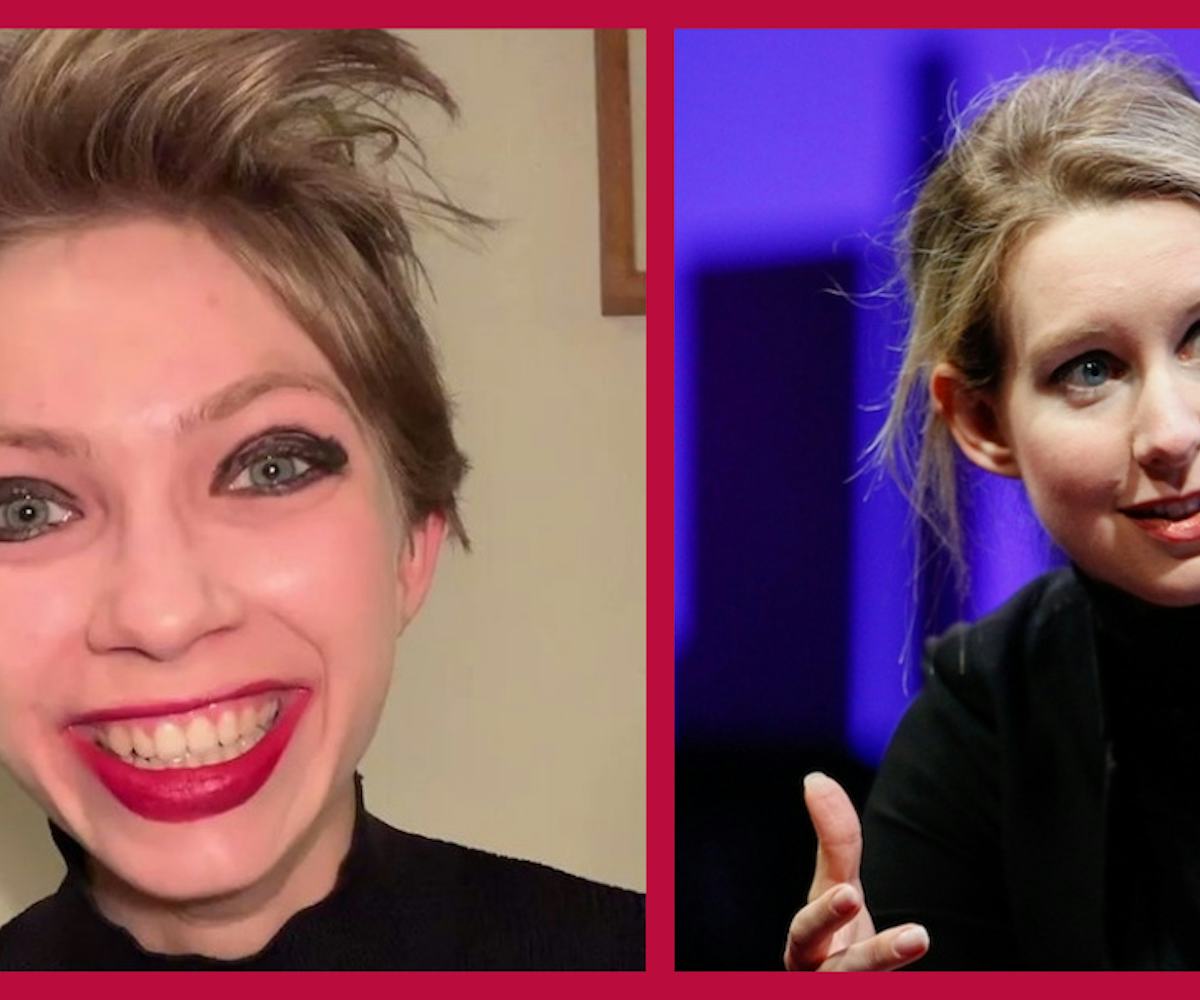 Tavi Gevinson's Elizabeth Holmes Impression Is A 40-Second Masterpiece
There's a lot about Elizabeth Holmes, the disgraced Theranos founder, that's been the subject of public fascination, and Tavi Gevinson highlighted a few of those things in a spot-on impression. From the "stupid man" voice Holmes insists is her own to her dedication to black turtlenecks, Gevinson has nailed it in a Twitter video, in which she messed up her hair just the right amount and recreated Holmes' signature thick eyeliner.
"The turtlenecks are not about Steve Jobs," turtleneck-clad Gevinson says before releasing an awkward chuckle. "I've been wearing turtlenecks since I was seven years old." She then takes on Holmes' fake deep voice: "My voice is real," she says. "Unfortunately I've had this voice since I was a little girl which as you can imagine was very awkward growing up."
Throughout the video, Gevinson stays in character and doesn't blink; she seems to die a little inside as she explains why: "I haven't blinked my eyes since I was just a tingling feeling in my parents' individual private parts." She ends the video by questioning why no one is mad about Gigi Hadid's voice—"it's the same!"—as she holds something in between her fingertips, reminiscent of the circulated images of Holmes showing the Theranos finger-pricking device.
Earlier this week, Gevinson blessed the internet with an impression of Ivanka Trump's horribly awkward shout-out to Karlie Kloss that no one, including Kloss, wanted. I'm going to need Gevinson to host a late-night show (or at least hop on Saturday Night Live to share her Holmes magic) ASAP.