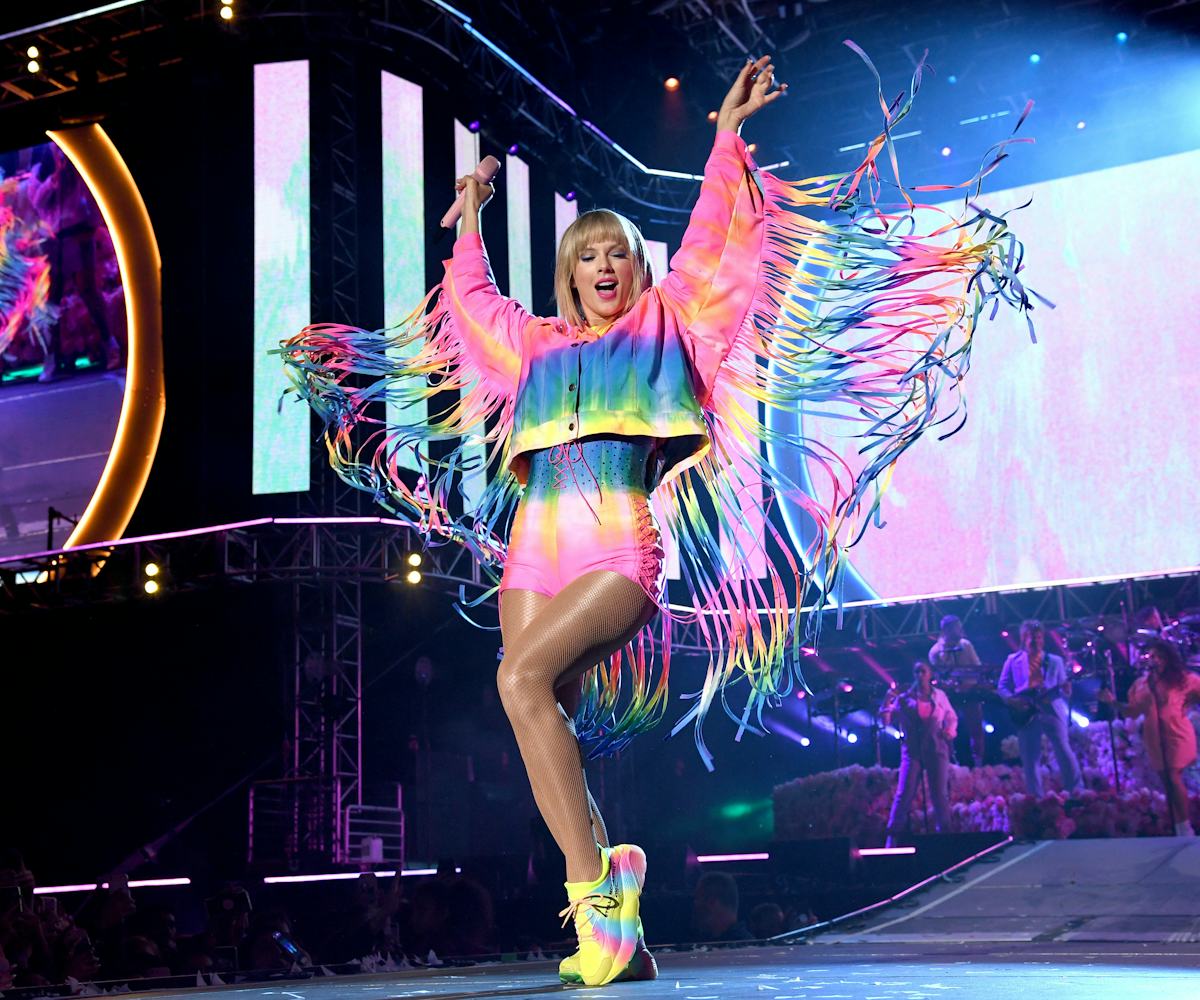 Photo by Getty
Taylor Swift To Receive Ally Award From GLAAD
"Why are you mad when you could be GLAAD?"
What do Taylor Swift's "You Need to Calm Down" and Janet Mock's contributions to Pose have in common? According to GLAAD, both merit special LGBTQ specific awards. For the organization's 31st Annual Media Awards, both Mock and Swift will be honored by GLAAD for their individual contributions to promoting LGBTQ+ acceptance.
Swift will follow in the footsteps of Beyoncé, Britney Spears, and Cher to receive the Vanguard Award, meant to honor allies who "have made a significant difference in promoting acceptance of LGBTQ+ people." Swift has always been a vocal ally for the queer community, but 2019, in particular, was a huge year for her advocacy work. Last June, the Grammy winner penned an open letter to Tennessee Republican senator Lamar Alexander, urging him to support the Equality Act, which outlaws discrimination based on sexual orientation or gender identity.
Just a few weeks later, she dropped her second Lover single "You Need to Calm Down," which was instantly upheld as a love letter to to the queer community and a treatise against homophobia. The single's pastel-heavy video featured appearances by many fixtures of the LGBTQ+ community, including the likes of Laverne Cox, Hayley Kiyoko, Billy Porter, Chester Lockhart, and Jesse Tyler Ferguson, as well as several popular drag queens, like Trinity The Tuck, Delta Work, A'keria C. Davenport, Tatianna, Adore Delano, and Jade Jolie. (When Swift won an award at last year's MTV Video Music Awards, John Travolta accidentally confused Jade Jolie for Swift, and tried handing Swift's trophy to her drag queen doppelganger instead.)
Writer/director/producer and trans advocate Janet Mock will also receive an award — specifically, the Stephen F. Kolzak Award, which is given to a LGBTQ+ media professional "who has made a significant difference in promoting LGBTQ+ acceptance." It's hard to think of a more deserving candidate of the honor, since Mock's entire career has been long dedicated to the fight — starting with her bestselling memoirs about transitioning, Redefining Realness and Surpassing Certainty, and extending through to her work now, as a multi-hyphenate on FX's excellent Pose and a producer with an overall deal at Netflix (a multi-million dollar venture).
The 31st Annual GLAAD Media Awards will take place in New York on March 19th and in Los Angeles on April 16th.