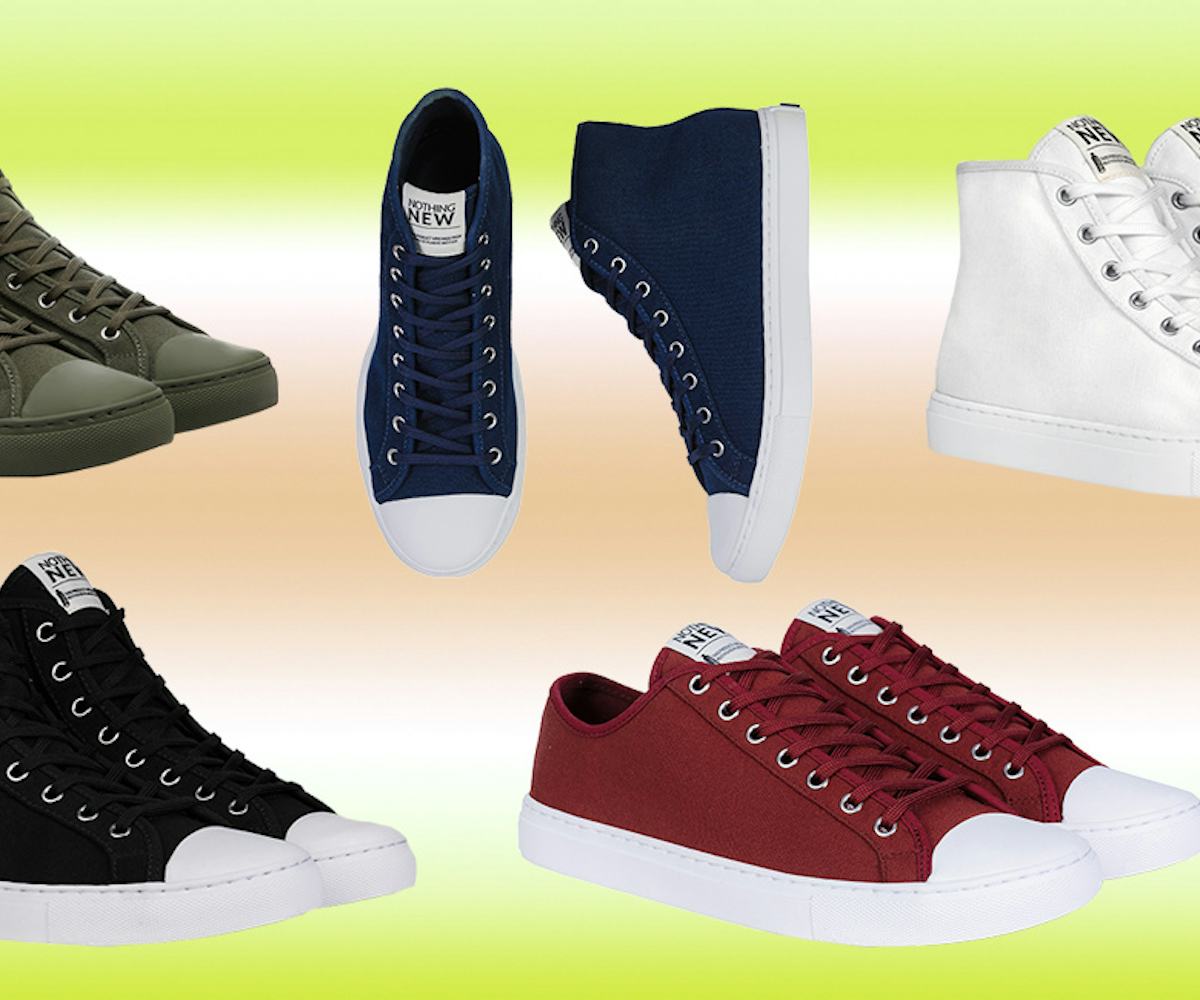 Photos courtesy of Nothing New
This Sneaker Is Made Of 100 Percent Sustainable Materials
Nothing New makes chic footwear, sans virgin plastic
Welcome to The Green Scene. Every week, we're highlighting the designers and brands working to make the world of fashion and beauty a greener, more sustainable place. The brands to support are the ones making a difference; check back every Tuesday to meet your new favorites.
Unless you've been living under a rock, you know that plastic pollution in our oceans is a huge problem, threatening marine wildlife and, by extension, humankind. It's so bad that studies have shown that, at this rate, there will be more plastic than fish in our oceans by the year 2050.
Enter Nothing New, a soon-to-launch sneaker label made of 100 percent post-consumer recycled materials, looking to turn that alarming statistic around, one pair of shoes at a time.
This Thursday, Nothing New is launching with an offering of clean high-top ($110) and low-top ($95) sneakers, available in a range of neutral (and consciously dyed) shades, from black and white to gray, olive, and navy. Far from the "earthy crunchy" category that many eco-friendly shoe brands tend to fall into, these chic sneakers are for the conscious (yet luxury-loving) minimalist at heart.
"Why does eco-friendly need to look eco-friendly?" founder Nolan Walsh tells us. "Not only do we want to have the highest quality and most environmentally conscious materials, but we want a luxury aesthetic. We want clean lines, vibrant colors, and products we can wear anytime, without feeling like we need to have a bag of granola with us at all times."
Every material used in a Nothing New shoe is thoughtfully selected and designed with sustainability in mind. Each pair of shoes uses canvas created from recycled plastic—approximately 5.6 plastic bottles worth, sourced from post-consumer recycled plastic and recycled fishing nets. This saves approximately 160 gallons of water, compared to those made with 100 percent cotton canvas. Other parts of the shoe are made from recycled cotton and recycled and natural rubbers.
However, Nothing New's work in sustainability goes beyond the use of sustainable materials. First, the brand offers a recycling program, offering to take back your old shoes once they can no longer be worn. (Sure, they're built to last, but nothing lasts forever!) Not only will the brand pay for shipping, but it'll also earn you $20 off your next purchase. Additionally, a major part of the brand ethos is to be as carbon neutral as possible. To offset carbon emissions produced by Nothing New, the brand purchases carbon offsets from verified emissions-reduction projects in return.
Of course, Walsh believes that there's always room for improvement—especially in terms of carbon output. "Although we intentionally worked with suppliers who are close to one another and who have passed environmental audits, there are still carbon emissions from footwear production and shipping product to customers," says Walsh. While the brand is committed to its carbon neutral program, the ultimate goal is to eliminate as much of its carbon output as possible. As the brand continues to grow, it also hopes to continue to grow in its sustainable practices, too.
Nothing New launches on June 27 at NothingNew.com.