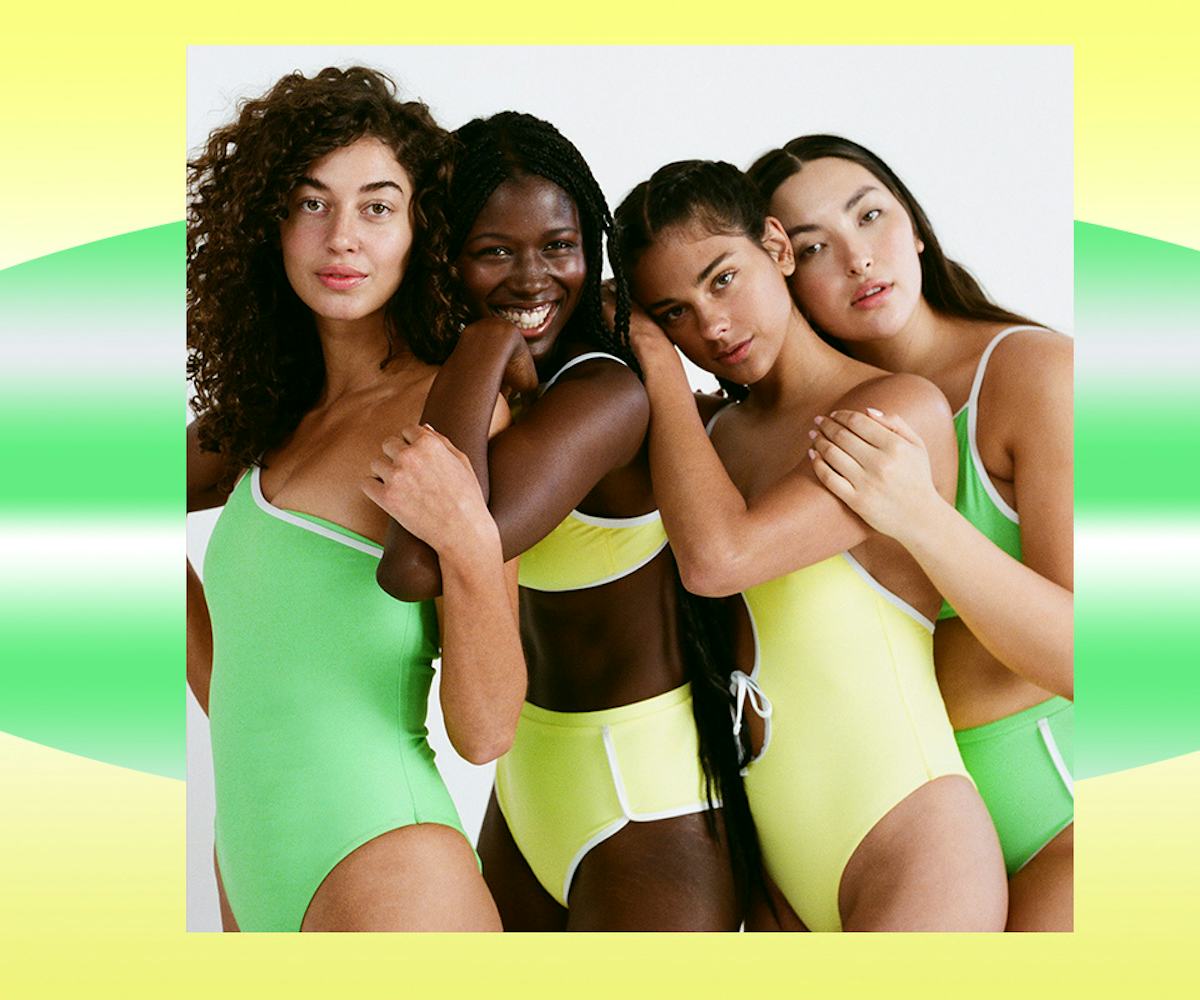 Photo courtesy of OOKIOH
This 'Baywatch'-Inspired Swimwear Line Is Made From Recycled Fishing Nets
Meet OOKIOH, this summer's brightest sustainable swim option
Welcome to The Green Scene. Every week, we're highlighting the designers and brands working to make the world of fashion and beauty a greener, more sustainable place. The brands to support are the ones making a difference; check back every Tuesday to meet your new favorites.
You could consider Vivek Agarwal's career trajectory to be a bit out of the ordinary. After spending years in industries ranging from iron and steel to real estate, he decided it was time for him to pursue another passion of his: fashion.
After noticing an obvious void in the sustainable swimwear market, Agarwal decided it was the perfect opportunity to launch an earth-friendly swim brand that was, well, a bit more exciting than what was currently on the market. "I saw a gap in the swimwear category: There was a Sports Illustrated and Victoria's Secret hangover in the majority of brands, or the more fashion-forward and sustainable labels were boring. There was nothing that was sustainable, fun, and appealed to all body types and was affordable."
So with that, Agarwal, along with his all-female team, launched OOKIOH in 2018.
After finding success with its debut collection last year, the brand recently launched its second collection, and it's paving the way for trend-focused swimwear that's also eco-conscious. Drawing inspiration from the '80s, the collection is seen in a range of neons, from slime green to traffic cone orange, as well as Baywatch-inspired high-thigh cuts, sporty piping accents, and styles nostalgic to the era. It certainly doesn't hurt that every suit is under $100, considering that accessibility tends to be a rarity within the world of sustainable swimwear.
The brand operates with sustainability as its core value, something Agarwal felt was not only important, but necessary. "I didn't think there was an option [to not go in a sustainable direction]," he says. "I believe it is our moral obligation to bring sustainability in all aspects of our life."
With that in mind, all of OOKIOH's pieces are made from 100 percent recycled materials, such as recovered sunken fishing nets and textile fluff. "I realized that swimwear is a segment that is using only non-sustainable fabrics, such as nylon, a byproduct of gas manufacturing, vis-à-vis other categories in fashion that use other earth-friendly fabrics, such as organic cotton."
Additionally, while the brand's offerings are trend-focused (and certainly far from boring), they are still timeless enough to be relevant swimwear options. "We try to offer designs that are current, but also timeless so that they stay relevant for a longer period of time and consumers don't feel the need to buy every season," says Agarwal.
Of course, OOKIOH will continue to grow its sustainable practices, and most importantly, it will continue to educate and spread awareness. "As a growing brand, OOKIOH's prime focus is to create brand awareness and educate the need to incorporate sustainability in all aspects of life, without being preachy," says Agarwal.
As it goes with all sustainable brands on the market, no one can be entirely sustainable in all its practices, which is why it's important for a brand to dedicate itself to continue improving. "We are not perfect," says Agarwal. "We do use some plastics in our packaging; it's part of the problem as well. There aren't affordable solutions to sustainable packaging for small brands, which is why we are working simultaneously on reducing plastics within the existing packaging and have set ourselves a goal of going plastic-free and completely recycled and biodegradable packaging by 2022."
The brand also has plans to eventually move its manufacturing to the U.S., to reduce its carbon footprint. Most importantly, it hopes to continue to use more and more regenerated textiles, so that it cannot only reduce waste, but, in part, keep our oceans cleaner and our landfills emptier.
You can shop OOKIOH's current offerings at OOKIOH.com.
Want to see more stories like this? Sign up for our wellness newsletter.