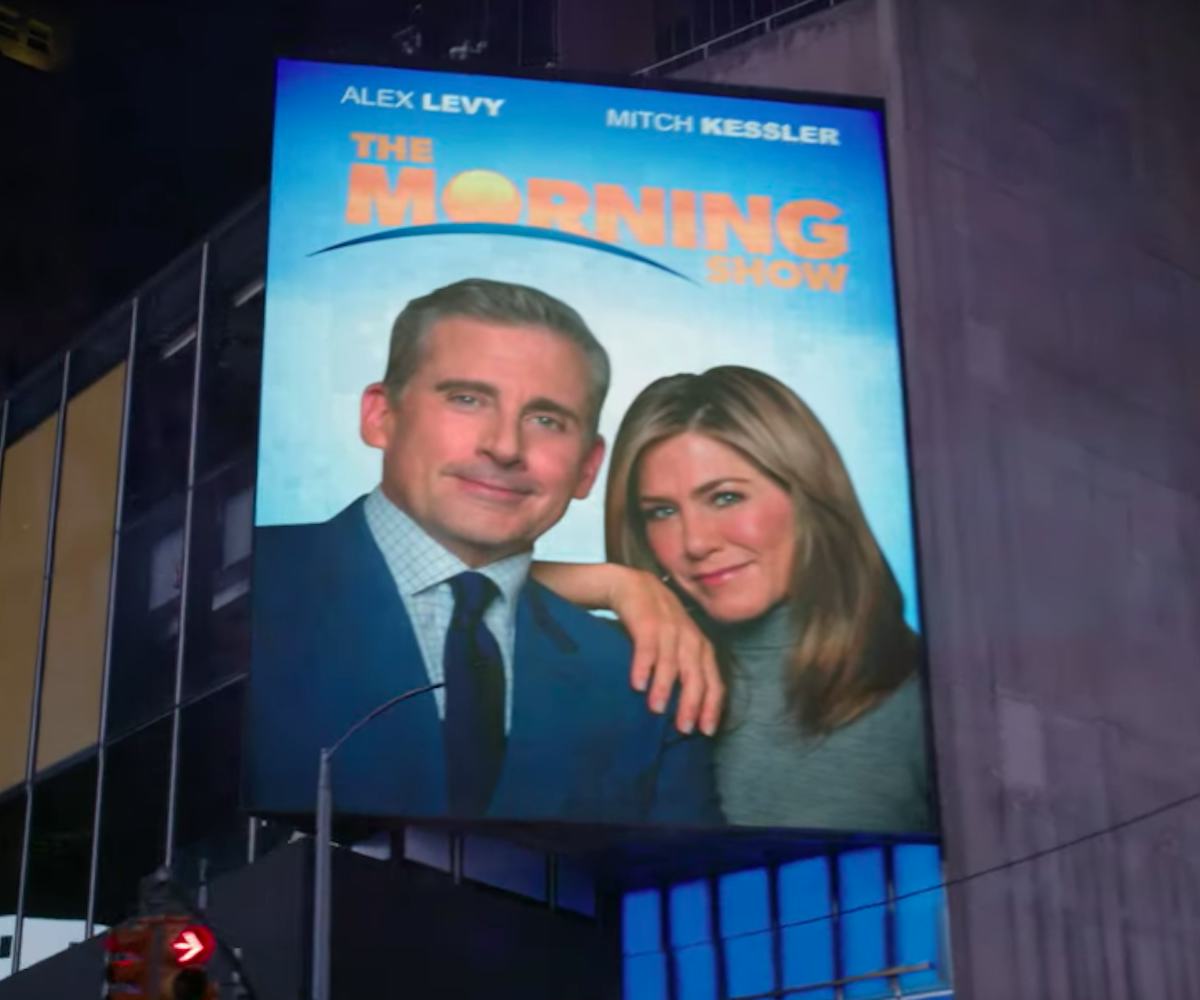 Photo courtesy of Apple TV.
Jennifer Aniston's Breakdown Is Made Into "Timeless American Entertainment" In 'The Morning Show' Trailer
The film also stars Steve Carrell and Reese Witherspoon
If the thought of adding one more streaming subscription to your list seems overwhelming, I think Apple TV+ may just change your mind. It just dropped the trailer for its original series The Morning Show, and I honestly can't think of a reason why anyone wouldn't want to see it.
The trailer begins with some "sad and upsetting news": News anchor Alex Levy (Jennifer Aniston) announces on air that her co-anchor of 15 years (Steve Carrell) has been fired over unspecified allegations. Soon she, too, is being pushed out from the show by the men running it. "We're in the middle of an epic rebirth," says Billy Crudup's character in the trailer. "Her sell-by date expired years ago. I want you to start grooming new people." Enter Bradley Jackson (Reese Witherspoon), a journalist who, according to herself, "doesn't fit the mold" and is being encouraged by the showrunners to take Alex's spot. "Watching a beloved woman's breakdown is timeless American entertainment," says Crudup as we watch Bradley unnerve Alex on air. The rest of the clip shows Alex attempting to "control the narrative so I am not written out."
The Morning Show will be available exclusively on Apple TV+, which is the new ad-free, video-on-demand service. All of its content will be available through the Apple TV app, and other content creators like Oprah, Steven Spielberg, and Jason Mamoa have announced upcoming projects. There is no release date for the service or The Morning Show, but both are expected this fall. The show has already been greenlit for two seasons if the trailer alone wasn't enough to convince you to spend the monthly fee.
Check out the trailer, below.