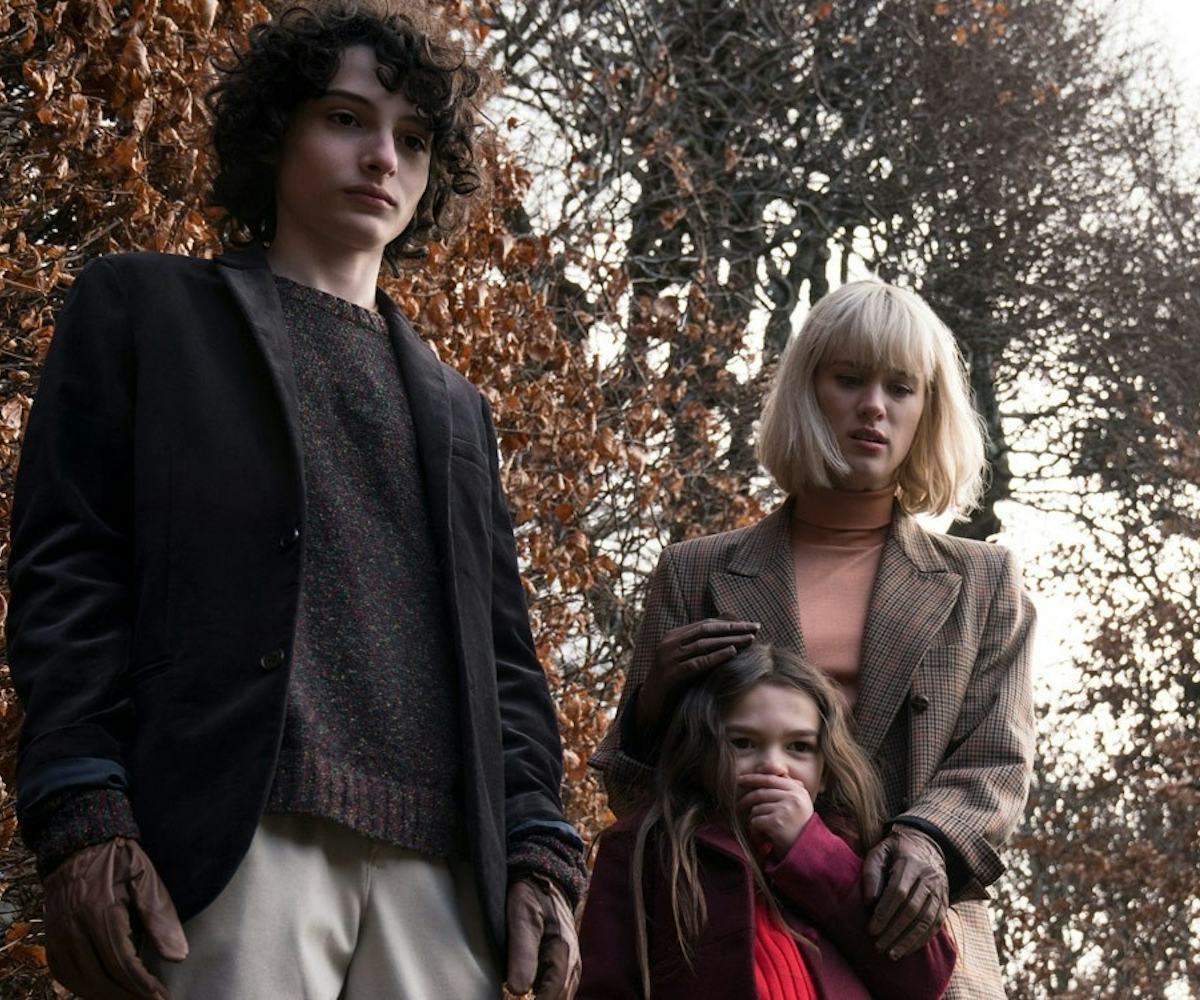 Universal Pictures
How 'The Turning' Producers Made A Movie Soundtrack Hit Like A '90s Classic
Floria Sigismondi's new film makes a strong case for the return of the original movie soundtrack
Back in the 90s, a movie's accompanying original soundtrack played just as vital of a role in the world-building of the film as the actors themselves. Take David Lynch's Lost Highway and its Trent Raznor-produced soundtrack as example. A collection of songs so captivating, the moody soundtrack reached No. 7 on Billboard's 200 chart at the time, sealing its place in the canon of culture-shifting film scores. Director Floria Sigismondi's new film, out in theaters now, is bringing old school hype around the movie album back.The Turning's original soundtrack is a star-studded affair, featuring an impressive roster of indie newcomers and legends alike, from Mitski and Soccer Mommy to Courtney Love and Kim Gordon. For music and film enthusiasts, it's also a compelling compilation of how the sounds of the '90s has influenced the music of today.
Musician and producer Lawrence Rothman worked alongside Sigismondi to create the film's roiling and ambitious soundscape. Where it succeeds is in its exploration of rage, fear and anger, experienced through the lens of a predominantly women and gender-fluid artist track list. A remake of Henry James' 1896 horror novella The Turn of the Screw, Sigismondi's film and its central terrifying secret ultimately unfurls as pointed commentary on the issues plaguing our post #MeToo world. Appropriately, it's soundtracked to the grimy guitars of Sunflower Bean or the lonesome tones of Soccer Mommy.
NYLON caught up with Rothman over the phone the day after the film's premiere to discuss the unique world-building power of an original movie soundtrack, the perfect compatibility of '90s indie rock and horror, and how he lassoed such a remarkable group of artists together.
What role did you and Floria want the soundtrack to play in the film's narrative?
Floria wanted to have an original soundtrack for the film in the way that a lot of the 90s films did, like Romeo + Juliet, all the David Lynch movies like Lost Highway — the Twilight Saga had original music soundtracks. It's not done a lot where you have a full soundtrack, where each song is tailored to the film. So it was a unique undertaking to go, "Okay, we're gonna write songs that are just tailored to The Turning, so when you are inside the world of the film, it doesn't take you out." The film takes place in the 1990s so she wanted to create a soundtrack that was its own version of that time. We played with tones and textures and our musical palette was all 90s based guitars, bass drums.
How did you get involved in this project?
I scored [Floria Sigismondi's] The Runaways film, starring Kristin Steward and Dakota Fanning. When I'm not doing my own music, I love to retreat into scoring short films and things like this, because it's a great way to play with sound and texture and melody outside my own music. It can be therapeutic to not have to come up with your own songs, but to score a piece to a visual. And I'm a very visual person, so I enjoy it a lot.
The project began with Floria only wanting to do two songs inside the film, and she approached me about the first song. I gave her a song that I'd come up with and she really liked it. We talked about who could sing it and we approached Courtney Love. Courtney was just incredible to work with and came through and laid down an incredible vocal performance in three takes, so her track launched us into this world of creating material that was unique to the film. From there, they just kept coming to me like, "Do you have another song, do you have another song?" Finally, it turned into this thing where we were reaching out and building songs for the film.
How did you guys decide who you wanted to reach out to?
Floria asked me to make a list of artists that I think would be appropriate. She wanted to have two artists that were from the 90s, so that was Courtney and Kim Gordon. And then the rest were newer musicians who had a take on the 90s. I made a list of all my favorite current artists, and she made a list as well, and when we compared lists, give or take a name or two, it was literally identical. We just went through our list and approached all the musicians and it was very fluid and it came together really quickly.
The soundtrack is very women dominated. Was that intentional?
[When we did the list], it just so happened that it was women-led vocals and gender-fluid vocalists. A lot of soundtracks are heavily male dominated, so it was nice that it came together organically and it wasn't forced like, "We want to do all women." [But I think] Floria really wanted to give a platform for women and gender fluid voices to all come together on one soundtrack. In the film, the perspective of the main character, Kate, played by Mackenzie Davis, there's a lot of discomforting things that have happened to her, and the ghost. Sort of modern tragic events. So the film is set in a very female mindset.
When you saw the full movie, were there any songs that pleasantly surprised you in how they were placed in the narrative?
One that kind of took me that never really took me before was this track that Sunflower Bean with Living Things did called "Take No Prisoners," and it plays in a very emotional end sequence with Finn Wolfhard. It was actually really intense in a beautiful way that I hadn't expected before. That one and the Mitski "Cop Car." Last night, I was like, Wow, those two really stuck out inside the film and felt really emotional."
What is it about '90s-era music that you guys think captured the atmosphere of the film so well?
If you revisit the 90s, even if it's just 90s music videos, Marilyn Manson's "Beautiful People" directed by Floria, Nine Inch Nails, "Closer," Massive Attack's "Mezzanine" — Floria was one of the superstar directors of 1990s music videos. She cultivated this horrific horror element in these music videos that made her famous in that world. And horror films since, they ripped off so much of that imagery and put it into modern day film, and people talk about it over on Reddit. So having Floria do a horror movie, and she's so known for her horrific dark '90s imagery, setting her film in the 90s to me was just a match that needed to be made.
Do you think having an original soundtrack made specifically for a film lends something special to the storytelling aspect of a movie?
Since I was a kid, I've loved film and I've loved music, so I've always collected film soundtracks on vinyl. I feel like the recent era, it's not as prominent as it's been in the past era. Obviously you have the score soundtracks, that's something that's always out and available, and are very pleasing to listen to. But you don't have a lot of them where there's original songs for a film. It sort of stamps a time and place and a mood when you have songs that are just unique to a soundtrack. When you leave a film and pop on a soundtrack, you're sort of reliving the film again, which is how I always felt about the Romeo + Juliet soundtrack in the'90s. I still play that now, all the time, and whenever I play it I just think of Leonardo DiCaprio and his performance in it, the beauty of how that film looked. I'm inside Romeo + Juliet, and I'm not thinking about Radiohead or Garbage or the bands that are on it.
The Twilight albums, I feel, are also more recent examples of excellent original soundtracks.
They were so good. With Twilight, whenever I play that soundtrack, which I still do to this day, I just think of the series because I read the books before I saw the movies and inside the books she had those songs, so it just gave it a world to climb inside. It's an interesting thing because it kind of keeps everything inside of the film, and that's what an original score does as well. It's like, you think of a score, you think of Star Wars, so it's cool to have [original music] be stamped inside of a film.