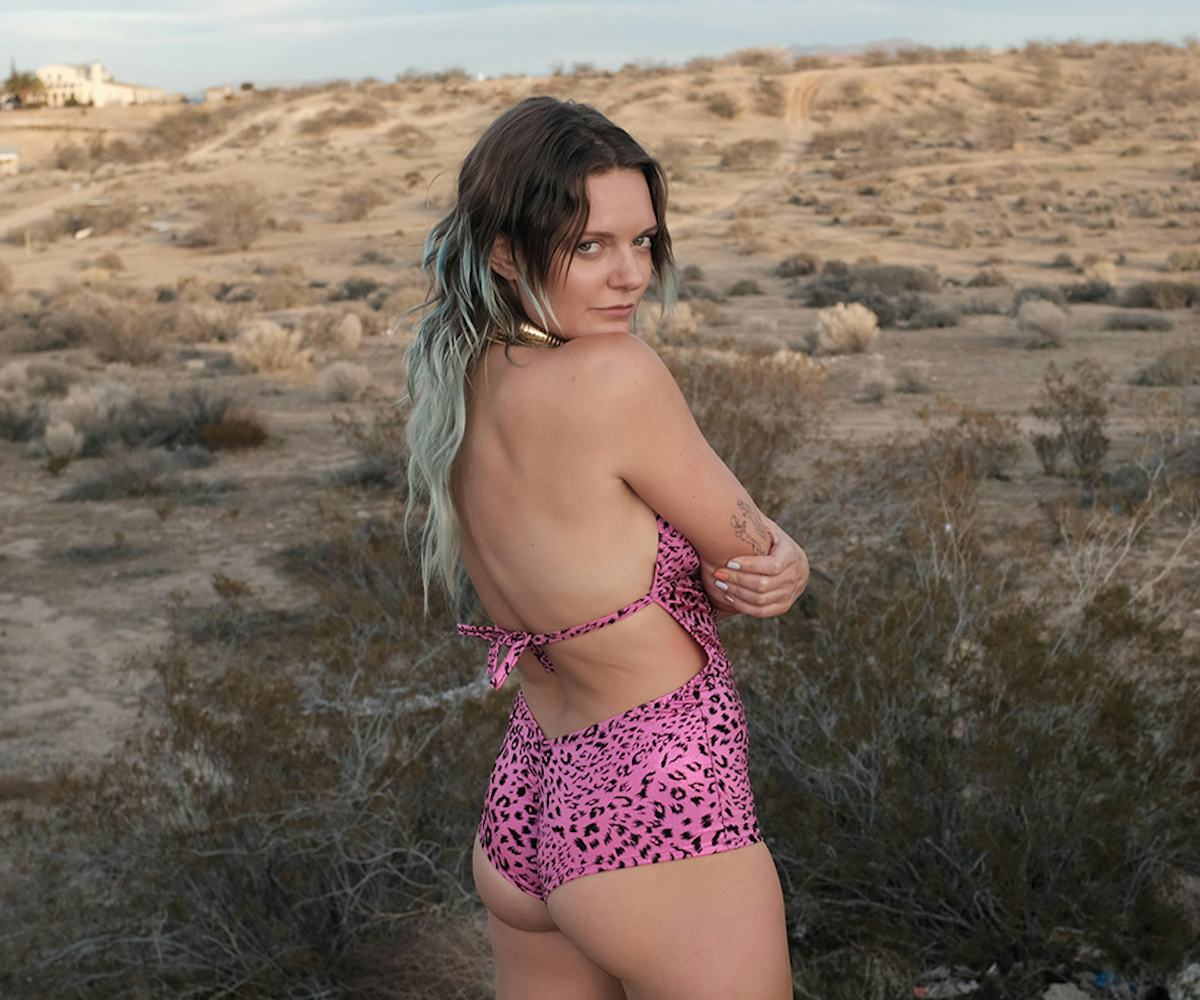 Photo by CHARLIE TWADDLE
Tove Lo Talks Her Latest Project With Finneas And The Grammys' Place In Pop Music
The artist's new tracks represent two sides of "the extreme emotions of life"
Pink sequins, lime green with white hearts, iridescent silver — you name it and Tove Lo has a bathing suit that will fit the bill, and they're all on full display in her latest music video, "Bikini Porn." She's in a pool for maybe 15 total seconds of the clip, which was released in mid-January, but lack of H2O doesn't stop her from dancing and gyrating around Victorville, California in flashy swimwear. Her bum is out; her bare arms flail out the window of an Uber driven by the now Grammy-winning producer Finneas, perhaps best known as Billie Eilish's older brother and longtime collaborator.
"It can be naked and funny, but that doesn't mean it has to be sexy all the time," Tove Lo — real name: Ebba Tove Elsa Nilsson — told NYLON over the phone ahead of the video's release. "[It's] me in my own world, just living my life without caring what people think."
A run-and-gun shoot with not much budget and even less of a plot, "Bikini Porn" is a sharp contrast to "Glad He's Gone," the lead single off Tove Lo's fourth album, 2019's Sunshine Kitty. This song's visuals are "an actual movie in three minutes," she said. They also earned her a 2020 Grammy nomination for Best Music Video.
The sweeping cinematography and clever narrative of the video match the message of unconditional friendship behind the song: Lo shows up for her people in the video, even if it means trekking through a hurricane, breaking out of jail, or killing a criminal by smashing him over the head with a fishbowl. The wildly implausible scenes were filmed over four intense 18-hour days in Kiev, Ukraine, and the end result was worth the sweat — and what must've been a staggering cell phone bill, as you can see below.
Lo has always pushed the boundaries of what a music video can be, starting with her 2016 short film, Fairy Dust, which she followed with 2017's Fire Fade and 2018's Blue Lips. Interestingly, this is the first year The Recording Academy has honored her work outright. (She got her first Grammy nomination in 2015 for writing Ellie Goulding's "Love Me Like You Do," but that "wasn't my nomination," Lo said.)
In a time where the Grammys have become a controversial subject in and of themselves, Lo mused on the idea of awarding art in general. "I've always been a believer [that] you can't compete in art," she explained. "I still agree with that, but what you can kind of see it [as], it's just celebrating art. You're celebrating that someone did something really cool… just getting that recognition because [of] something that you worked really hard on."
(The inescapable "Old Town Road" video ended up winning over "Glad He's Gone," but Tove Lo's festivities continued unhindered: "We lost, let's party!!" she posted across social media, adding a congrats to Lil Nas X and a shout-out to all the "incredible" nominees.)
Eilish was Grammy night's biggest winner with five awards, including Record of the Year, and is partly the reason Lo found her way to Finneas in the first place. "I was like, 'Oh, it's her and her brother doing it all together, that's so cool,'" Lo recalled about discovering their music. She was eventually connected to him through a songwriting collective that both were privy to. So far, they've teamed up for two songs, the frisky "Bikini Porn" and the brooding "Passion and Pain Taste the Same When I'm Weak." The former was once a project that only Tove Lo believed in, until Finneas "brought it home," she said.
"They were like, 'It's cool, but we don't really feel it... I think you're kind of imagining that it's something,'" Tove Lo recalled about sharing "Bikini Porn" with her team in its early days. Despite the lukewarm feedback, she kept rooting for it and asked Finneas for his opinion. "He was like, 'This is awesome, let me do my thing,' and then he gave it so much life, like all the grittiness and the pop punkness… He nailed it." (His cameo as an Uber driver in the music video was just a fantastic bonus.)
Finneas' distinct production style comes through even stronger on "Passion and Pain Taste the Same When I'm Weak" as a slow, pulsing beat backs up aching lyrics: "If you break my bones, I'ma hurt my soul / Gonna f*ck it out again and again / Stuff me full off lies that I swallow down / You're gonna get what you're givin' to me."
You can hear the hurt in the chorus, making it one of the most quietly powerful songs Lo could perform when she hits the road for her Sunshine Kitty tour next month. "Passion and hate are really close," she explained about the title. "When you're passionately in love with someone, because there's so much emotion there, everything becomes heightened. Sometimes when you're in something very passionate, you kind of lose sight of— it usually comes with a lot of drama and fighting… all of a sudden, [that] turns into more pain than it does love. There's almost this need for hurting each other, but you can't leave it, because you still feel like you need it, and so you're confusing this destructive thing with love."
So it's not exactly something to jam out in your bathing suit to, but that's exactly what makes it the perfect complement to "Bikini Porn." Both songs were released together in mid-January to represent two sides of "the extreme emotions of life," Tove said. For her, "Bikini Porn" is about "letting go and not giving a fuck and just diving in," while "Passion and Pain" embodies "the comedown from when you have something really euphoric, and then when it drops because you're exhausted from all that."
It's certainly a rollercoaster of feelings, but it's one that's just chugging up for liftoff if these songs are any indication.