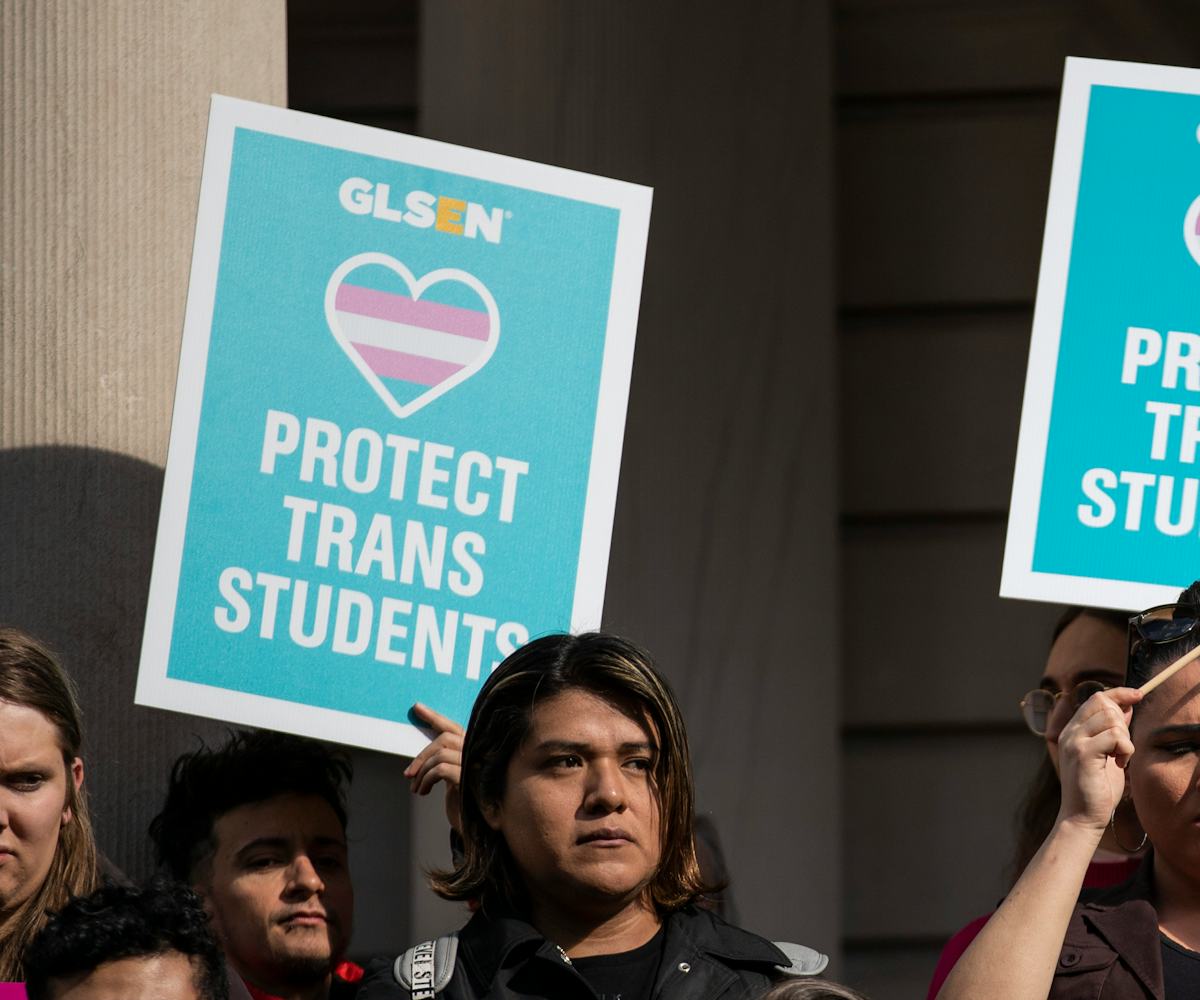 Photo by Drew Angerer/Getty Images
Assistant Principal Who Allegedly Locked Trans Teen In Bathroom Didn't Lose His Job
After berating and yelling at the 15-year-old boy
An assistant principal at a West Virginia public school allegedly barricaded a trans boy inside a bathroom and told him to "prove" he was a boy by using the urinal. What's worse, he has been placed on only a temporary suspension by the school.
Reports say that 15-year-old Michael Critchfield was using an unoccupied men's room before a school trip when assistant principal Lee Livengood barged in and demanded to know why he was using that restroom. The Daily Beast notes that a letter from the ACLU of West Virginia, who is involved in the case, says that Livengood challenged Critchfield to "use the urinal" to prove that he was a boy, and continued to "berate Michael, his voice rising, asking Michael what would happen if another boy thought Michael was checking him out."
Critchfield told WV MetroNews that "he kept asking me why I was in there. (He said) I shouldn't be in there because I am not a guy, and I told him I am a boy, I identify with this bathroom, and it is my legal right to use this restroom." Livengood blocked the doorway for three to four minutes, Critchfield says, only moving because a parent complained that she could hear him yelling from down the hallway. When he was finally allowed to leave, Critchfield says that Livengood told him, in front of parents and students, "Not going to lie, you freak me out."
Critchfield says that Livengood continually misgendered him throughout the exchange, and notes that he has been repeatedly misgendered by several other teachers at the school. He also says that intercom announcements refer to him by the name given to him at birth with which he no longer identifies. "At the end of the day, all I want is to feel welcome and safe in my school," Critchfield said according to The Daily Beast.
Livengood will be suspended without pay until 2019. Though we can all likely agree that he deserves harsher punishment for allegedly verbally abusing a student under his care.