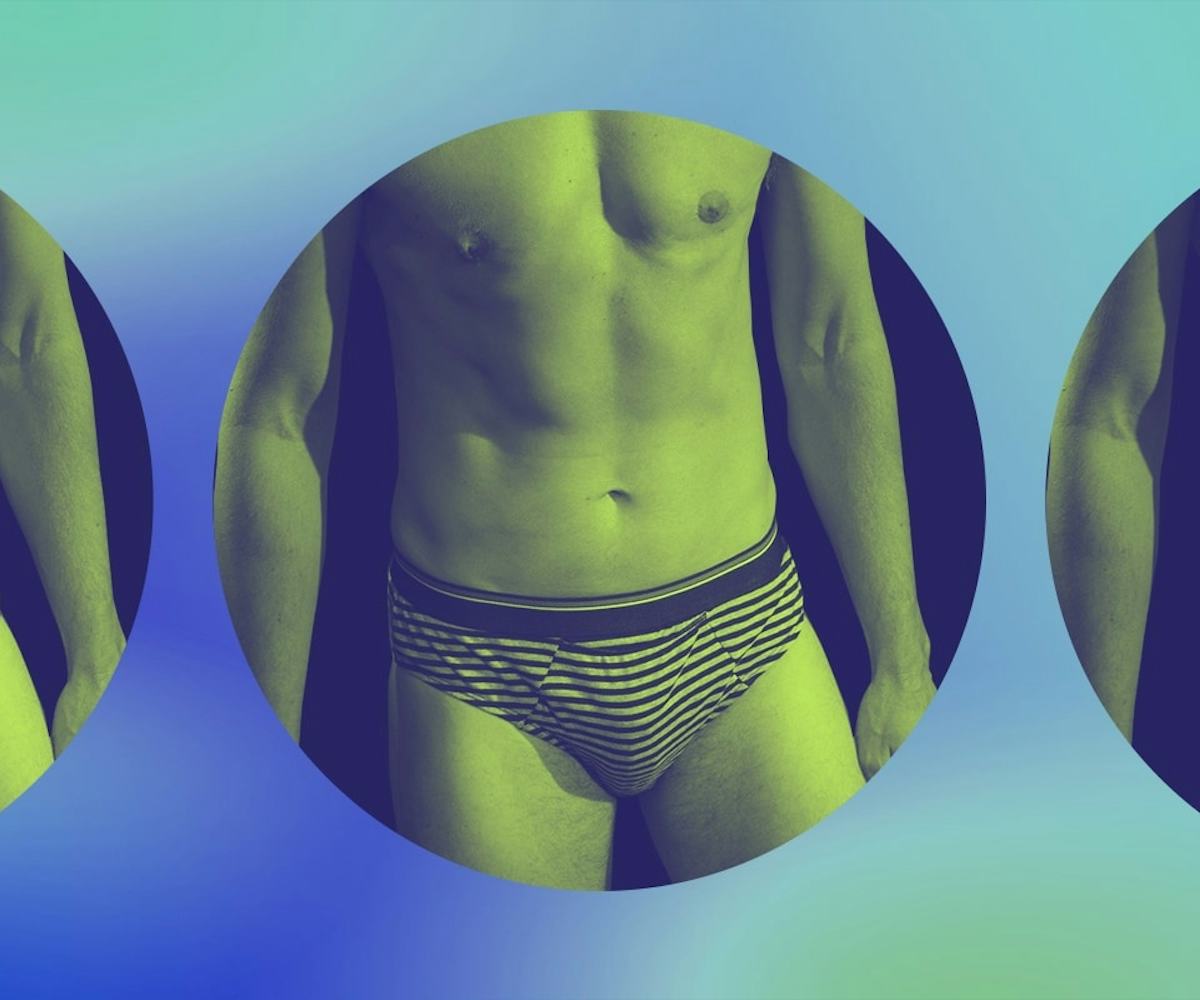 Photo Courtesy of Transthetics
Brave New World: Inside The Growing Industry Of Penile Prosthetics
Get to know Transthetics, a truly transformative company that didn't set out to change the world
Alex is not your usual entrepreneur. The plain-spoken, self-described "...boring heterosexual guy..." just wants to have vanilla sex and relationships with women. He started Transthetics, penile prosthetics for transmasculine people, to serve this purpose. While Alex may be working on things that are transformative for individuals, he didn't start his company to "change the world" or be internationally recognized in the way many CEOs strive for. He doesn't even choose to use his surname in any product advertising, press, or fundraising materials. That might not seem so unusual, considering we live in a world that is so hostile to deviation from the gender norms—but we also live in a world of "rock star"-led start-ups, and anonymity is quite unusual there.
Alex's line of products is small, but it's larger than what one would expect when looking to replicate a single body part. And yet that makes sense: It's replicating an organ that serves many functions, and because Alex was initially designing for his own needs, he had an intuitive grasp of what was needed in the sphere. Alex's first product was the EZP, a hyper-realistic prosthetic used primarily for standing urination, while also providing a subtle package for those in athletic and just everyday situations. When he began experimenting with this product, only one realistic stand-to-pee device was on the market, and, Alex told me, "It was awful. It kind of fell apart on you after a couple weeks... I couldn't get it to reliably work. It was always scary to step up to a urinal because you were never really sure if you were about to wet yourself."
He points to the grossness of men's public restrooms and the need for comfort for all-day wear—including in active situations such as rock climbing, scuba diving, bike riding—as being the primary reason he embarked on creating the EZP. Alex is an active guy. But you can hear how much more there is to it when he said, "I needed it to exist. It not existing was not an option."
The subtle but realistic bulge that the EZP provided in tight-fitting clothes made it aesthetically appealing, as well as functional. But it did nothing for another main use of the penis: sex. So Alex sought to replicate a sexual experience as close to that of a cis man as possible, and created the Joystick.
"Once again," he said, "anything that was on the market [at the time] didn't stimulate the wearer at all."
The harness-free phallus integrates a lubrication/ejaculation reservoir and a quiet, flexible, rechargeable vibe for solo or partnered play. Like the EZP, each one is handcrafted with natural skin translucency and fine veins, creating natural variations in skin tone. The initial unit measured seven inches, slightly larger than the national average penis size, and Alex told me there are a couple engineering reasons for this.
"What dictates the size is actually the ergonomics," he explained. "The one exception there was the Joystick, where I was limited by the electronics, but now [with the advancement in vibrator technology,] I have managed to get that down and have now introduced the six-inch. With the Joystick, it doesn't really make much sense to go smaller, because you lose up to an inch [of insertable length] with the way it sits."
"I needed it to exist. It not existing was not an option."
These two products together fulfilled "95 percent of what I need," Alex said. But to fulfill that extra 5 percent, Alex came up with a few other products that have specific and special uses: The Rod and the Hot Rod attach directly to natal anatomy and look extremely natural on fully naked bodies. These penile extensions are for men who have had a metoidioplasty (a set of surgical procedures that work with existing genital tissue, enlarged by testosterone, to form, usually with release of clitoral ligaments, what is called a neophallus, or new penis), or at the very least clitorial growth due to testosterone, and are unlikely to work for anyone without at least some of this hormonal growth.
The former is for situations where one might want to pass while naked, such as showering in a locker room, and can work as a stand-to-pee device if the wearer has had a urethral extension. The latter attaches in the same way with the same natural nakedness, but its primary purpose is sexual. However, because it uses no harness or adhesives, it doesn't serve the roughest or most exuberant forms of penetrative sex.
There's also the Lillipop, a pump and suction toy for oral sex, and a line of swimwear and underwear that serves the needs of some of these products. All of these "nice-to-haves" were described by Alex as being "almost like shoes. You have your daytime shoes and your nighttime shoes."
Alex credits necessity, as well as YouTube, as the mother of his inventions. From the beginning, he did all the manufacturing himself. "It was a lot of crazy kitchen experiments in the first six months," he said, "figuring out weird and random shit like wax doesn't melt in a microwave, you can't wear rubber gloves when you're working with silicone."
Alex was not able to find any other trans prosthetics makers from whom to draw inspiration, so he initially sought some guidance from local special effects shop in his native Australia. The specific kind of help he needed, though, had to be obfuscated because the owner "was absolutely not open to the idea of what I was trying to create. Therefore, I kept having to ask things like 'how would I cast a finger?' Instead of what I was actually trying to do." The situation in Denver, where Alex moved when the business began to take off, was much better. An FX shop there ran a free workshop where one presenter talked about making prosthetics for vets and other men who have lost genitalia in accidents.
And then, another possible market emerged that Alex had not been targeting: "I get a lot of natal men with micro-penises approaching me."
While they might not form communities in the way trans guys do, they are an underserved segment. The only way to find out if there are still more communities interested in these products is for Alex to get feedback, or through email or anecdotes that find their way back to him. But he has heard from lesbians who say that his products have worked well for them and even some "heterosexual couples who just like to switch things up."
Even if all these disparate communities are consumers, there has not been a lot of press so far. "Nobody seems to have taken much of an interest," he said. "We fly under the radar of the general LGBT community." Alex has talked to, and been reviewed by, a few transmasculine bloggers and journalists, but he doesn't seek out the spotlight. This might be surprising considering that Alex is on the cusp of his most ambitious project yet: the Bionic.
The all-in-one, super-realistic prosthetic will be made for use across four essential functions: peeing, packing, pleasure, and play; and over two states: flaccid and erect. Alex has enlisted help from the engineering departments of two Colorado universities, Colorado University, Boulder and University of Denver. The students there are working on prototypes of the most advanced version being developed, the Bionic Deluxe. Aiming to have all desired genital functions controlled by electronics that measure the wearers' arousal states and pelvic muscles as well as pressure on the device, this full-featured prosthetic has challenging components to say the least. But Alex is confident that it will be produced. "All the sensors and components are absolutely viable," he assured me, but as with almost any new device of any sort, coming to market, the biggest challenges are "power consumption and size constraints." How far away this is from market depends on how these challenges are met and what Alex and the university think may or may not be deal breakers for consumers.
"Nobody seems to have taken much of an interest... We fly under the radar of the general LGBT community."
The Bionic Basic, however, is slated to come to market sometime this year. Though it will have no electronic components, it should have all the same functionality, but will require that the user manually control erections, via a simple valve with pressurized testicles that will be able to fill the shaft with liquid to a fully erect state, and self-stimulation, with the optional insertable bullet vibrator.
"I'm actually really happy with how discreet it is when moving from erect to flaccid state, and that we've been able to keep it really compact and comfortable," Alex continued. "This will be my go-to. It will eliminate or at least reduce my use of the Joystick and the EZP."
Although still not widely known and varied in quality and function, the number of products available similar to Transthetics has greatly increased in the five years since Alex began his work. It is exciting for transmasculine folks and others to now have so much more access and choice. It can also be overwhelming. And as we have seen, functions overlap but are not all-encompassing. So while Alex's entire line is an exciting leap forward, it's possible that reducing it down to a singular product, the Bionic, will reveal the truly revolutionary nature of this burgeoning industry.