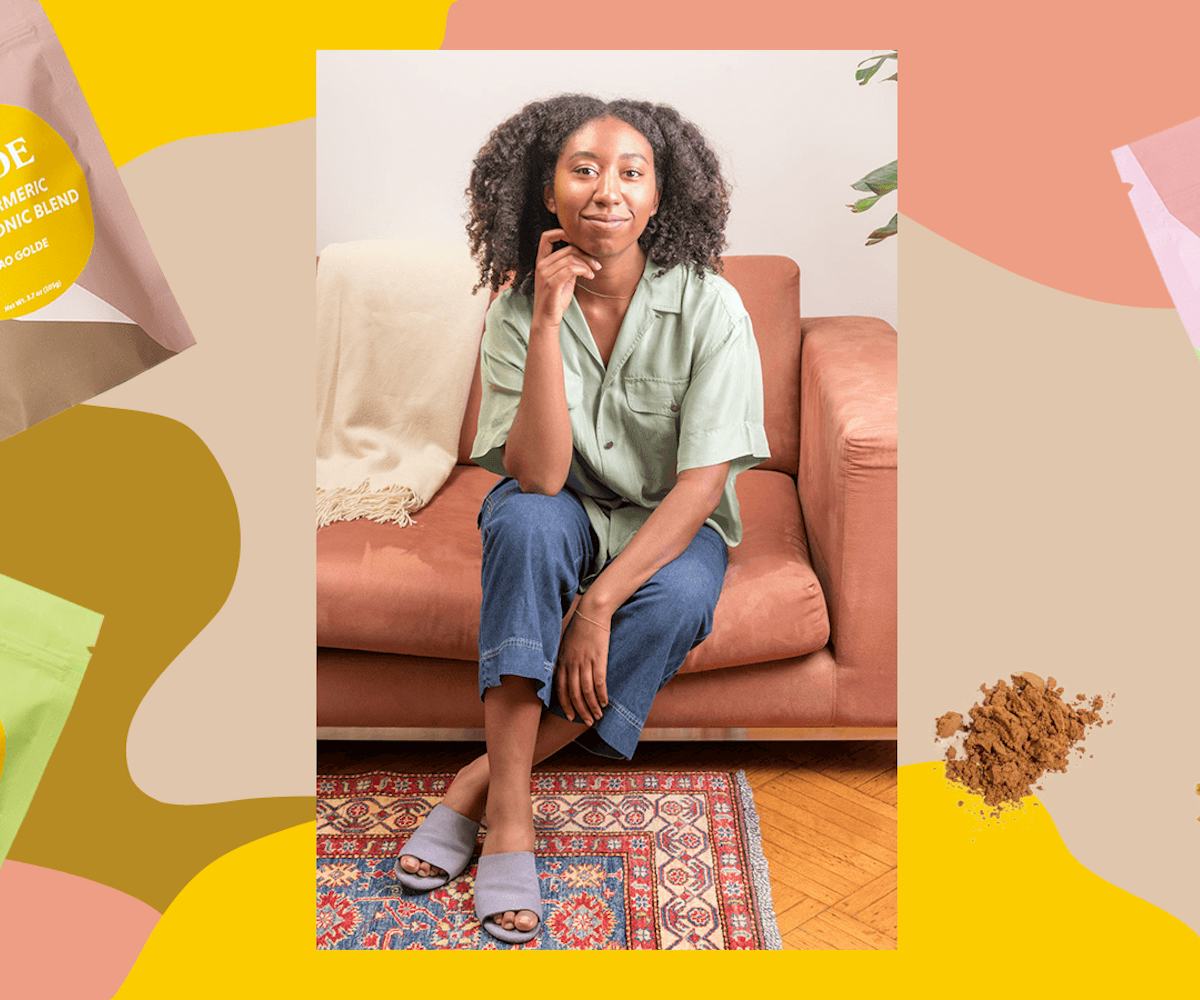 Photos courtesy of Golde
What I Learned Starting A Wellness Brand As A Woman Of Color
Where cosmetics and fashion are broadening the definition of beauty, "health" remains more aligned with whiteness, thinness, and wealth
by Trinity Mouzon Wofford
Trinity Mouzon Wofford is the founder of beauty and supplement brand Golde.
If I had to choose a buzzword for brands in 2019, "inclusivity" would be a strong contender. Across beauty and fashion, start-ups and industry titans alike are speedily innovating their offerings in response to new standards in representation. This year, cult-favorite Glossier expanded its complexion line to 12 shades, while Rihanna's Fenty Beauty continued to raise the bar with an unheard of 50 options for its Pro Filt'r Concealer. We're seeing similar movements in apparel, with brands like Chromat and Universal Standard continuing to foster unapologetic body positivity in their fashion week shows and ad campaigns.
The wellness industry, however, has not been so quick to join the charge. As both a Black woman and a founder in the space, I'm keenly aware of the large gaps still left between the world of "elite wellness" and, well, everybody else. Where cosmetics and fashion are making strides to broaden the definition of beauty, "health" remains a status most popularly aligned with whiteness, thinness, and wealth. That association is a problematic construct that continues to keep people of color from engaging with mainstream wellness, let alone pursuing an entrepreneurial path in the industry.
In 2017, I went for it anyway and launched Golde, a beauty and supplement brand centered on making wellness more approachable, easy, and inclusive of today's diverse communities. Growing up in New York's Hudson Valley, I was always attuned to natural health—my family co-operated an eco-friendly lifestyle shop on our main street, and our pantry was filled with alternative nut butters and fermented foods. But it wasn't until my mom's experience seeing a holistic MD for treatment of an autoimmune disease that I really understood the power of it all. From there, I decided to pursue a career in holistic medicine, and went down to NYU to start my pre-med journey. My course was altered when I found that my mom had been forced to stop seeing her doctor due to the high costs of holistic care—I realized that if I was going to build something in wellness, it needed to be for everybody.
Post-grad, I remained rooted in the power of natural health but felt excluded from the modern wellness movements that prioritized exclusivity and self-restriction. Golde became my opportunity to build what I was looking for in wellness—a diverse brand highlighting the belief that being well should actually feel good (not just physically, but mentally and emotionally). What followed was not an easy path to success, and I'm thankful for that. As an underrepresented founder in a homogenous field, each lesson I learned strengthened both our company and my personal commitment to our mission statement. I'm sharing a few of those big lessons below:
Talk about your idea
Seriously. This is one of the easiest ways to get feedback on your business concept, and yet most of us keep our ideas under wraps for fear of copycats. As a female founder or woman of color, there's an especially persistent myth of scarcity—"If she gets X, I can't get Y." Don't buy into that. Share your concepts (to the extent that you're comfortable), and integrate the feedback you get into its evolution.
Find a mentor
In fact, find a few. When you're starting a business or other creative concept, you don't have to go it alone. A mentor could be anyone whose own experiences will lend valuable insight into your processes. Ideally, you'll want to connect with a few people in similar fields who are a few years ahead of you. If you don't know someone offhand, don't be afraid to cold email someone you admire explaining who you are, what you're building, and why you want their feedback. I've built some of my strongest mentor relationships that way.
Do it your way
When we passed the one-year mark at Golde, everyone starting pressuring us to raise funds from investors. Up until that moment, we had been totally self-funded and were scaling into partnerships with retailers like Urban Outfitters and Goop. We got sucked into the idea that all companies needed to get investors if they wanted to achieve "success," whatever that meant. Several months (and a couple of offers) later, we decided to put fundraising on hold indefinitely. It wasn't necessary for our company at the time, and investor relations turned out to be a huge distraction from what we were actually supposed to be doing: building our business. This is not to say that we'll never raise outside capital but meant instead to illustrate that we made the best decision for us by listening to our own instincts.
Cash (flow) is king
When you're running a business, it can get pretty challenging to keep up-to-date with your daily finances. You see lots of money coming in, but you might not be noticing how much cash is also flowing out. Be obsessive with watching your cash flow, and make decisions that prioritize profitability whenever possible. In the end, you can spend thousands of dollars on the best design and product, but if it's not making money when you add up all of your operational costs, your business will not be sustainable.
Have fun
Entrepreneurship looks like a dream come true from the outside, but in reality, it creates a uniquely debilitating type of pressure on founders. Because you are solely responsible for maximizing productivity (and thus, revenue for the business), it's easy to get lost in that pressure to work harder, longer hours. My advice: take a break, have fun. Entrepreneurship is mostly just a series of addressing varying degrees of work emergencies via creative problem-solving. If you're totally burnt out, you won't be able to fully access that ability, and both your business and quality of life will suffer for it. Work reasonable hours, and make time for yourself outside of the business: call a friend, get your workout in, take a vacation. All founders make sacrifices for their businesses, but remember to take care of yourself first. Practice each day with compassion for your growing brand and for your growing self.