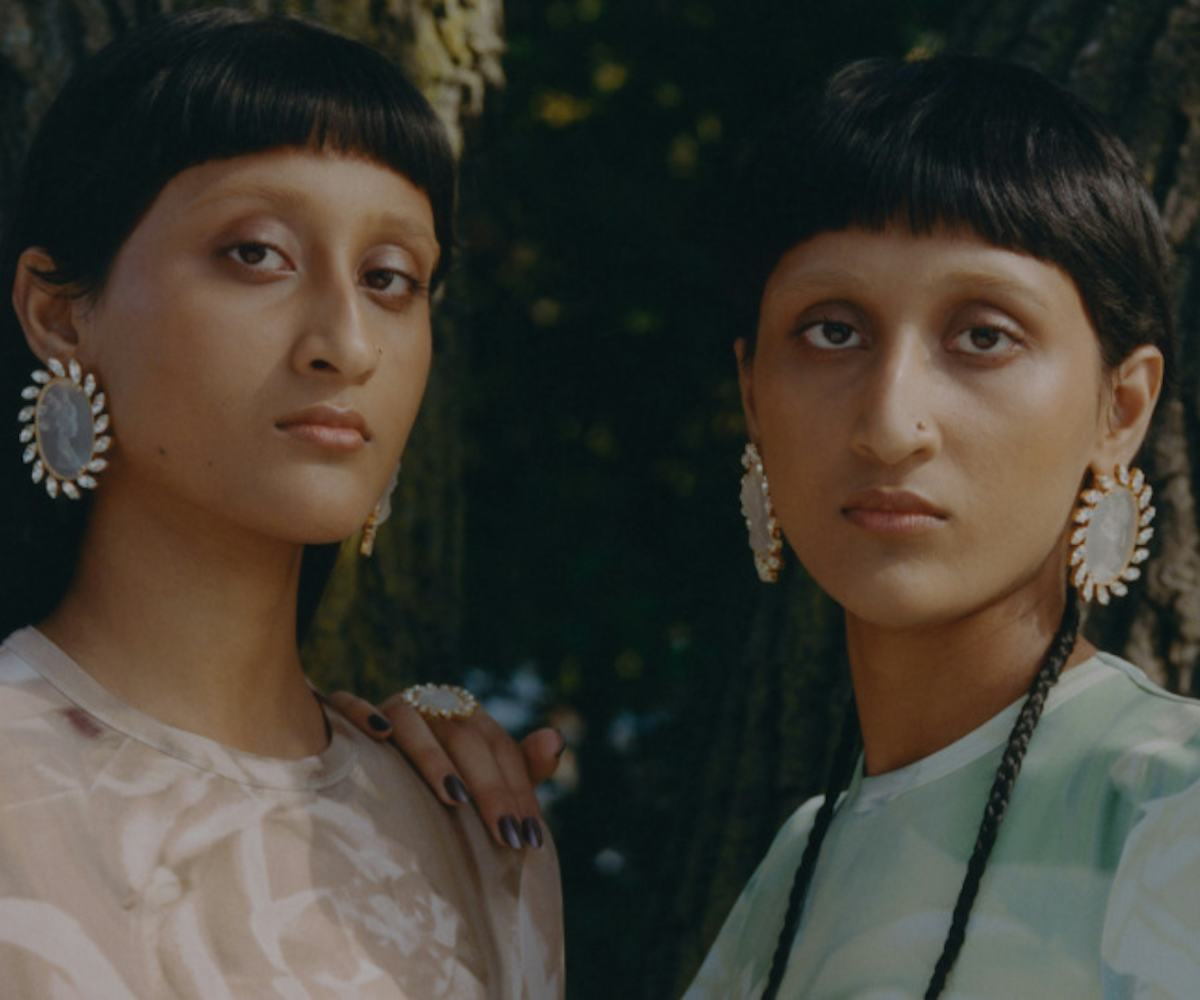 Photo by Katsu Naito/Courtesy of Fenty
Meet Mannat And Sirat Kaur, Twin Models-On-The-Rise
Their first major gig was for Marc Jacobs, followed by a New York Fashion Week debut, and, most recently, a co-sign by Rihanna for Fenty
Twins Mannat and Sirat Kaur believe they may have manifested their latest modeling gig: starring in the campaign for Rihanna's LVMH-owned line Fenty's "City Bloom" collection in November. Just two months prior, during New York Fashion Week (their first-ever season of runway shows), they caught buzz around the game-changing Savage x Fenty extravaganza by the singer-turned-entrepreneur. "We just looked at each other and said, 'Damn it! Why didn't anyone send us to the Fenty casting?'" recalls Sirat. "So we thought, One day, and then a month later, we got the email for Fenty."
Though the Kaurs have only been modeling professionally for a year, they've already landed a few coveted jobs. Take, for example, their first official foray into the fashion world for the debut campaign of Marc Jacobs' newly launched label, The Marc Jacobs. The casting was a combination of luck, good timing, and having a solid group of creative friends while growing up in Miami. "It helped us a lot," says Mannat of their hometown. "Everyone wanted to help us connect with other people that they knew. We have a lot of people who we look up to who are friends. It's really good energy."
A friend of the Kaurs told Walter Pearce of the Midland Agency about them for The Marc Jacobs campaign. The casting director had previously posted on Instagram that he was looking for twins anywhere in the U.S., and after he learned about Mannat and Sirat, the two were on a plane bound for New York City the next morning. "We didn't even have time to process it," says Sirat. "When we got off the phone, we had to start packing and get ready to go. By the time we got to New York, it was straight to the set."
Their modeling careers are just starting to take off at the age of 22, but they still reside in Florida — about a two-hour drive from one another — to finish up college. (Sirat attends school in Tallahassee for statistics, while Mannat is based in Gainesville for advertising.) They were born in India before moving to Miami at the age of nine, and both remember finding it hard to fit in until high school.
"It's so weird because everyone we knew from India said we were loud in school and leaders in the class, and then when we came here, we were complete opposites — the shy ones in the class, didn't talk," says Sirat.
"In high school, we were like, 'We've been trying for so long, and we still don't fit in," adds Mannat. "That's when we were like, 'Fuck this. We're just going to start listening to the music we want to listen, do what we want to do.' Then we just started going out to the shows of the music we did listen to and meeting people who were like us. That made us more comfortable with ourselves. In high school, we actually developed our own style."
After The Marc Jacobs gig, the Kaurs booked a campaign for Levi's out in Los Angeles, which prompted them to spend the summer of 2019 in New York City to look for proper representation through an agency. After meeting with eight different options, they landed on Unite Unite, and by September, they were walking New York Fashion Week for VFiles, Sandy Liang, Collina Strada, and Threeasfour.
"I like how at a lot of the castings you kept running into the same models. Because a lot of the times, it's kind of like a competition, but when you keep seeing the same models, it just tells you, 'Oh, we're all doing the same thing. All of us are doing the same shit all day,'" says Mannat. For next season, they hope to participate in runway shows overseas, too, especially during Milan Fashion Week.
Once the Kaurs graduate next year, they plan to move to New York to pursue modeling full-time. They say they're breaking barriers in their family, as well, being one of the first to work within the creative industry. "It's a conversation that we still need to have, but I'm thinking in the end, it will all be worth it," says Sirat. "Overall, they're really supportive. They didn't know this was a thing you could do for a living. Obviously, being an artist is a little harder, but I think we just have to show them along the way that it's possible." With an impressive portfolio already underway, we have a feeling that these twins are definitely ones to watch next year.