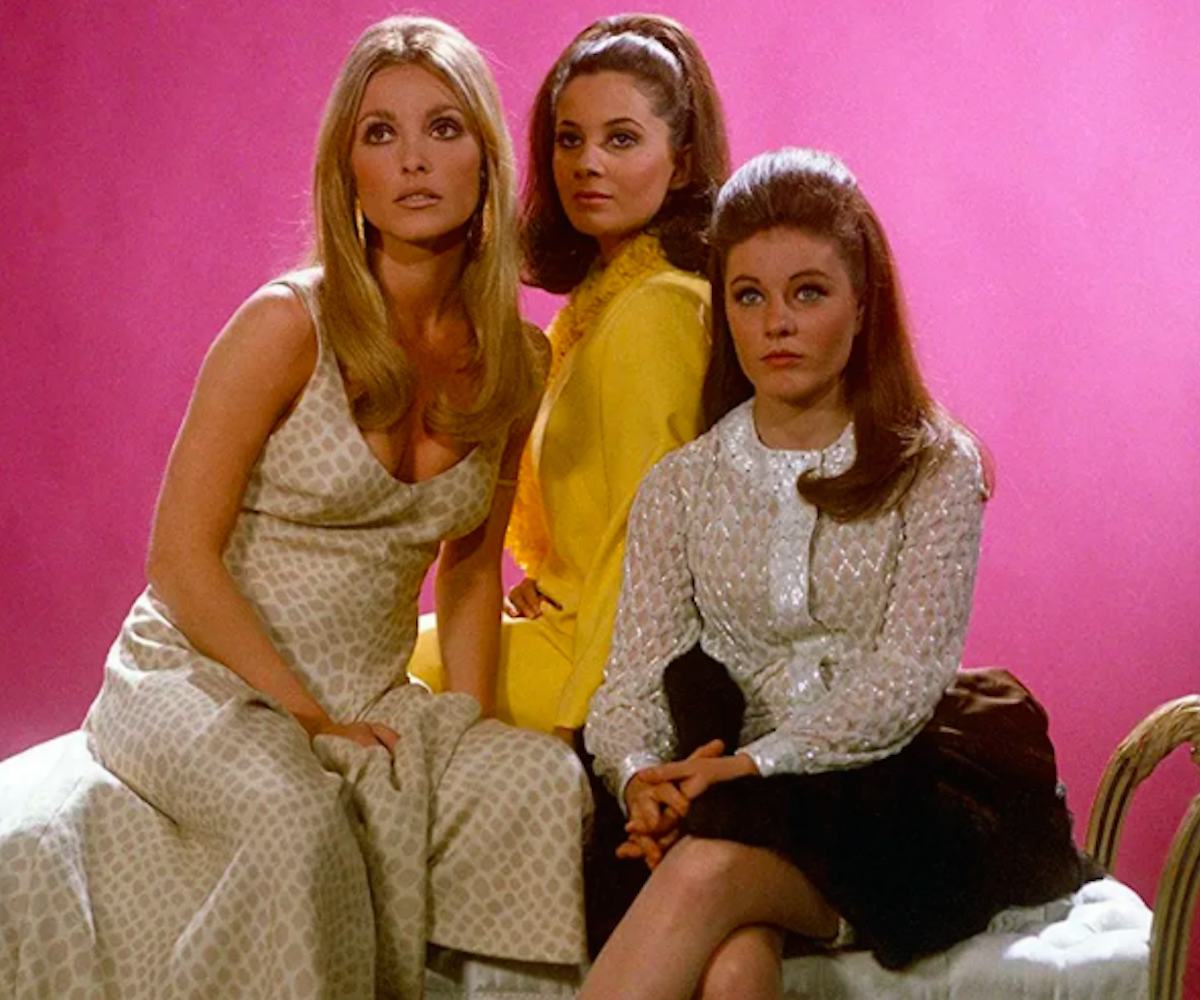 The Ultra-Feminine, '60s Fashion Of 'Valley Of The Dolls' Was Tinged With Tragedy
Sharon Tate's poolside Jackie O-esque look is a real standout
This month, New York's Quad Cinema is embracing a gloriously cheesy summer mood with a series devoted to cinematic adaptations of beach reads. The series includes Valley of the Dolls, the 1967 cult classic based on Jacqueline Susann's bestselling novel. The film is particularly timely, given the starring role for Sharon Tate, who has been in the news this month with the release of Quentin Tarantino's Once Upon a Time… In Hollywoodand the 50th anniversary of her senseless murder at the hands of the Manson Family.
To watch Tate as Jennifer North, a beautiful but not too talented actress whose life takes a dramatic turn of events, is to mourn a sweet, charismatic star gone too soon. Valley of the Dolls is a strange film—tinged with tragedy, tonally soap opera-like, and filled in with fabulous interstitial showcases of '60s fashion. The costumes are by Travilla, an industry veteran whose resume included many of Marilyn Monroe's most famous films. The three women at the center of this dramatic tale of showbiz and addiction—Jennifer, Anne Welles (Barbara Parkins), and Neely O'Hara (Patty Duke) are each given a distinct style, and all are well-aware of how fashion is tied to their desirability and success.
When we're introduced to Jennifer, she's wearing an elaborate blue feathered headdress. The effect is somewhere between an ancient goddess and Cookie Monster.
Jennifer looks more at ease in loungewear than the over-the-top costuming for her chorus role. A little black floral slip is classically sweet but sexy. A white jumpsuit makes sitting on the floor seem glamorous.
When lounging poolside, Jennifer wears what might be her most covetable outfit, a pink ensemble best described as a hybrid beach coverup and Jackie Kennedy-style suit. The suit, with big white buttons and culottes, is the height of summer style, and when she takes off her jacket, she reveals a lime green bikini, complete with matching plastic bangles. Who wouldn't want an excuse to sit by the pool in this perfectly extra, vividly colored look?
Fun showcases for Parkins' and Duke's onscreen fashions come in the form of montages that provide a colorful break from the film's wooden dramatic plotting. These scenes harken back to classic Hollywood moments, like the color fashion show sequence in The Women, while simultaneously possessing the zippy pop art energy of an early music video. Anne starts as being a preppy secretary in prim neutral-tone coats and hats and becomes a model sporting brightly colored Vogue-ready couture and mod hair and makeup in an arty commercial.
A montage that shows Neely rehearsing, taking to the stage, and becoming a success is delightful. We see her in casual '60s girl outfits, workout clothes, and a tuxedo as she goes through the sped-up process of becoming a star. Set against solid colored backgrounds, the sequence feels like a dream. Long before her inevitable downfall, we see Neely in a procession of perky looks. In striped shirts or a sleek black outfit, she's an ingénue.
Valley of the Dolls was a smashing box office success and remains a cultural touchstone, but the fashion moments it features, so perfectly of the time and hyper-feminine, might just be its most memorable aspect.