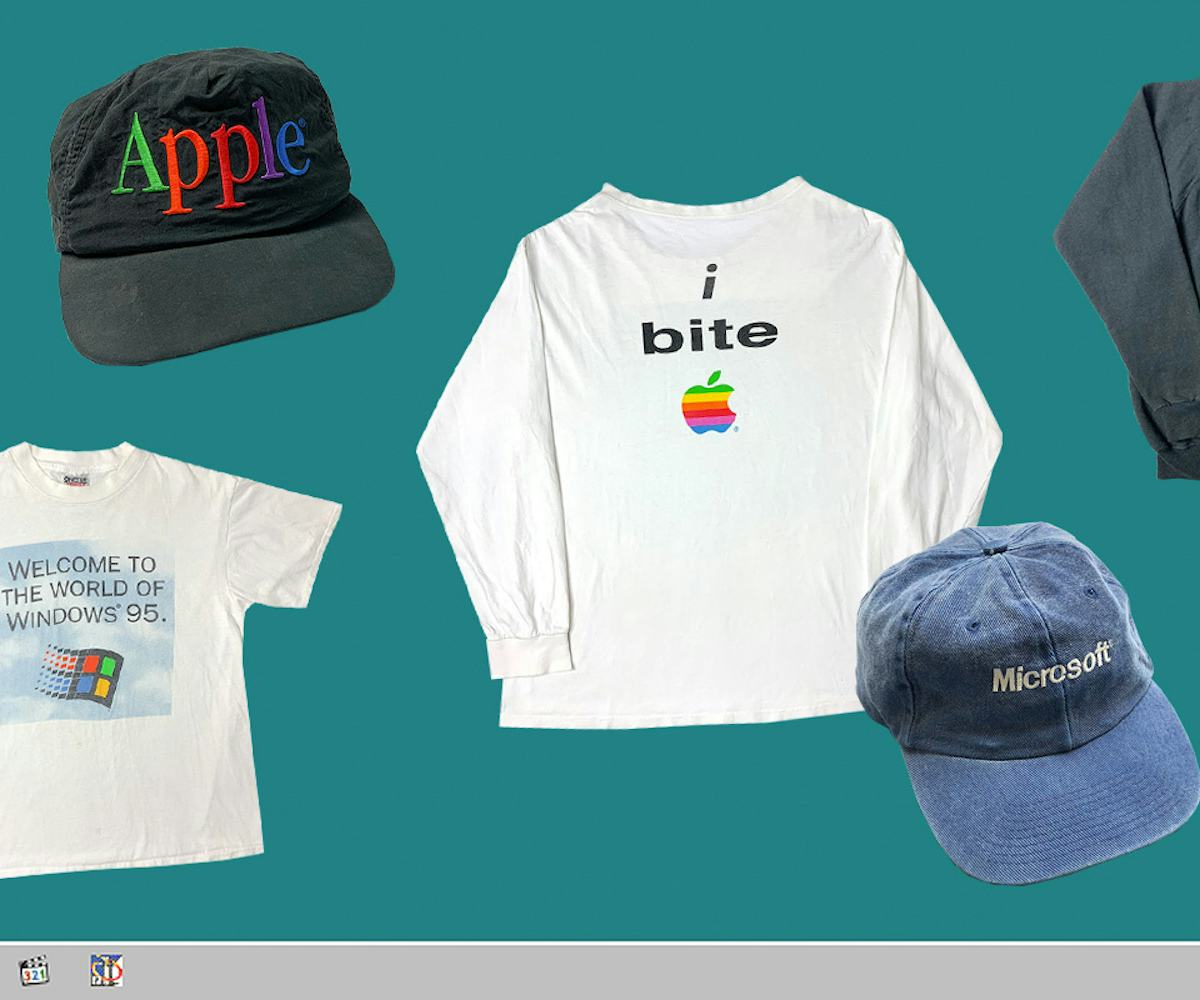 Photos Courtesy of Unified Goods & Screenshot via NeoCities
The Next Merch Trend Is All About Vintage And Tech Brands
And it's likely stocked at your nearest thrift store
The concept of merch has evolved far beyond its traditional association with music, and has become a fashionable selling point for all types of businesses. Whether it's a hip restaurant, a cult-fave film company, or even a popular startup beauty brand, trends surrounding logo-adorned promotional apparel have come in waves over the years and vastly run the gamut. In 2020, the next hit in this space is likely stocked at your nearest thrift store: Prepare for the rise of vintage tech merch.
I noticed this trend during a trip to Los Angeles at the end of 2019 while at a vintage flea, where a few of the vendors had some sort of T-shirt stock from tech companies like Apple and Microsoft. I even spotted a Bose shirt that I ended up not purchasing, but now fully regret after seeing Rihanna wear a Vetements version for her i-D Rihannazine. (Though, the high-end shirt's logo was remixed to say "Böse," the German word for "evil" and a nod to the fashion brand's signature middle finger to corporate culture.)
James Cook, who runs Us Vintage Collective online and sets up shop at Melrose Trading Post, confirms that there's an audience buying vintage tech merch. "Personally, it's the nostalgia factor of finding items that were a part of my upbringing," Cook tells NYLON, adding that some of the best pieces he's sourced include T-shirts from MySpace, PlayStation, Apple's iPod, and eBay — all products of the early tech days. "Another reason I believe customers gravitate toward this merch is due to rarity and uniqueness, considering that most of these T-shirts were made for promotional purposes and were not mass-produced."
Indeed, tech company meetings and conventions often came with free T-shirts, while some product launches provided apparel swag with every purchase. James Goodhead of London-based Unified Goods recalls when Apple had its own clothing line and accompanying shopping catalog in 1986. It was a year after Steve Jobs had left the company as its chairman, due to a "boardroom battle" with then-CEO John Sculley. "Apple was really under pressure promotionally," says Goodhead. "How can they retain their customers? They had this idea to make all this ready-to-wear, and it almost became a lifestyle brand, which, in a way, it kind of is now."
Once Jobs returned to Apple in 1997, he changed the once-rainbow logo of nearly two decades to a more minimal aesthetic. (Designer Rob Janoff recalls Jobs' only prompt: "Don't make it cute.") Today, the colorful throwback look is a hot commodity in the tech merch space. In fact, a pair of Apple sneakers made exclusively for employees in the early '90s is set to go up for auction in Texas for, possibly, a pretty penny, since a previous model had a reserve price of $15,000. Kendall Jenner even did her own spin on the old-school design for the merch of her Apple Music radio show Zaza World, which was released for sale at the end of last year.
Goodhead often travels to Los Angeles for inventory, since most of his pieces are acquired from former tech employees and their families. The effort is worth it, though, as tech merch is his shop's second most popular category with Apple as its best-selling brand. Plus, both Apple and Microsoft products perform strongly on the Unified Goods' Instagram feed in terms of engagement and click-through to purchase. In February 2019, the shop also collaborated with London brand and retailer Goodhood on a capsule collection of vintage tech wear. The day it went live online, 90 percent of its items sold out within 24 hours; according to Goodhood, it was its fastest-selling collaborative launch ever.
"We were really blown away by the response," recalls Goodhead. "At that point, we were like, 'This is our thing. We want to be the market leaders of this genre in vintage and get it out to the masses.' It's grown since then, and it's definitely one of our most popular genres because there are so many different arms." While Apple and Microsoft are top sells for vintage tech merch, shops like Unified Goods and Us Vintage Collective can expand into audio (think: Sony Walkman and Discman), telecommunications (Nokia and Motorola), the internet, and gaming. "Because PlayStation celebrated its 25th anniversary in 2019, we teased a bit of merch we had around that," says Goodhead. "And then people went absolutely crazy." He's also in talks with Sony on potentially partnering up for the PlayStation 2's 20th anniversary in October.
What truly makes vintage tech merch prime for 2020 is that it sits smack-dab in the center of a Venn diagram for modern-day fashion trends: nostalgia, uniqueness, and sustainability. While new merch is constantly being made every day as, essentially, advertising in apparel form, these rare, secondhand tech pieces serve as a time capsule of simpler times. "I remember being a kid with dial-up internet, and it just changed my world," says Goodhead. "It's a massive pool of memory and emotion that this vintage can fulfill, which is a really cool thing. It's really nice to think that people are going around wearing this stuff that gives them this tingling feeling of the past."