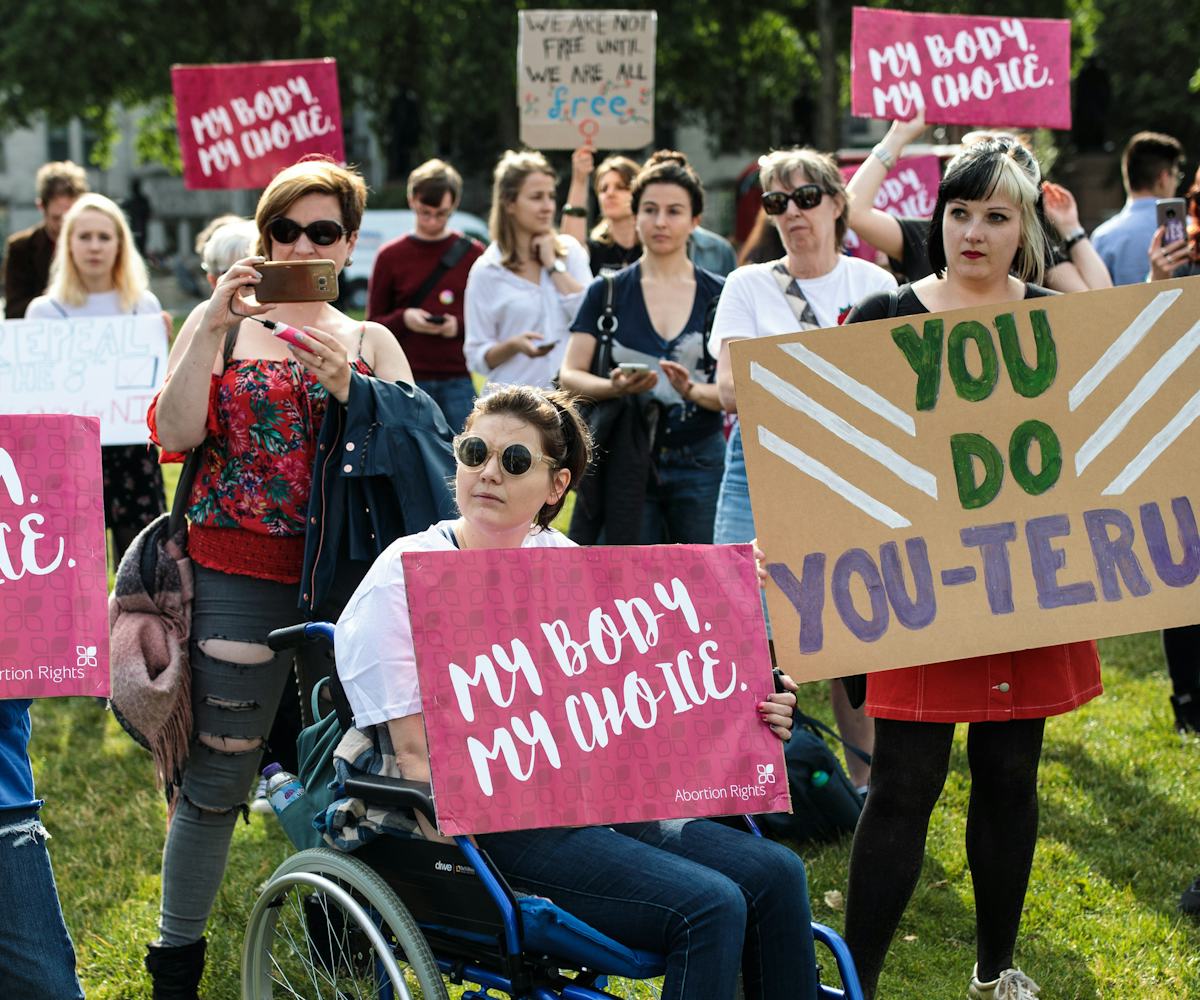 Photo by Jack Taylor/Getty Images
How To Help People In Places With Restrictive Abortion Bans
Today, Alabama's legislature passed a law that would make it illegal to get an abortion at any stage of a pregnancy. It would be the most restrictive abortion ban in the country and might lead to Roe v. Wade being overturned in the Supreme Court.
Alabama is not alone: Many other states across the country are working to severely limit access to abortions, with six-week abortion bans called "heartbeat bills." Georgia signed one into law just last week, following states like Ohio and Mississippi, who also have similar laws.
Because these restrictions are happening on a state-by-state basis, many people have responded by saying that those affected by this legislation—including women, trans men, and nonbinary folks—can go to other places for their health care. But, it's not feasible (and is missing the point!) to tell people to uproot their lives and move to a different state—or to tell them not to have sex with men until we get our rights back. There are ways, though, that you can help people in states where their access to abortion is being compromised, whether by donating or volunteering.
Donations to places like Planned Parenthood and NARAL Pro-Choice America are helpful because these are organizations that are actively working to help people have access to procedures and raise awareness on abortion rights. The ACLU also fights to protect reproductive rights.
The National Network of Abortion Funds seeks to help "remove financial and logistical barriers to abortion access," since abortions can be expensive, especially when there aren't many providers in one state. The National Abortion Federation and Abortion Care Network are similar services.
The Reproductive Health Access Project is working with primary care doctors to help them bring abortion, contraception, and miscarriage care into their practice. Its website also has a ton of resources to help people learn more about their options.
Access Reproductive Care - Southeast works to connect people in Alabama, Georgia, Mississippi, Florida, South Carolina, and Tennessee with affordable and caring abortion servicers in their area.
In Alabama specifically, the Yellowhammer Fund offers financial help to those people who need access to an abortion in the state. Women Have Options is a similar fund for the state of Ohio, and the Mississippi Reproductive Freedom Fund offers money to abortion seekers in Mississippi.
If you'd rather volunteer, Planned Parenthood has an option for people to be clinic escorts, and show their support for everyone seeking abortions by walking with them into the center. Abortion clinics are very often sites for anti-choice demonstrations, which can make patients feel unsafe.
We should also all remember that, even in Georgia and Alabama, these laws have not been put in place yet. Alabama's legislation still has to be signed by the governor, and, if it is, it won't be enacted until January 2020. And, though Georgia's has been signed into law by its governor Brian Kemp, it does not go into effect until January 2020, either. Though it seems like there's not much hope, know that people are fighting to stop or reverse these harmful laws.