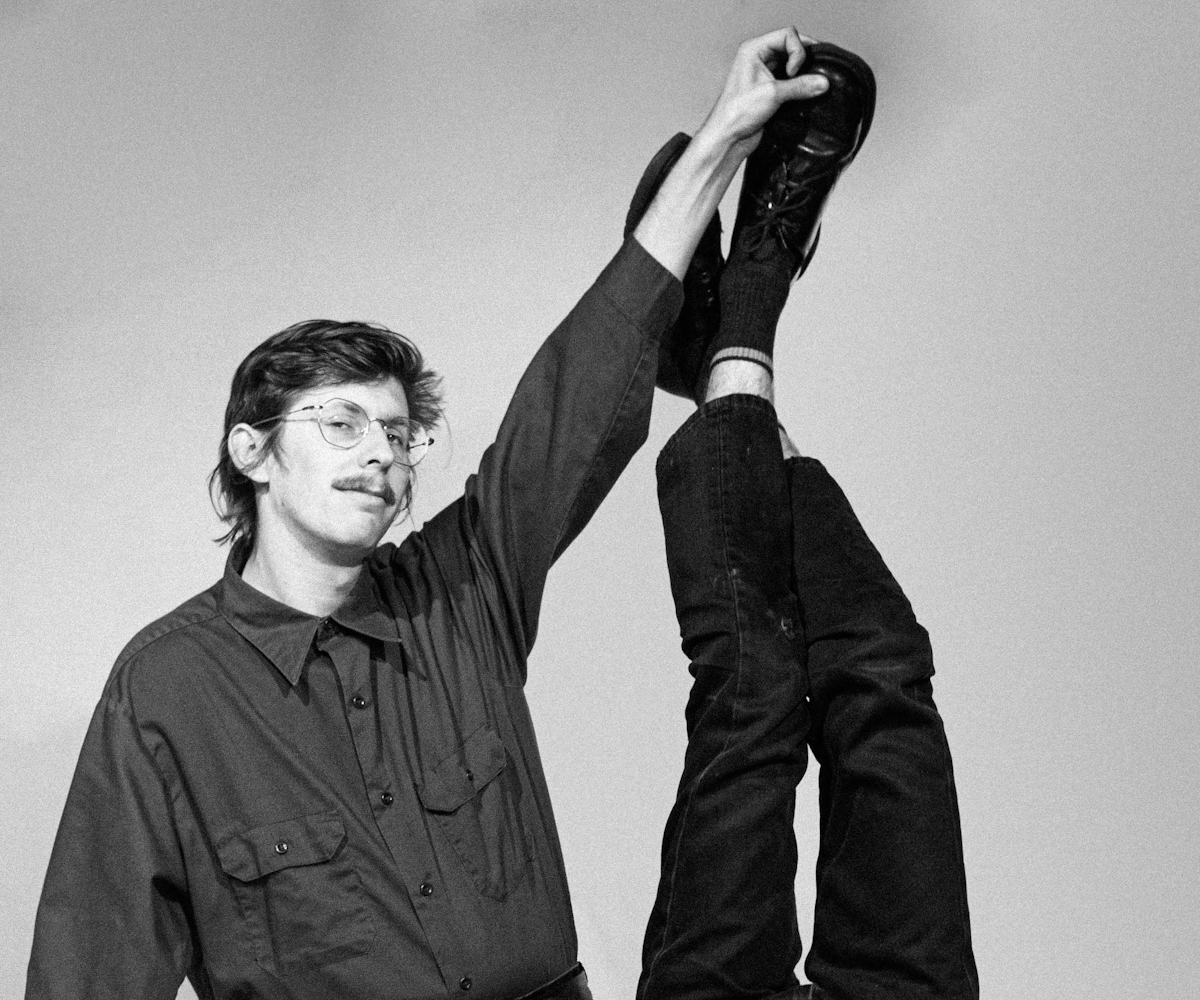 Photo by Pond Creative
Premiere: Vundabar Channels Tony Soprano In Wild "Petty Crime" Music Video
Lead singer Brandon Hagen tells NYLON about the band's fourth album 'Either Light'
After a little time off the road, adjusting to what's changed around them as they whirled across the map, Boston-based band Vundabar is now gearing up to release Either Light, due on March 13. Their fourth project promises to pick up where they left off with 2018's Smell Smoke.
Lead singer Brandon Hagen, who also penned the tracks, used Either Light as a moment of self-reflection, intertwining difficult real-life situations with metaphors and playful visual shticks taken from The Sopranos. In "Petty Crime," the new single and video NYLON is premiering on Wednesday, Tony Soprano is the reappearing motif. Hagen and drummer Drew McDonald dress up in slimeball uniforms — complete with cheap hair gel and ill-fitting suits — and are up to a series of antics that never really amount to anything. The track itself best exemplifies Vundabar's new sound, the faint plinks of a vibraphone brightening the mood and graduating them from being a buzzy indie-rock outfit with woozy guitar licks and detached lyrical delivery to a group carving out their own lane.
"It feels like a hopeful record to me. It's a reminder that things pass and a reminder to indulge in moments," he told NYLON over email. "I was feeling bad when I wrote Either Light and I don't feel bad no more, and knowing that change can happen makes me feel less like Tony Soprano, which is good."
We caught up with lead singer Brandon Hagen over email to hear about everything that's happened since Smell Smoke, as well as everything fans can expect from Either Light. Read the full Q&A below.
Tell me about the inspiration behind the song.
"Petty Crime" is about trying to reverse something that holds massive momentum, and it's about storytelling. This last year I had a friend in the throes of a mental health crisis, and during that time he was confronted by the police, beaten and thrown in jail. During all of this I was sort of bracing for something like that to happen and the song was borne out of that desire to undo what'd been set in motion.
The song itself, the story, is a departure from the reality of that situation and yet still a reflection of the reality it leaves, which I feel is what storytelling is good for. We see this pair stealing a hearse with some ~cargo~ in the back and driving it backwards down 93 in an effort to reverse the inevitable. Fruitless, but they still have to try. Beyond this specific situation the song explores the foreboding hugeness of the issues our generation is staring down. It's this inherited burden that looms large, like a coffin in the back of your car, suddenly your responsibility.
Where did you come up with the concept for the video? The fashion?
The Sopranos planted the seed. Tony Soprano was an inspiration while we wrote this album. He's this simultaneously despicable yet endearing character who's searching for meaning, desperately wants to change but is plainly doomed, so to channel a little Ton' felt right. We wanted to create a sense of transition and anticipation, so we chose to use cars, motels, treadmills, pools and parking lots. They're all liminal-in-betweens or places where movement doesn't necessarily bring you anywhere.
To say we chose the outfits would be dishonest; the outfits chose us. We saw those shoes and we were hooked. $2 "LA Looks" hair gel to tie it all together with some big dumb watches and and big dumb bravado. So back to futility, you have these two clowns, who don't appear to be adept at whatever it is they're doing, but they're still on their way, they're trying.
What drove you to start writing this new record?
I was feeling really lost. It felt like there was a lot of sensory input I needed to digest, as we'd been moving so fast for so long I hadn't really processed any of my hangups. I had being a traveling musician and this loss in my family as the context for myself, and then I'd moved past that loss and stopped traveling, so my framing was lost. Many of the songs are little snapshots of happenings I'd had in between, trying to interpret them by their light and weight and form an impression or an identity out of them.
It's been a minute since you've been on the road — what excites you most about going back out on tour?
Touring is where our band feels most real. We're a live band and performing is where we shine. We improvise, change things constantly, and generally clown around. I like it because our songs cover some darker subject matter but then the live show is this celebration that laughs in the face of that, it feels positive and hopeful to me. I'm excited to reconnect with the folks that listen to us, play with some great groups, see friends and work this album here and abroad.
Did the time off affect your writing or interests in approaching the new record?
It did in a number of ways. This was our first legitimate break in about about six years and time moves quickly when you're constantly in transit. In a way I was using travel to avoid some of the things I was dealing with that were detailed on Smell Smoke. So this break was meant to be a way to regain even-footing and become comfortable sitting with myself.
Additionally it was the most time we had on the front end to fiddle with songs and it allowed us to add new layers, instruments and challenge ourselves to write songs we hadn't written before, which felt good. It was a lot of self-censoring and not letting ourselves use the same tricks on this record.
This was our first summer at home in years and much of the subject matter focuses on light and water. We were swimming in Crystal Lake in Newton, MA almost every day in August, and that time of year in MA brings this intensely sharp and stunning bright blue light that has always felt a little melancholic to me. It makes you reflect and look forward as well, bracing for winter. So that light and the water refracting it (and everything that connotes) were framing a lot of what I was writing about. Much of the record deals with mystery, trying to trace sources, weight and intensity, and the way water bends light, divorces it from its source and makes it part of that mystery. The record also indulges the pleasure and quiet that comes along now and again amongst that confusion, which is an essential of summer I think.
What's behind the title Either Light?
Either Light is about intensity of light that frames your experiences and the weight of emotion with which you feel those experiences. I was feeling emotionally light after a loss of context and I was noticing the blue summer light that framed those feelings. Both these lights made a composite image that worked their way into the songs and threaded through the record.