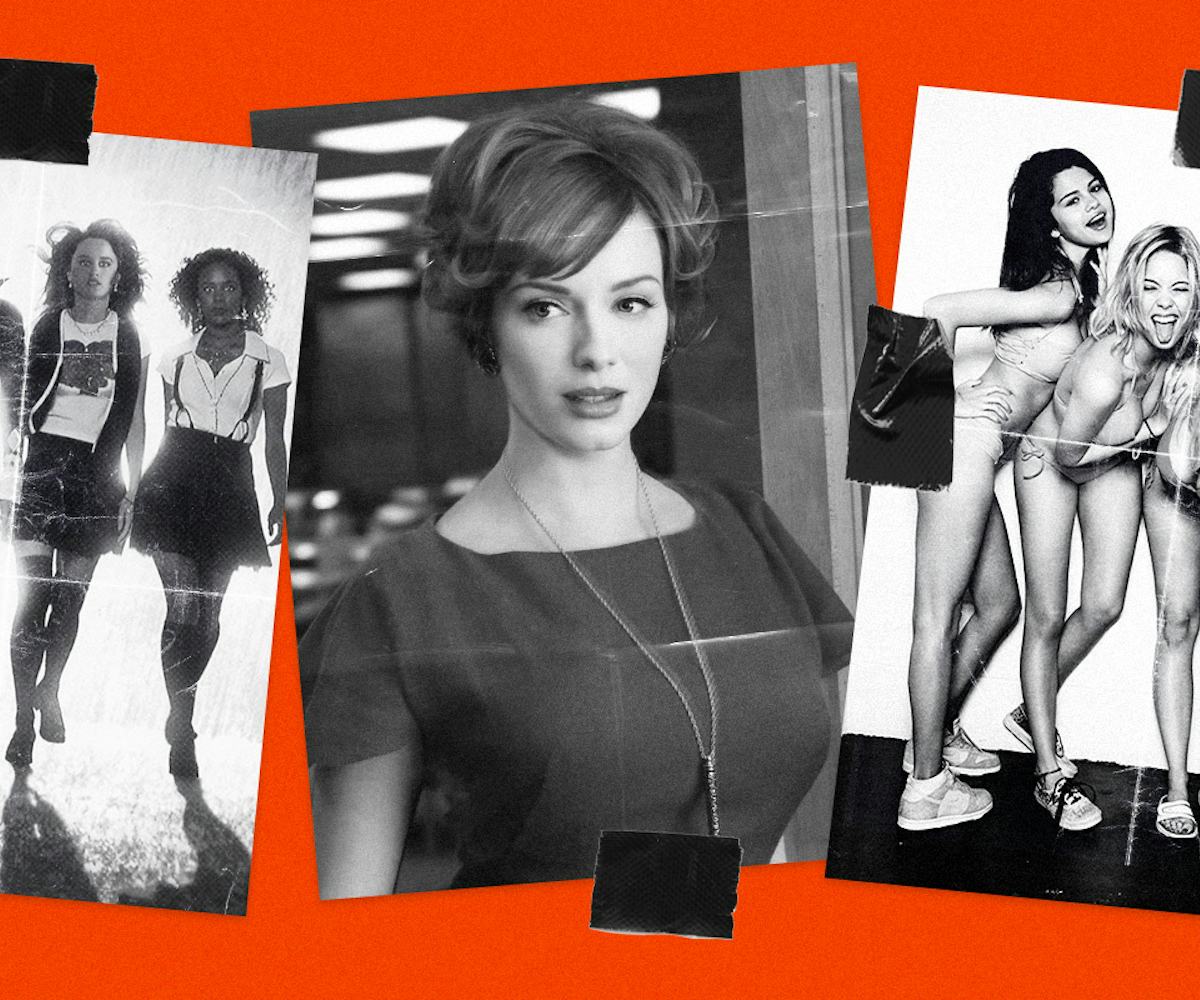 Photos: Moviestore Collection/Shutterstock & Muse Prods/Kobal/Shutterstock
The Essential Netflix Quarantine Streaming Guide
The platform is a treasure trove of classics old and new
As the global response to the spread of coronavirus ramps up, relegating many of us to the inside of our homes, leaving us with countless hours to zone out in front of our television screens, you may be wondering: What should I watch on Netflix? With so many options to choose from, settling on a single TV show or movie can sometimes be just as anxiety-inducing as thinking about the current state of our world. At times, you may just be tempted to simply close your eyes and press play on whatever your remote lands on after blindly scrolling for thirty seconds.
But have no fear! NYLON's entertainment team has you covered with the best TV shows and films currently available on Netflix to dive into. Whether you are looking for a long-running drama that will make you think, a mindless family sitcom to help you unwind, or a compelling movie franchise that offers both, take a look below for some of our top recommendations.
TV Shows
When Elite first premiered on Netflix, back in October 2018, the Spanish-language series quickly captivated the minds of people across the world. Following a group of high schoolers at a prestigious private school in Spain, the show kicks off when three less-than-privileged teens are offered scholarships and walk through the doors, completely upending the social dynamic normally fostered by this very selective environment. As these two sides go to war with each other — one trying to maintain their sense of exclusivity and the other merely trying to take advantage of a once-in-a-lifetime opportunity — chaos ensues, ultimately resulting in murder. In the two seasons since, the series has only gotten crazier, using its premise to explore issues of homosexuality, religious dogma, polyamory, and, of course, class anxiety.
If you've ever asked me for a TV show recommendation, there's a very high probability I've told you to watch Mad Men. My second favorite show of all time, the Matthew Weiner series is, at once, both a character study of central character Don Draper, a high-powered executive at an advertising agency on New York's Madison Avenue, and a remarkably-researched period piece about the changing mores that defined the late 1960s as the wild spirit of the 1970s slowly started to take over. Though Don is the ostensible center of it all, it's really the other stories — like that of Peggy Olson, a shy secretary-cum-copywriter that attaches herself to the newly-minted feminist wave to find her place in an industry dominated by men, or Joan Holloway, a sexed-up office manager who gradually learns that, with her experience and talent, she can aspire to much more than that — that give the long-running series its prestige cred.
Parks and Recreation, Seasons 1-7
There are two types of people in the world: those who seek respite in reruns of The Office and those who seek respite in reruns of Parks and Recreation. I'm a proud member of the latter group — not because I don't like The Office (I love it), but rather, because I find Parks and Recreation a much more uplifting show in the long run. Where The Office found humor in incompetence, Parks and Recreation is an aspirational series about one determined woman's efforts to make the world a more ideal place. As Leslie Knope, Amy Poehler is a firecracker of goodwill and beatific positivity. And she's only one member of a sprawling cast that includes countless other scene-stealers, including Nick Offerman, Aubrey Plaza, Chris Pratt, Adam Scott, Rashida Jones, Aziz Ansari, Retta, and Rob Lowe. With whip-smart writing and impeccable comic timing, Parks & Rec is an essential binge — and Leslie Knope is a national treasure.
Earlier this year, BoJack Horseman ended its six-season run with a batch of episodes that perfectly encapsulated its tender mix of sentimental, prestige-ready meditations on the meaning of life with laugh-out-loud humor (seriously, it's one of the funniest shows in television history). Framed around a talking horse that was once a huge sitcom star, BoJack goes to great lengths to expose the seedy underbelly that has always existed for stars in Hollywood (or, Hollywoo, as it's referred to here). As the show has evolved over its 76 episodes, BoJack has gone from a narcissistic alcoholic with no one's best interest at heart except his own to a horse in recovery, desperate to right his many wrongs — and yes, there are many. Touching upon drug abuse, sexual assault, depression, dementia, asexuality, death, and so much more, BoJack Horseman may just look like a silly animated show about anthropomorphic animals on its surface. But in reality, it's one of our generations most important dramedies. Plus, the animation is really cool too.
The Great British Baking Show, Collections 1-7
While an endless amount of time spent at home certainly constitutes an ideal time to dive into a long-running drama or comedy, the anxiety-inducing spirit of our current world can also sometimes make us crave something more mindless and easy to wash down. Enter The Great British Baking Show (née The Great British Bake-Off), a distinctly British reality show about home bakers competing to become the next Best Amateur Baker. Relaxed with improbably low-stakes, Baking Show stands out for being nice where similar shows are not. Unlike, say, Top Chef, Baking Show doesn't thrive on the petty drama and infighting commonly found on American competition shows. Instead, the contestants often make friends with each other, turning the show into a much more peaceful watch. Though the 2016 departure of original judge Mary Berry has resulted in diminishing returns, there is still more than enough charm to spare.
Movies
The Bling Ring and Spring Breakers
On the surface, The Bling Ring (Sofia Coppola's dramatization of the real-life series of celebrity break-ins orchestrated by a group of Hollywood-obsessed teenagers) and Spring Breakers (Harmony Korine's depiction of a group of troublemaking teenage girls that head out to Florida for a spring break trip they won't soon forget) may not have much in common. But dig a little deeper and you'll find a throughline of teenage ennui, defined by an unquenchable thirst for a world bigger and more important than their own, making these two films an ideal double-feature. Both produced by A24 and both released in spring 2013, The Bling Ring and Spring Breakers are products of their time (look no further than the prominent placement of Skrillex's "Scary Monsters and Nice Sprites" on the latter's soundtrack), but as far as deadpan stories about bored teenagers looking for potentially law-breaking fun go, these films have aged gracefully.
I love a good witch story, but few can hold a candle to The Craft, Andrew Flemings' 1996 entry that blends elements of a classic narrative about social outcasts reclaiming power from their former bullies with those of a spooky tale, resulting in a timeless film that fits comfortably in the genres of both "high school dramedy" and "occult horror." Anchored by a talented cast that includes future stars Neve Campbell (Scream), Rachel True (Half & Half), Fairuza Balk (Ray Donovan), and Robin Tunney (The Mentalist), The Craft is both scary and witty, full of gloriously mean dialogue that's impossible to forget. (Believe me. I've spent years trying to recreate Rachel True's pitch-perfect line reading of "And I told her, like, 'You're white, honey. Just deal with it.'")
As we all slowly adjust to a life spent primarily at home, I can't think of a better time to revisit the John Hughes classic Ferris Bueller's Day Off, a movie about one person's effort to turn his stay-at-home sick day into the best possible experience ever. (Though, admittedly, Ferris was very much not sick, nor did he actually stay at home.) The film that turned Matthew Broderick into a bona fide star, Ferris Bueller is quintessential John Hughes — in other words, it's hilarious and highly quotable. (I once auditioned with Ferris' opening monologue.) A lighthearted romp, it's the perfect reminder that, even when things appear to be difficult, there is always room for brief moments of respite. It's a glimmer of easygoing hope during these trying times.
Charlie's Angels and Charlie's Angels: Full Throttle
I know I'm not in the minority when I say that last year's attempt to reboot the classic Charlie's Angels franchise was, by and large, a disappointment — even with the presence of the usually brilliant Kristen Stewart. Nevertheless, I won't let that Elizabeth Banks-directed setback sully the good name of the two pioneering films that preceded it by almost two decades. Back then, our titular angels were none other than Cameron Diaz, Lucy Liu, and Drew Barrymore, a charismatic trio of badass women fighting crime in jealousy-inducing fashion ensembles. With their gravity-defying stunts, cheekily sexy fight style, and perfectly synchronized readings of "Good morning, Charlie," this triumvirate signaled a new wave of female-focused action films at the cinema, inspiring a whole host of similar productions in the process.
Kill Bill: Volume 1 and Kill Bill: Volume 2
Last year, Quentin Tarantino cameunderfire for failing to give Margot Robbie much to do as Sharon Tate in his Oscar-nominated Once Upon a Time… In Hollywood. Though I would never disagree with the claim that the director has sometimes struggled writing quality roles for women, I would stop short of saying he has always done so — particularly when there are two different Kill Bill films to consider. Starring Uma Thurman in a role I'm still upset was not nominated for an Oscar (both times!), Kill Bill tells the enticingly bloody revenge story of a woman desperate to kill a team of assassins (including Lucy Liu and Vivica A. Fox) that once tried to murder her and her unborn baby. Violent, stylish, and hilarious, this two-parter still manages to shock — and with Tarantino's recent claims that a third volume may be in the cards, you've never had a better excuse to sit down and familiarize yourself with these two classic pieces of cinematic history.