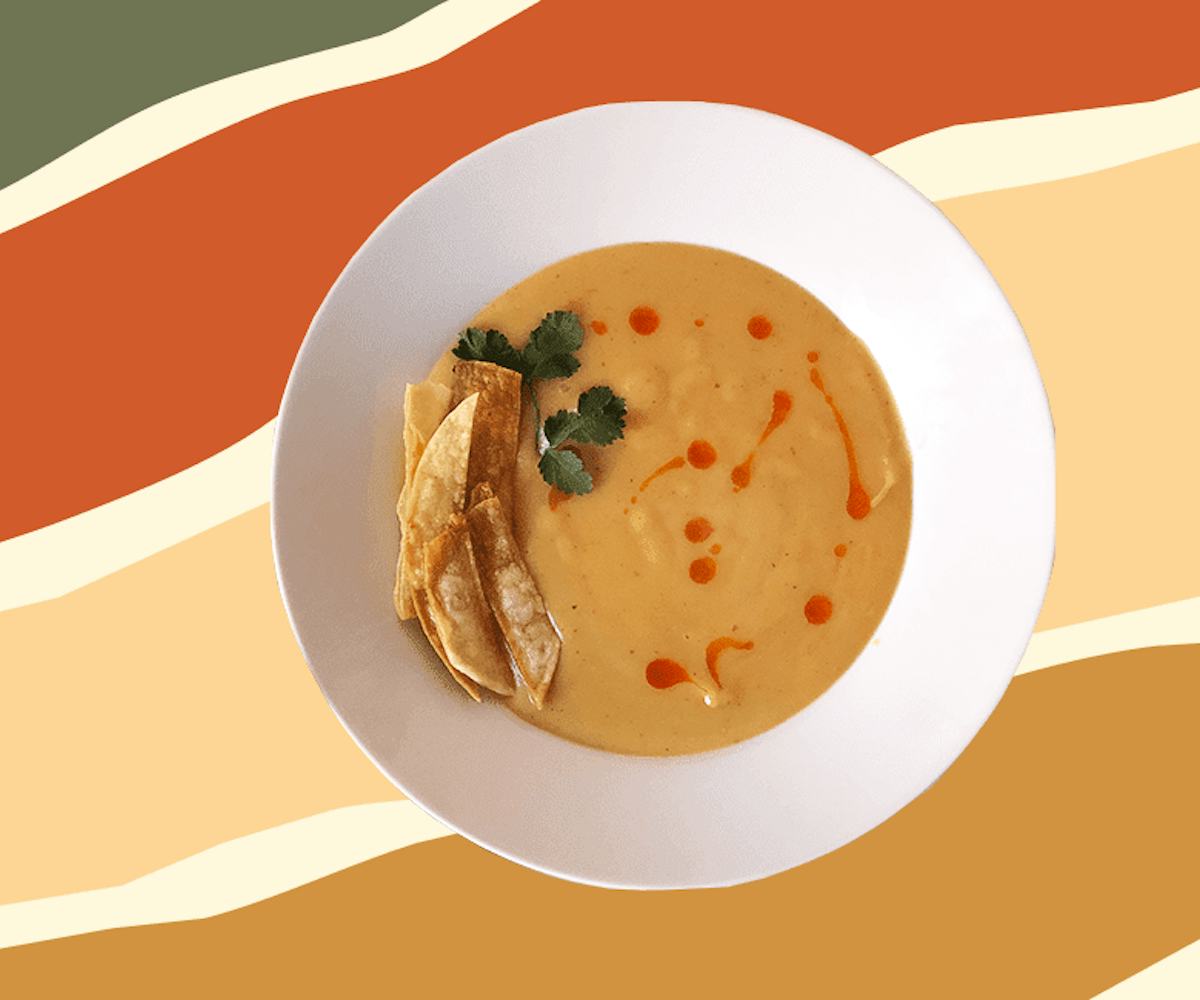 What Will It Take For Millennials To Go Vegan?
Beyoncé's support helps, but also: Try this potato and white bean soup
In our new monthly column, Meatless Mondays, writer and host of the podcast, Meatless, Alicia Kennedy will explore veganism, social justice as it relates to food and home cooking—and, yes, there will always be a new recipe to try out for yourself.
No one wants a rich person to tell them how to eat. The lives of the non-ultra-wealthy don't compare to those of billionaires, and the difference is particularly pointed when it comes to food: The rich can afford meal plans, personal chefs, and all the high-priced, organic food that many of us could never buy regularly.
But when the rich person telling you what to eat is Beyoncé, things get more complicated, and people's reactions run the gamut. So when Beyoncé kicked off 2019 by imploring fans to go vegan for the sake of the environment, even adding a lifetime of free concert tickets into the deal, some fans started reaching for romaine and tofu, while others doubled down on their commitment to bacon.
This isn't Beyoncé's first step into the vegan world, but it is her most urgent. In 2013, she did a 22-day vegan challenge, and she's been known to dip into the diet in the lead-up to big shows, such as Coachella. Now, though, she's less focused on health and more concerned with sustainability. The Greenprint, a program developed by her trainer, Marco Borges, pushes recipes as well as a vision for a planet that can survive climate change; it's been widely reported that meat, specifically beef and pork, are responsible for most greenhouse gas emissions.
The reaction has been interesting, to say the least, especially because to enter Beyoncé's ticket contest, fans only need to commit to Meatless Mondays and one plant-based meal per day. While many are saying they'll now bow down to their queen and eat grass if she demands it, others have pointed out that a vegan diet doesn't seem like an accessible option for most people. They're right, but that's because the most visible vegans have historically been white or wealthy. That's changing.
As Amy Quichiz, founder of the woman of color vegan collective Veggie Mijas, wrote in her Self piece "10 Vegans of Color on What Being Vegan Means to Them," food deserts in low-income communities of color affect the array of fresh options available, making it far easier to reach for familiar processed foods that likely aren't plant-based. But she also points out that work in slaughterhouses mainly goes to Black or Latinx workers and immigrants, where they're more likely to suffer illness or injury than in other jobs, which makes the wide availability of cheap, factory-farmed meat and dairy not just a vegan issue but a race and class one.
Being a vegan food writer means having to address questions around its perceived whiteness and inaccessibility all the time. And when it comes up, I point people to the work of folks like Quichiz and Ysanet Batista, who runs a worker-owned Dominican vegan catering company called Woke Foods, or the academics Breeze Harper and Christopher Sebastian, who are experts on the intersection of racial justice and animal rights.
Batista, she told me on my podcast, "Meatless," began her business by buying ingredients with food stamps. While at first, her family was confused by this change, now she finds kale guisado, or stewed kale with rice and beans, in her grandmother's refrigerator. Her story shows that education around how simple it can be to incorporate more vegetables into traditional cuisine can create a shift toward eating more vegan meals.
If Beyoncé really wants to push a vegan lifestyle, she could learn from the community and body of work created by these folks with examples of how to make this diet work for a rice-and-beans budget. For everyone without a personal chef, though, there's a lot that can be done with a sack of potatoes and some cans of beans.
Potato & White Bean Soup
6 servings
This is a hearty and extremely adaptable soup. You can use another kind of potato, different beans, whatever oil or onions you have on hand, season it to your preferences, and then garnish with any herb that might be about to go bad. Here, chipotles in adobo add heat and smoke, white miso provides umami, and nutritional yeast gives it a hint of cheesiness. I always have full-fat coconut milk around for both baking and giving a lot of fat and flavor to soups. Most of these ingredients come from a can or otherwise have very long shelf lives, making it a good go-to when fresh greens and other vegetables aren't around.
1 pound russet potatoes
½ medium white onion, roughly chopped
2 tablespoons olive (or other) oil
4 cloves garlic, roughly chopped
1 can white beans
2 chipotles in adobo, seeds removed (optional)
1 tablespoon white miso
1 teaspoon nutritional yeast
1 can full-fat coconut milk
2 cups boiled potato water, reserved
2 tablespoons cilantro, roughly chopped
Kosher salt to taste
Set a medium pot filled three-quarters of the way up with water to boil over high heat. Add a big pinch of kosher salt.
Peel potatoes and drop them into the boiling water. Reduce heat to medium and cook until the biggest one can be pierced through its center with a fork. Drain, reserve water, and set the potatoes aside.
In the same pot, heat oil over medium heat and add onion and garlic, stirring them frequently to avoid browning. Add a pinch of salt. Cook until onion is translucent.
Add the can of white beans, including water, as well as the chipotles, miso, and nutritional yeast. Stir until miso is distributed and the liquid has been brought to a simmer.
While this is happening, chop up the cooled potatoes into inch-size chunks.
Add the coconut milk and bring to a simmer, then add potatoes. Simmer for 10 to 15 minutes, or until the liquid has reduced by about an inch.
Turn off heat. Use an immersion blender or transfer to a standing blender to blend until smooth.
Distribute in bowls. Garnish with cilantro.