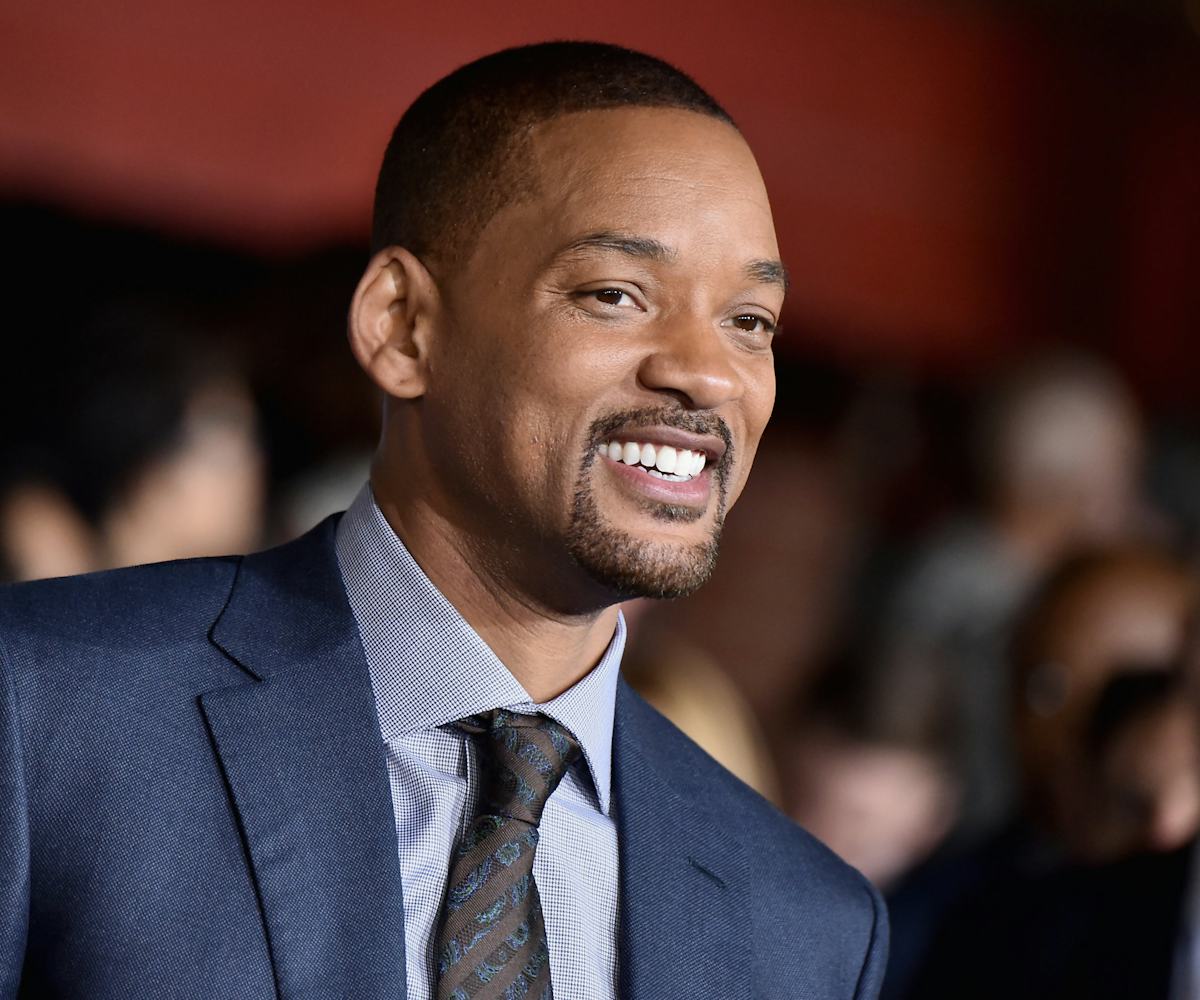 Photo by Frazer Harrison/Getty Images.
Will Smith Says His 'Aladdin' Genie Will Pay "Homage To Robin Williams"
And have some "hip-hop flavor" to it
There hasn't been too much talk surrounding the new live-action Aladdin after news spread that Disney was reportedly putting white actors in brownface. Now, Entertainment Weekly has an exclusive update and first look of the film, and it sounds, dare we say, promising.
The article touches on director Guy Ritchie's three wishes for the remake, one of which was the perfect Genie. He knew that, with Robin Williams' death in 2014, that reimagining the role that Williams made iconic in the 1992 film would be a challenge. "The great thing about the role of the Genie is that it's essentially a hyperbole for who that individual actor is, so it's a wonderful platform and tapestry for an actor to fill his boots on," Ritchie tells EW. In what seems like a perfect casting decision, Will Smith was brought in and encouraged to make the character his own.
Smith says that Williams "infused the character with a timeless version of himself," and, instead of competing with he already put out there, he "started to feel confident that I could deliver something that was an homage to Robin Williams but was musically different." He apparently tapped into his '90s roles, including Fresh Prince and Independence Day, to come up with a new, updated Genie. "I think it'll stand out as unique even in the Disney world," Smith says. "There hasn't been a lot of that hip-hop flavor in Disney history."
Ritchie's other two wishes included finding his perfect two lovers and kingdom. He found the former in Mena Massoud (Aladdin) and Naomi Scott (Jasmine). The article reveals that Jasmine, already pretty independent for a Disney Princess, will be updated to be "a more rounded character and maybe not being such a stereotype of the time." She'll also have a new solo song and a new female counterpart there to make sure she doesn't get into too much trouble.
As for the kingdom, Ritchie and his team wanted to film in Morocco but ended up building a set in southeast England. They were also careful to "avoid the cultural inaccuracies and insensitivities that the 1992 animated version fell into, such as depicting the street-market sellers of Agrabah as greedy and grotesque or describing Arabia (in song lyrics) as a place 'where they cut off your ear if they don't like your face,'" the article explains.
Ritchie didn't address the whole darkening actors' skin to appear Middle Eastern and South Asian, but the piece does mention that almost 500 "extras of diverse backgrounds filled Agrabah."
The movie is set to come out on May 24. Read the full EW piece and get a first look at Smith as Genie here.