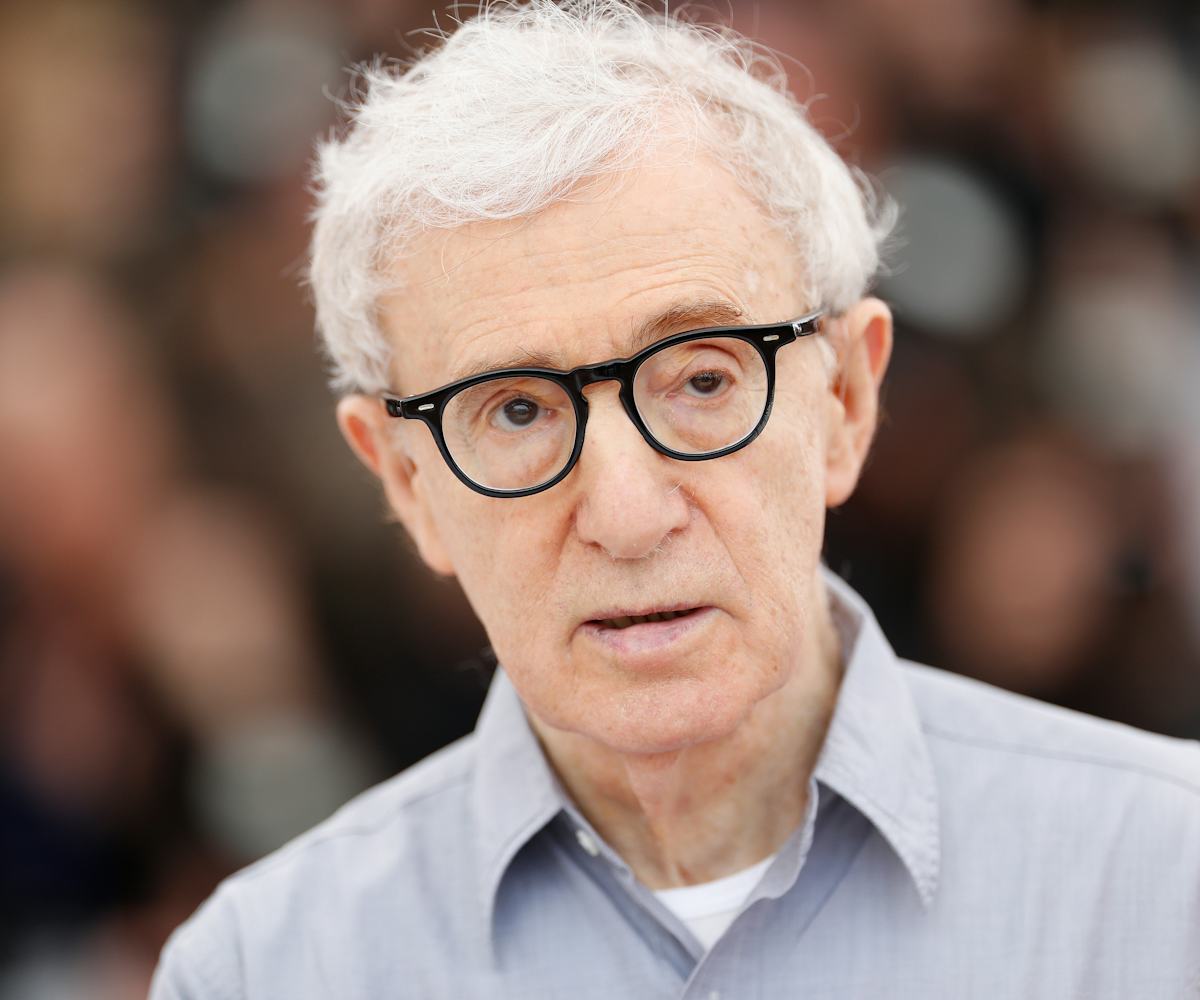 Photo by Pascal Le Segretain/Getty Images
This Woman Says She Dated Woody Allen When She Was 16 And He Was 41
Why does anyone still work with him?
Christina Engelhardt has come forward to talk about her alleged eight-year-long relationship with director Woody Allen, which Engelhardt says started when she was 16, and Allen was 41.
Engelhardt, who formerly went by Babi Christina Engelhardt, told the Hollywood Reporter that she met Allen at the restaurant Elaine's, where she gave him her number. He soon called her, inviting her to come to his apartment alone. Within weeks, she says, the two were physically intimate, although Engelhardt was still legally underage, and would not turn 17 until at least a month later.
Though she says that she does not want to "trash" Allen and believes her romance with him was "dreamy," she also considers the relationship "claustrophobic," one where she "never held any agency." She says that the terms of their relationship were always set by Allen and that she rarely, if ever, questioned him. "Knowing he was a director, I didn't argue," she said. "I was coming from a place of devotion."
Engelhardt also says that Allen began to occasionally bring home "beautiful young ladies" when she was around and that they would have threesomes together. She says that this started happening about a year into their relationship, so she would have been about 17 or 18 at the time. Based on how she talks about the two girls that he would bring over, it seems that they were also young.
Almost four years into her relationship, Engelhardt says that Allen introduced her to his "girlfriend," Mia Farrow, which she says upset her because she thought that she was his girlfriend. She says she started liking Farrow after the three engaged in a "handful" of threesomes together, but that after it was all over, she realized how stark the power difference was, and how much Allen wanted to control everything.
Of the threesomes with Farrow and Allen, Engelhardt says, "While we were together, the whole thing was a game that was being operated solely by Woody so we never quite knew where we stood." She also says, "I always had the impression that she was doing this because he wanted it."
Engelhardt says she felt sorry for Farrow when she heard that Allen was having a relationship with Farrow's adopted daughter, Soon-Yi Previn, who is now Allen's wife. "He had groomed Mia, trained her, to put up with all of this," Engelhardt says. "Now he had no barriers. It was total disrespect."
Engelhardt also notes that she only felt that Allen valued her after she left him to become a platonic muse of Italian auteur Federico Fellini, of whom Allen was a fan. She recalls that Allen called Fellini one day, and she answered the phone: "He said, 'You're with Fellini — you left me for Fellini?! That's so cool!' He was shocked I was with, of all people, his hero."
Her relationship with Allen, Engelhardt says, was fuel for Allen's film Manhattan, in which Allen's character sleeps with a 17-year-old high school student.
Neither Allen nor Farrow has commented on the story.