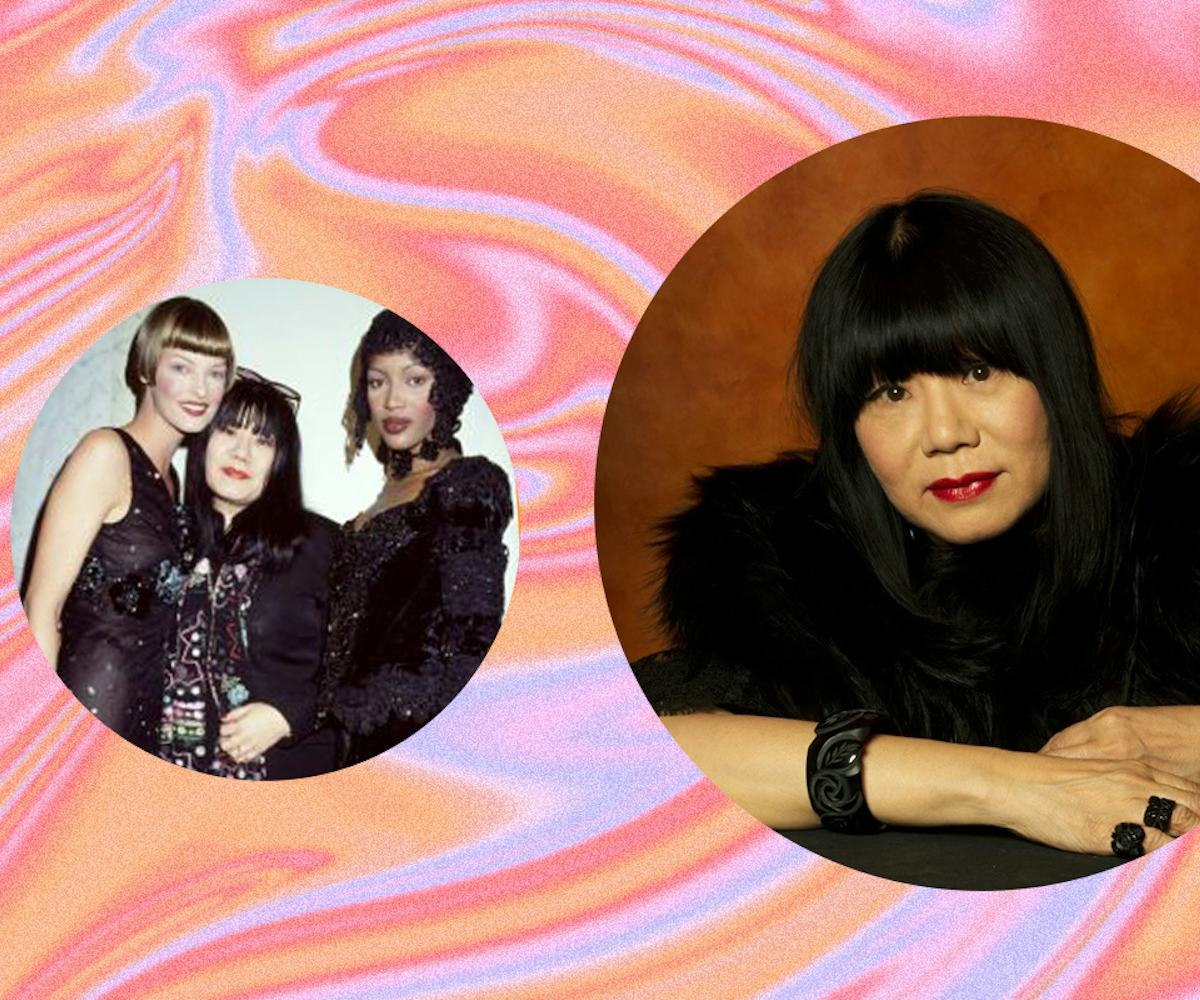 From Left to Right: Photo by Roxanne Lowit, Jerry Schatzberg, Raoul Gatchalian
Babydolls And Supermodels: Inside The New Anna Sui Retrospective
It features her most iconic looks, spans almost 30 years, and is a celebration of the beauty of collaboration
"Behind every brand, there's a team, there's a lot of people that make [a collection] happen, and I think that needs to be celebrated," Anna Sui told me when I asked what made her the most excited about "The World of Anna Sui," a retrospective of her work at the Museum of Arts and Design (MAD). "It's just not just one person."
It was the day after her Spring 2020 show, and she was at the exhibit featuring 70 looks from her extensive archive, that spans almost 30 years and is made up of 84 runway show collections. Part of the generation of fashion designers—that also includes the likes of Marc Jacobs and Isaac Mizrahi—who rebelled against '80s power dressing trends, Sui has become known for creating punk- and grunge-inspired fashion that reflect the youth and counterculture of the '90s.
In the exhibit, these staples of Sui's aesthetic are explored through 13 archetypes—Americana, Androgyny, Fairytale, Grunge, Hippie & Rockstar, Mod, Nomad, Punk, Retro, School Girl, Surfer, and Victorian—which she credits collaborator Dennis Nothdruft, the curator of the first iteration of this exhibition that showed at London's Fashion and Textile Museum two years ago, for coming up with. "I never thought about it consciously, but he realized that I designed thematically, and there are repeating themes throughout my career. And he singled them out, and I think it's a really interesting way to look at my body of work, rather than chronologically, which is how I always thought about the collections," she said.
The themes are explored through looks from collections past, with Sui's famous bohemian dresses displayed alongside backless chaps worn by Naomi Campbell and babydoll dresses first showcased on the runway by the OG supermodels Linda Evangelista, Christy Turlington, and Naomi Campbell in the '90s. "I think the babydolls have been immortalized now that they have been at the Met," Sui said, when asked what she considers her most iconic look from the exhibit. "I think that was just a moment in history when I had Linda, Christy, and Naomi there on the runway, and they all stopped and took that moment and everyone got that shot."
In addition to the fashion looks on display, the two-floor exhibit highlights the immersive experiences of the designer's fashion shows and stores, as well as explores her influences and processes for designing collections. Victorian furniture and a life-size Diana Vreeland doll (that Sui bought from an artist who made it for a Barneys window display in the '90s) are displayed alongside recreated mood boards that feature sketches, print samples—many of which she creates herself for each collection—and swaths of textiles. "[For every collection,] it all starts with fabric," she said of her design process. "I start getting a feeling for the fabrics that are around or get inspired by something and start asking, 'Oh can we create this?' And it's such a long process that we have to begin [to design for the next collection] next week."
After you walk through what feels like the creative mind of Sui, you end up in a room that looks akin to a dressing room featuring a three-tier case of jewelry, a dresser full of shoes, a vanity showcasing Sui's cosmetics and fragrances, and a wall featuring beauty and hair looks from Sui's runways. While, on first glance, it would appear to be a space containing Sui's most prized possessions and memories, upon reading, attendees will realize that it's an ode to her various collaborators, with shoes from Ballin, a company whose pieces Sui has been using on her runways since 1997, and jewelry from Erickson Beamon, who Sui sends fabric samples and sketches to for custom jewelry for every show.
This room feels apt for a designer who takes pride in collaborating with the same creatives—some, like photographer Steven Meisel and Evangelista, Turlington, and Campbell, whom she has known since before her brand skyrocketed to popularity—and a perfect one to end on in this journey of Sui's creative vision, one that she again emphasizes she's not alone in carrying out. "For the last 30 years that I've been doing shows, I've worked with Garren for hair, I worked with James Coviello for hats and sweaters, I worked with Erickson Beamon for jewelry, my friend Steven Meisel has helped me through all these years, models have helped me through all these years, Pat McGrath and François Nars helped me with makeup for my shows," Sui said. "So to able to celebrate my family and my collaborators that I have worked with throughout the years [is the best part]."
"The World of Anna Sui" will be on view at the Museum of Arts and Design from September 12 through February 23.