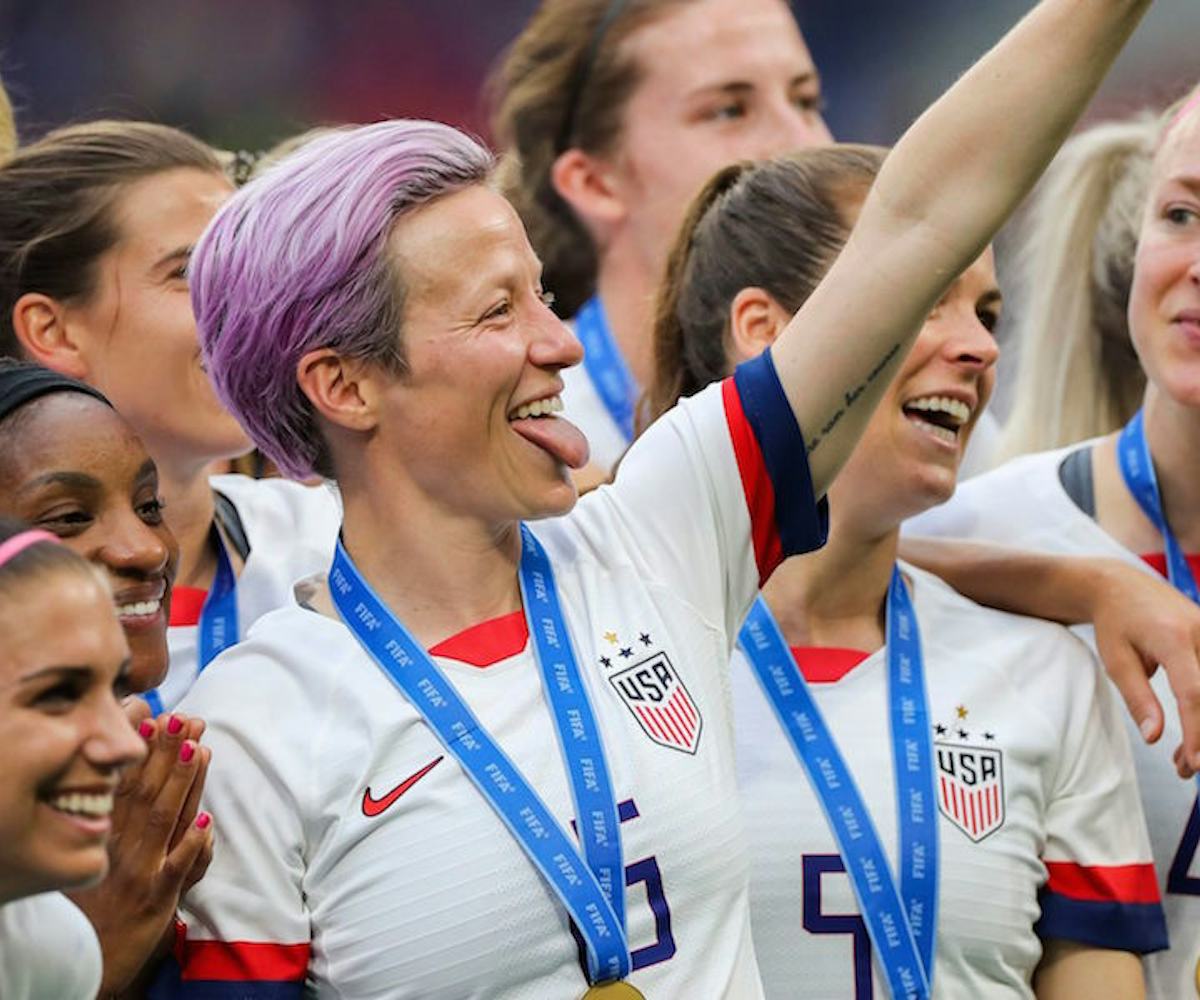 Photo by BPI/Shutterstock
These World Cup Memes Have "Peak Chaotic Gay Energy"
I guess I like sports now!
The United States won the 2019 FIFA Women's World Cup, and the crossover between Gay and Sports Twitter—there are several out women on the team—has never been so bountiful with memes. In case you didn't sit through all the games, catch up below.
If your celebratory chant isn't just "LESBIANS" over and over again, I don't want to hear it!
Literally, the only thing that matters to me about this entire thing is how gloriously gay it is. Star player and queer woman Megan Rapinoe already confirmed that "you can't win a championship without gays on your team" as a "science" fact, and who could fight with her after this solid win?
Speaking of Rapinoe, as one user put it, I want her to be "both my mom and my wife" and give me advice on everything I'm doing wrong in my life. Back when football player Colin Kaepernick originally protested the national anthem by taking a knee, Rapinoe was the "first prominent white or female athlete" to do the same in support, per HuffPost. She's continued to do so, even protesting during the anthem at the World Cup games, and garnered additional attention this past week when she said "I'm not going to the fucking White House," after being asked about the opportunity.
Rapinoe's prime internet hater is none other than cheeto-in-chief Donald Trump, who fired off a slew of tweets demanding she "finish the job" of winning the World Cup before (rightfully) criticizing the country. He also partook in interviews condemning her anthem protest days earlier. But, all that hate just added fuel to Rapinoe's fire, and "finish the job" she did. I stan.
Take this energy and just inject it into my veins, thank you. This is the content I crave.
Rapinoe's winning pose was impossible not to meme over and over again. TBH, I wouldn't be surprised if it became an evergreen reaction image from this point forward.
And now, as winners, Trump may actually invite the team to the White House per tradition. But you don't really think they'd pull up, do you? We heard Rapinoe loud and clear.
The only reason I'd like to see Rapinoe head to the White House is to move in and take charge. Nothing but respect for my president.
Kelley O'Hara made for a few meme-worthy moments despite a head-to-head collision on the field. First, O'Hara, who hasn't made a public statement about her sexual orientation, ran into the stands and kissed a woman. Later, she got "absolutely wasted" during the team's celebrations, which, as Twitter user @sanvers_endgame put it, is "peak chaotic gay energy."
Of course, O'Hara wasn't the only one getting a bit wild during post-game celebrations. "You're fucking welcome for this content, bitch," said Ashlyn Harris, who is engaged to teammate Ali Krieger, in her selfie video on Instagram—and well, same.