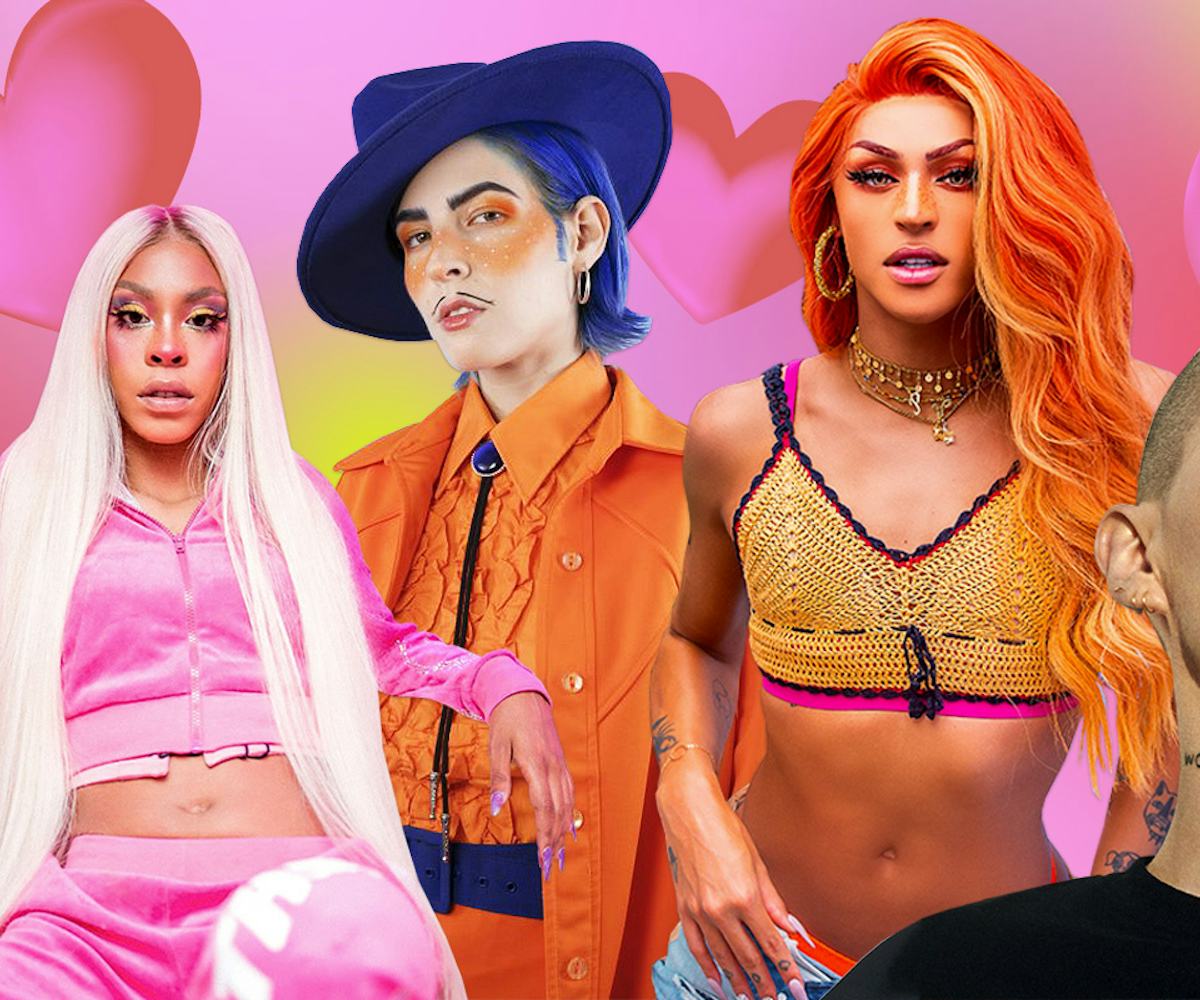 Design by Lindsay Hattrick
32 Musicians On The Worst Music They've Hooked Up To
Less than ideal love stories from Rico Nasty, Pabllo Vittar, and more
What is on your go-to playlist of music to hook up to? Maybe you like total silence, or maybe you like anything by Rihanna; whatever works, works. In the world of getting it on, there is definitely music that *doesn't* work for setting the mood, and you've likely found it at exactly the wrong moment. Perhaps your favorite song to cry to popped up on shuffle right as your partner was making a move. Or maybe your roommate's heavy metal workout playlist pumping through the walls was a total turnoff. Been there, done that.
NYLON asked some of the coolest musicians out there about the worst songs and albums they've ever hooked up to. For Bishop Briggs, bad middle school memories were redeemed years later to the tune of Nickelback. Sofi Tukker had a hard time keeping it together when their own music came blasting through the speakers.
From Rico Nasty to Sasami, no one is safe from an awkward intimate moment. Read the full list below to find out what to never queue up with you crush. If you read this and still feel confident hitting shuffle after plugging in the aux cord, all the power to you.
Rico Nasty
"Faneto" - Chief Keef
"Talking out his neck, pistol to his throat. It's not really something you should get your back blown out to." - Rico Nasty
Pabllo Vittar
"Genie in a Bottle" - Christina Aguilera
"The worst song I hooked up to [last] year was probably 'Genie in a Bottle' by Christina Aguilera. Not that I don't like the song, I love it and it is in all my playlists! So, I love it and love to sing it out loud and it totally ruined the mood. Now I can't listen to it without laughing really hard and remembering that moment." - Pabllo Vittar
Bishop Briggs
"Photograph" - Nickelback
"This song would play at every school dance, and let me tell you, 8th grade was torture! I would never get asked to slow dance. Fast forward to me casually hooking up with a guy in his CAR and this song played on the radio. Needless to say, I told him about my middle school dance experience. We stopped kissing, he told me to get out of the car, and he asked me to slow dance right THERE. 12-year-old me was over the moon for this redemption!" - Bishop Briggs
Brooke Candy
"Boom, Boom, Boom, Boom!!" - Vengaboys
"I couldn't imagine anyone having sex to my song 'Rim', but I've had a notably awkward sexual experience to the Vengaboys' 'Boom, Boom, Boom, Boom!!'" - Brooke Candy
Yung Baby Tate
BoJack Horseman Theme Song
"I think the men my age are too lazy to set the mood with music, so unfortunately I'm stuck listening to the theme song to BoJack Horseman while trying to be sexy... very difficult and would not recommend." - Yung Baby Tate
Sasami
"If Dogs Run Free" - Bob Dylan
"Once when I was getting down, the Bob Dylan album New Morning came on. This may not be a popular opinion, but nothing dries me up like a harmonica solo. Once 'If Dogs Run Free' came in it was all over. Screechy Bob spoken word and scatting is where my vagina draws the line." - Sasami
Eva Hendricks (Charly Bliss)
"Fighting in the Dark" - Charly Bliss
"This summer, the worst thing I could ever imagine happening, happened: I was making out with my new boyfriend very early on in our relationship, and through some terrible combination of accidentally leaning on remotes and the limited amount of music in my Apple Music library, somehow our song 'Fighting in the Dark' started blaring through my Apple TV mid-hookup. It has this long, sort of ambient intro, so it took me a minute to realize it was happening, which only made it seem even MORE as though I had intentionally pulled the most narcissistic move and subtly tried to mack it to my own music. It was humiliating and he has never let me live it down." - Eva Hendricks, Charly Bliss
Allie X
"Livin' on a Prayer" - Bon Jovi
"It wasn't cute." - Allie X
Sophie Hawley-Weld (SOFI TUKKER)
"Batshit" - SOFI TUKKER
"I was once having sex with a random playlist on in the background when... all of a sudden... Tucker's low voice came on singing 'Batshit.' I immediately had to stop and I couldn't stop hysterically laughing at how wrong it felt. Tucker on the other hand has had the exact same thing happen to him and he loved it hahahaha." - Sophie Hawley-Weld, SOFI TUKKER
HAWA
"100 Miles (A Thousand Miles Remix)" - Skinbone
"I was listening to music videos on YouTube and me and my girlfriend were doing our thing. Skinbone's '100 Miles (A Thousand Miles Remix)' shit just started playing and she just gave me that 'are you deadass' look. Man we started dying. It was definitely in the #2 for worst hookup song."
Editor's Note: HAWA's #1 choice was "Fuck the World (Summer In London)" by Brent Faiyaz, but wanted to share her "100 Miles" story.
Elijah Rawk (Phony Ppl)
Dookie - Green Day
"One day, when I was 13, after school I hooked up with this girl to this Green Day album. I was in the 8th grade. There's absolutely nothing about romance in that album, but the thing about being 13 is that you'll make out with a girl to anything." - Elijah Rawk, Phony Ppl
Ilham
"Make No Sense" - NBA YoungBoy
"So I was hanging out with my ex (strike 1) and we were sitting there listening to music, and on comes 'Make No Sense' by NBA YoungBoy.
The more YoungBoy kept repeating 'make no sense' over and over again, the more I kept thinking about why I was even hanging with him. By the time the song was over, he tried to make his little move or whatever, and I was frustrated with him (without him even knowing why), and was ready to leave. I haven't been back since, thank you Youngboy!" - Ilham
Dorian Electra
"Crazy Bitch" - Buckcherry
"Mine isn't exactly a hook up, but when I was working at a strip club in Chicago — my first night when i was giving one of the first lap dances I had ever done and had no idea what I was doing — the song 'Crazy Bitch' by Buckcherry started playing and I tried to stay serious and sexy but I couldn't help it and I just burst out laughing mid-grinding on this person's lap. Basically in college a few friends and I got obsessed with this song for how insane the lyrics are and how un-sexy the whole tone of it was — especially because It's supposed to be a really sexy song I guess (?) with lyrics like 'you're a crazy bitch, but you fuck so good I'm on top of it/ When I dream, I'm doing you at night/ Scratches all down my back to keep you right on' and 'Scream so loud, gettin' fuckin' laid!' etc. It's SO ridiculous. So it was the perfectly hilarious and WRONG song to come on during this lap dance and I spent the rest of dance laughing and explaining the weird inside joke to the guy but he was actually thoroughly entertained and tipped me well after so it was all good." - Dorian Electra
Anna Burch
Chappelle's Show DVD Menu Music
"My high school boyfriend and I were enjoying some rare privacy in my basement watching Chapelle's Show on DVD. It didn't really matter what the mood was because if we were alone we were making out. The DVD menu music must have cycled through hundreds of times before my mom probably got the hint and thought it was a good time to head downstairs and start some laundry." - Anna Burch
VINCINT
"Sometimes" - Chelsea Cutler
"'Cause I love you but sometimes I'd rather die... than have to feel this way inside.' Are you kidding me!
This all went down when I was on a first date and the guy put on his 'sex playlist' and we start making out and since I can't help but listen to music when it's on, I tuned in and got the heart punch of the century. Probably not the best song to hook up to while watching a sunset or when when you're still in the whiplash of a heartbreak, but apparently I love breaking my own fucking heart on a daily basis, haha. I'm in love with the song and Chelsea I think she's a genius but I'll never ever do that to myself again. Or will I?" - VINCINT
Shamir
"I Literally never have sex to music but the one time I accidentally did it was to Patsy Cline which still hasn't sit well with my spirit, the guy was Irish so I was showing him my favorite country songs (yee haw) and we just got to it but my phone continued to play patsy the whole time and it was distracting and ruined a once wholesome connection I had to patsy's music but I cant listen to her w/o thinking about this now"
Mia Berrin (Pom Pom Squad)
"I Can't Go For That" - Hall & Oates
"There is literally nothing in the world like hearing the sweet conjoined voices of Daryl Hall and John Oates singing 'I can't go for that / noOOoo / No can do' while you're in the middle of a bad hook up with someone you know that you will never see again… I felt my soul leave my body." - Mia Berrin, Pom Pom Squad
Caroline Vreeland
Compilation of Mariah Carey's Highest Notes
"In my early 20s I was living in a two-bedroom with four other girls. One night I thought I had the place to myself (which almost never happened) so I took advantage and had my boyfriend come over for a booty call. Since I assumed no one would be home for a few hours, let's just say I wasn't being bashful or quiet once my man and I were getting busy. My sis and BFF did actually come home during this and proceeded to blast a compilation video of Mariah Carey's highest notes because they likened that to the sounds I was making. Since that day I get squeamish when i hear her hitting those high octaves." - Caroline Vreeland
Ellen Kempner (Palehound)
Slanted and Enchanted - Pavement
"I love Pavement a lot but I once hooked up to Slanted and Enchanted in high school and his voice is... not the sexiest for that. It was my idea, I put it on and thought it would be hot but it backfired on me." Ellen Kempner, Palehound
Gia Woods
"Hey Brother" - Avicii
"Well first of all, the lyrics go 'Hey Brother', and I remember I had the song automatically downloaded in my music library at the time because we all did. And it just came on randomly in the middle of a hook up and just ruined the whole vibe I literally couldn't stop laughing." - Gia Woods
Sophia Messa
"Company" - Justin Bieber
"...It made me think of Justin Bieber and I would have rather been hooking up with him." - Sophia Messa
Stevie Knipe (Adult Mom)
"On a Good Day" - Joanna Newsom
"Once I was hooking up with someone I really loved while my iTunes was on shuffle. When things started to get... more intense, 'On a Good Day' by Joanna Newsom started playing. ('Hey hey hey, the end is near' are the opening lyrics, to anyone who doesn't know...)
We proceeded to ignore it as best as we could, while knowing deeply that I had cried to this song on many occasions, and at least it was on the shorter end. It didn't work, and I started to get VERY emotional and distracted, so we turned it off and took a breather. Just make a sex playlist, and don't put your library on shuffle, that's the moral!" - Stevie Knipe, Adult Mom
Josh Burgess (Yumi Zouma)
"Depths Pt. 1" - Yumi Zouma
"Spotify playlists and the algorithm can be a wonderful thing. I've discovered some amazing music through them. They've even paid my rent a few times ;) They may need a bit of tweaking though because hearing the first few bars of your own music booming in at No. 3 of whatever playlist you're dates chucked on the Sonos mid make-out is a bit much... even for the egomaniacs out there!
I would recommend making out to our music as long as your not Charlie, Christie or Olivia!" - Josh Burgess, Yumi Zouma
Kevin Barnes (of Montreal)
"The Coventry Carol" - Joan Baez
"It can be pretty perilous to just choose one song on Spotify or Youtube or whatever and let the auto-play algorithm gods take it from there. You can start fooling around to some sexy freaky Brigitte Fontaine chanson and then suddenly have the unpleasant realization that you're performing cunnilingus with Joan Baez in the room! I guess that's one thing I have in common with Bob Dylan." - Kevin Barnes, of Montreal
Bryce Vine
"Daughters" - John Mayer
"I once got a lap dance to 'Daughters' by John Mayer and felt terrible." - Bryce Vine
RALPH
"Hollywood Forever Cemetery Sings" - Father John Misty
"Years ago, I dated someone and was very head over heels, butterflies in stomach, pulsating heart eyes for them. We listened to this FJM album a lot and had a magical summer together... before he unexpectedly broke up with me and desecrated my heart. I remember months later hooking up with someone else and being so proud of myself for finally moving on... and then this song came on and I just started uncontrollable weeping. Telling someone 'sorry this song reminds me of my ex' is kinda a boner killer, so things wrapped up quickly from there but ACTUALLY he was super cool and supportive and we ended up drinking whiskey and talking about our exes until 4 a.m. Still can't really listen to this album though." - RALPH
WENS
"It's Strange" - Louis the Child ft. K. Flay
"One time I hooked up with this guy in the back of a car and 'It's Strange' by Louis the Child came on in the background. The song made it extremely hard to stay in a groove 'cause it's really up tempo. Definitely not a sexy song. And I'm pretty sure halfway through the song we stopped and he drove me home in silence." - WENS
Onsen
"When The Bridegroom Comes" - Judee Sill
"Judee Sill is kind of amazing but this song is just too much. I'm pretty sure it's all about Judee being super horny for Jesus (who isn't?) and wanting him to slip into her bed in the dark of night. Sexy Jesus is a category that makes me lol but when this song was used by someone mid-hook up to indicate a shift in vibe from one night stand to soul-communion it was chilling." - Onsen
Niia
"All Star" - Niia
"Things were already past heating up. We were in the zone. Then suddenly, somehow, Smash Mouth's 'All Star' came on. Suddenly, all I saw was Shrek, Donkey, and Lord Farquaad. I haven't listened to music during sex since… hey now, you're an all-star, get your game on, go play…" - Niia
Noga Erez
"Holocene" - Bon Iver
"For almost two years I kept sleeping with my ex, who made it clear that he doesn't love me anymore. A sad situation can get miserable when you force a beautiful soundtrack on it. And there we were, making 'love' to Bon Iver's 'Holocene'. Such a soft and sensitive song. Super awkward. I highly recommend making love to any Bon Iver song. Just make sure you do it with someone you love, and who loves you back." - Noga Erez
Emma Gatsby
"I'm God" - Clams Casino
"The only song I think I've actually ever hooked up to was Clams Casino - 'I'm God,' which is strange, but bad mostly just because it was with my ex." - Emma Gatsby
Swood (Mount Sharp)
"Live in Dreams" - Wild Nothing
"I've put Wild Nothing's 'Live in Dreams' on during an, ahem, intimate moment – and there's nothing like the slow realization that 'I'd rather live in dreams and I'd rather die' is not exactly the message I want to send. To be fair, it's absolutely on brand for me to put a song mentioning death on in any situation, especially one that doesn't call for it." - Swood, Mount Sharp