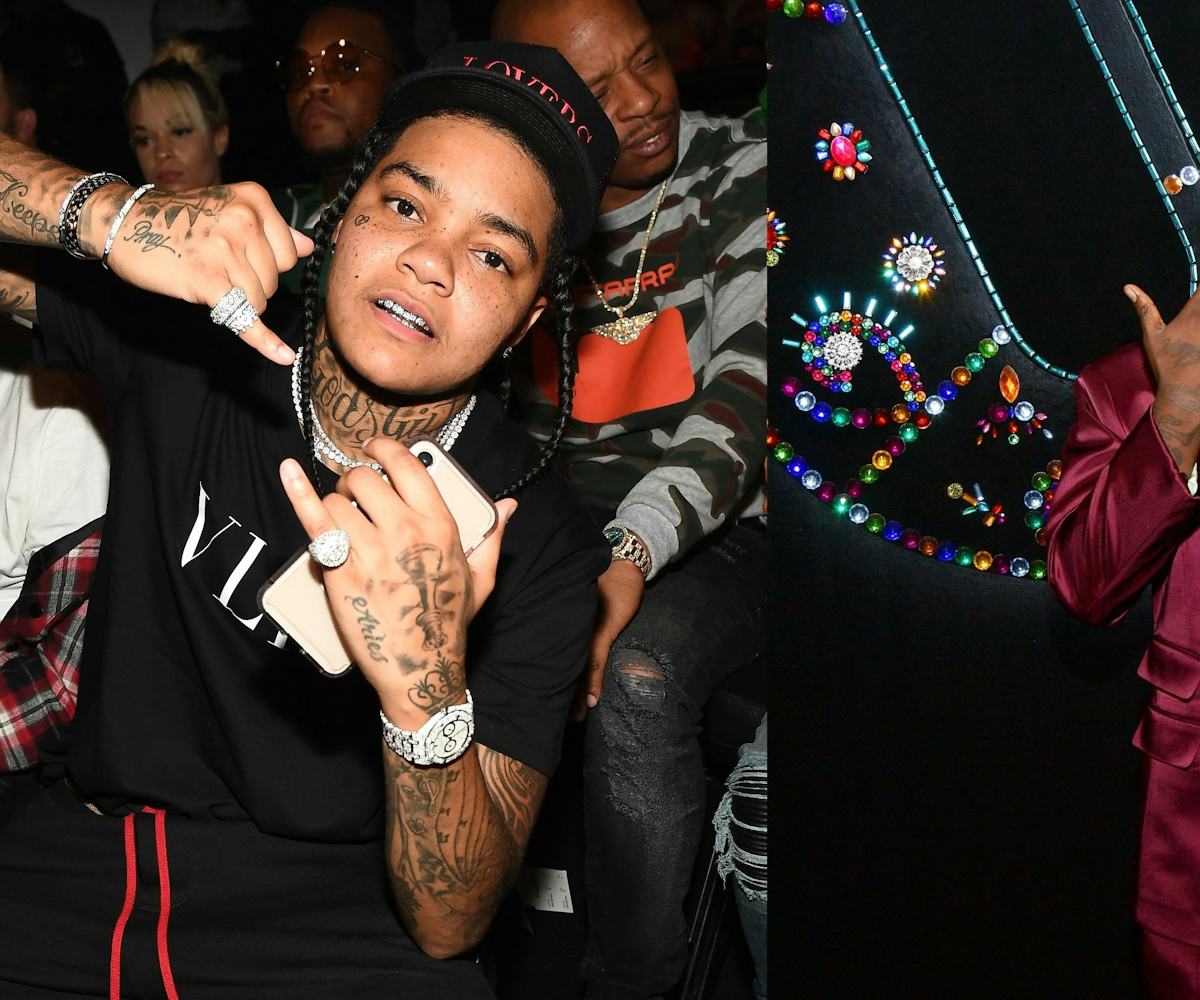 Photo by Paras Griffin / Stringer & Matt Winkelmeyer / Getty Images.
Kodak Black's Homophobic Trolling Of Young M.A. Is Disgusting
Kodak Black (neé Bill K. Kapri) has put everyone on alert that he's willing to sleep with Young M.A. (Katorah Marrero), and in doing so, has revealed a specific type of homophobia against queer women.
Kapri's first shot at the openly lesbian, masculine-presenting rapper came in comment form under a picture of her and Nicki Minaj. "Both of y'all [will] get it" his comment read, with the smiling face emoji.
Then, in a track called "Pimpin Ain't Eazy," which appeared on YouTube a couple of weeks later, the Florida-based rapper plays on the double meaning of a "strap" as a gun or a dildo used for penetrable sex. "I be pullin' out straps on these fuck niggas/ I go Young M.A. on these dumb bitches/ Like a dyke man, you niggas can't fuck with me," he says in the chorus. Kapri gets even more direct in one verse where he says, "I don't even I don't even see the confusion I'm fuckin' Young M.A., long as she got a coochie."
All of this could perhaps be written off as raunchy wordplay in the name of a hit song. Almost all is fair in hip-hop. But Kodak definitely crossed the line after M.A. responded, making it clear that she was more than disinterested. She called his advances "weird" and, after remarking that she knew where she would see him next, said that she prefers to deal with her issues with him "in person."
Rather than issue an apology or attempt to diffuse the situation, Kapri doubled down. During an Instagram live video, he questioned: "How you a girl and don't want your pussy penetrated?" This statement obviously reveals his own misunderstanding of both gender and sexuality. But more importantly, it shows a blatant disregard for the boundaries set forth by Marrero and reveals a specific kind of homophobia targeted at queer women. Calling her assumed (all we know for sure about Marrero's pussy is that she doesn't want Kapri anywhere near it) sexual preferences into question as a way to invalidate her gender is anti-gay rhetoric that shames women for not making themselves available to sexual desires of men.
This is bigger than Kapri being "curved" as some outlets are reporting. It's about how queer women should not have to defend themselves from creeps who can't take no for an answer.